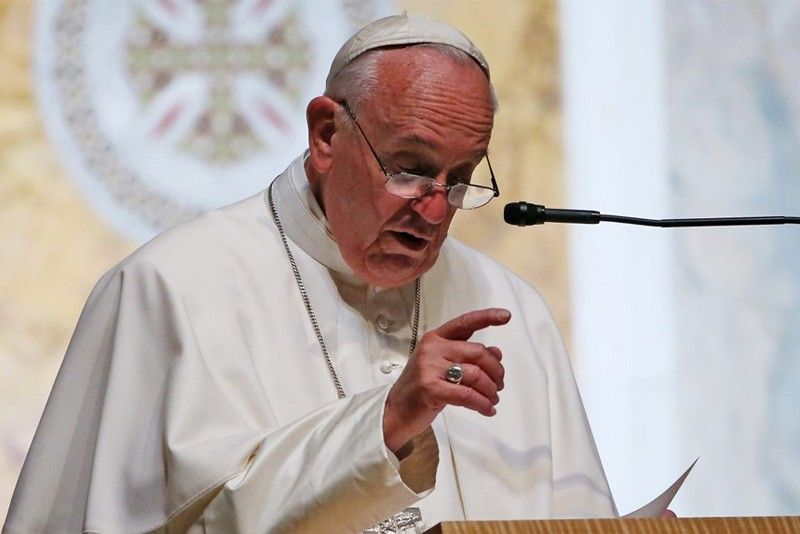 Sex abuse scandals and the Catholic Church
LATEST UPDATE: January 12, 2019 - 4:03pm
LOCATION:
CHILE
VATICAN
AUSTRALIA
+ Follow Story
January 12, 2019
A former Catholic priest who had admitted to sexually abusing children in the US state of Pennsylvania has been sentenced to up to 14 years in prison -- the second clergyman to be jailed in the wake of a damning statewide grand jury report.
David Poulson, 65 -- who served as a priest for four decades in the Diocese of Erie -- had entered a guilty plea in October after being accused of sexual assault and attempted sexual assault of two boys, aged eight and 15, in the 2000s. — AFP
January 5, 2019
The highest-profile Catholic cleric to be caught up in a paedophile scandal in France is to go on trial charged with failing to report a priest who abused boy scouts in the 1980s and 90s.
Cardinal Philippe Barbarin, the archbishop of Lyon, is to stand trial along with five others from his diocese over allegations that they helped cover up abuse in one of the parishes in the area. — AFP
September 8, 2018
A 2006 letter from a top Vatican official confirms that the Holy See received information in 2000 about the sexual misconduct of now-resigned U.S. cardinal, lending credibility to bombshell accusations of a cover-up at the highest echelons of the Roman Catholic Church. — AP
August 25, 2018
Pope Francis faces calls to take tougher action against abuse as he visits Ireland this weekend -- a country where multiple scandals have badly damaged the image of the Catholic Church.
The pontiff arrives on Saturday for his first visit to this former bastion of Catholicism, which was last visited by a pope in 1979 when Pope John Paul II spoke to a crowd of 1.5 million people. — AFP
August 20, 2018
Pope Francis condemns the "atrocities" of clerical child sex abuse revealed by a far-reaching US report issued last week.
"In recent days, a report was made public which detailed the experiences of at least a thousand survivors," Pope Francis says in a letter made public by the Vatican.
"We have realized that these wounds never disappear and that they require us forcefully to condemn these atrocities and join forces in uprooting this culture of death," he adds.
— AFP
August 15, 2018
More than 300 "predator" priests in Pennsylvania are accused of abusing over 1,000 children across seven decades, a grand jury says in a devastating report that decried a systematic cover-up by the Catholic Church.
It is thought to be the single most comprehensive report to date into abuse in the US church, since The Boston Globe first exposed pedophile priests in Massachusetts in 2002. — AFP
July 4, 2018
The most senior Roman Catholic cleric to be convicted of covering up child sex abuse says he would appeal the verdict and resist public pressure to resign as archbishop of an Australian city.
Adelaide Archbishop Philip Wilson says he would only offer his resignation to Pope Francis if his appeal fails in the New South Wales state District Court. — AP
July 4, 2018
Australia's prime minister calls on an Australian archbishop to resign after becoming the most senior Roman Catholic cleric to be convicted of covering up child sex abuse.
Adelaide Archbishop Philip Wilson was sentenced in a Newcastle court on Tuesday to 12 months in detention for failing to report to police the repeated abuse of two altar boys by a pedophile priest in the Hunter Valley region north of Sydney during the 1970s.
Prime Minister Malcolm Turnbull, who was born a Presbyterian but converted to Catholicism — his wife's religion — in 2002, says he was surprised that Wilson had not resigned when he was convicted in May. — AP
July 3, 2018
The most senior Roman Catholic cleric to be convicted of covering up child sex abuse was sentenced to 12 months in detention by an Australian court in a landmark case welcomed by some abuse survivors as a strong warning to institutions that fail to protect children.
Newcastle Magistrate Robert Stone orders Adelaide Archbishop Philip Wilson to serve at least 6 months before he is eligible for parole. — AP
May 23, 2018
Fourteen priests involved in a sex abuse scandal in Chile that has rocked Pope Francis's papacy, are stripped of their priestly duties.
"Fourteen priests no longer are allowed to carry out their duties... These priests have taken part in actions that may be civilian crimes as well as within the church," the bishop's office in Rancagua says. — Agence France-Presse
May 18, 2018
A Filipino priest accused of molesting two boys in the United States in the 1990s pleads guilty to two counts of felony gross sexual imposition.
Court documents show that Fernando Sayasaya entered the pleas Thursday during a scheduling conference. He's accused of abusing two underage siblings from 1995 to 1998, while he was assigned to the Blessed Sacrament Catholic Church and St. Mary's Cathedral in the Fargo area of North Dakota.
Sayasaya was returned to the US in December from the Philippines, where he had been since 1998.
Sentencing is scheduled for July 30. Sayasaya faces up to 20 years in prison.
A Philippines court ordered Sayasaya's extradition in 2010. He appealed, lost and was ultimately arrested in November.
Pat O'Day, Sayasaya's attorney, did not return a phone message seeking comment.
May 1, 2018
Pope aide Pell pleads not guilty after being sent to trial for sex offenses.
May 1, 2018
Vatican finance chief Cardinal George Pell was committed to stand trial on at least one historical sexual offense charge in Australia Tuesday, but several others were thrown out.
Melbourne magistrate Belinda Wallington is part way through her ruling on whether there is enough evidence to send the top advisor to Pope Francis to trial on multiple historic sexual offense charges.
She said she was "satisfied" there was enough evidence for a jury to convict him on one charge, but struck out other alleged offenses. — AFP
Pope Francis admits that he had made "grave mistakes in the assessment and perception of the situation" in Chile after reading the findings of an investigation into sexual abuse committed by the clergy in the country.
Francis says in a letter to Chilean Bishops released by the Vatican that he intends to summon them to Rome to discuss the investigation, which involves Bishop Juan Barros' alleged cover-ups of abuse by priests in his diocese.