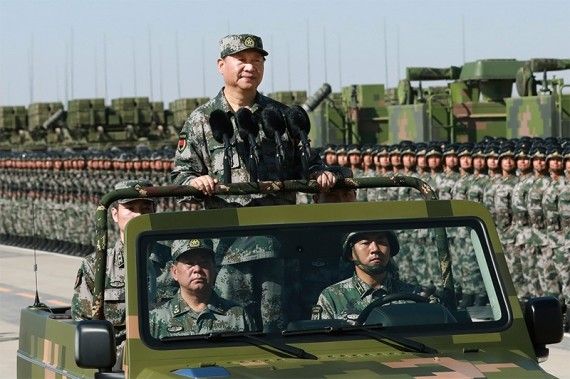 Major geopolitical developments in China
LATEST UPDATE: March 23, 2018 - 10:15am
+ Follow Story
1 day ago
Hong Kong and mainland Chinese stocks plunge at open Friday on growing fears of a global trade war after Trump imposed billions of dollars of tariffs on Chinese imports and Beijing drew up a list of retaliatory measures.
The Hang Seng Index plunges 3.67 percent, or 1,140.82 points, to 29,930.23, while the benchmark Shanghai Composite Index falls 2.78 percent, or 90.71 points, to 3,172.77 and the Shenzhen Composite Index, which tracks stocks on China's second exchange, drops 3.09 percent, or 57.22 points, to 1,792.38.
1 day ago
China has announced a list of US goods including pork and aluminum pipe it says may be hit by higher tariffs in response to President Donald Trump's higher import duties on steel and aluminum.
The Commerce Ministry on Friday calls on Washington to reach a negotiated settlement of the dispute "as soon as possible" but gave no deadline.
March 20, 2018
China has found a new route for its troops to South Doklam, bypassing India's blockade, India-based news website The Print reports.
The development is the latest after a tense standoff between militaries of India and China in June last year and despite both sides' agreement to pull back and resume status quo two months later.
China's aggressive position in Doklam seems to be a mirror of its activities in the South China Sea and its part the Philippines calls the West Philippine Sea. Beijing has built islands and established military outposts in waters within the Philippines' exclusive economic zone.
March 13, 2018
China President Xi Jinping, who may be president for life after an amendment to China's constitution, has created a powerful new anti-corruption agency, the Associated Press reports.
"The move is part of a sweeping government reorganization aiming to boost the authority of the ruling Communist Party headed by Xi, who has firmly established himself as China's most formidable leader since Mao Zedong, the founder of the communist state," AP reports.
The move is seen by critics as part of a potential return to one-man rule and the removal of limits on the powers of political leaders.
March 11, 2018
So it has happened. Chinese President Xi Jinping has been given by the parliament the power to remain in position for life, making him the most powerful political figure in China since Mao Zedong.
China's lawmakers pass constitutional changes that abolish term limits to let Xi rule indefinitely, the Associated Press reports.
A report by Chinese state-run news agency Xinhua says China will raise its defense budget by 8.1% in 2018.