Duterte, Xi to meet in Chinese province administering artificial islands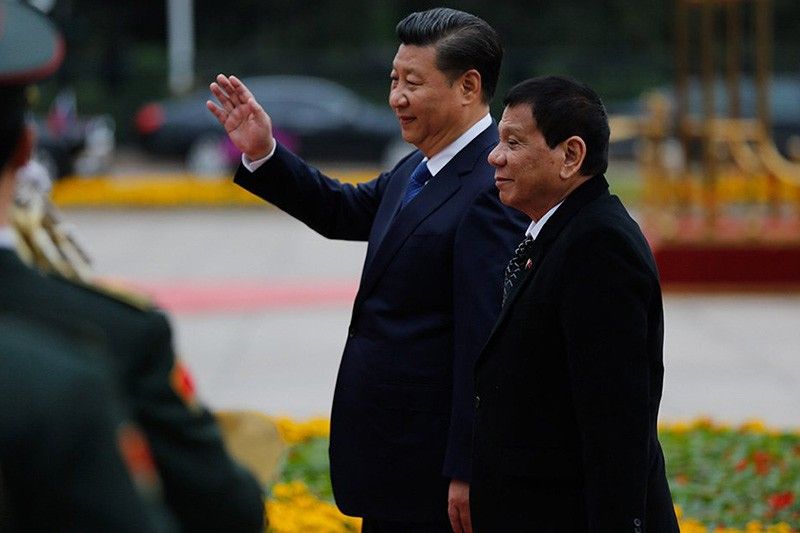 MANILA, Philippines — Both President Rodrigo Duterte and Chinese President Xi Jinping will attend the 2018 Boao Forum for Asia next week in China's southern Hainan province.
The BFA is an international dialogue which gathers heads of state, business elites and academic experts to discuss cooperation, innovations and solutions towards a more open and prosperous Asia.
Xi is scheduled to deliver a keynote speech at the opening ceremony of the regional forum, according to a report from Chinese state news agency Xinhua.
Duterte is also expected to deliver a speech during the plenary session of the BFA on April 10, according to the Department of Foreign Affairs.
The two leaders are expected to hold a bilateral meeting on the sidelines of the event to "discuss ways to further enhance the bilateral relationship between the Philippines and China."
Incidentally, the regional forum will be held in the town of Boao in China's southern Hainan province, the country's gateway to the disputed South China Sea.
The town of Boao is also in the same province with Sansha City, which administers three island groups—Xisha or Paracel Islands, Nansha or Spratly Islands and Zhongsha.
The Spratly Islands are also being claimed by the Philippines, Brunei, Malaysia and Vietnam while Taiwan and Vietnam had also laid its claims over the Paracels.
China has claimed the Spratly Islands and has installed military facilities in three of its artificial islands in the region—Fiery Cross Reef, Mischief Reef and Subi Reef—which are all within the exclusive economic zone of the Philippines.
Hainan is also home to the National Institute for South China Sea Studies, an organization sponsored by the Chinese Foreign Ministry and Hainan province.
The institute had established China's nine-dash line claim which claims sovereignty over the features within the line, sovereign rights and jurisdiction over water as defined by UNCLOS and "historic rights" over fishing, navigation and resource development.
In July 2016, the Permanent Court of Arbitration issued a ruling in favor of the Philippines' arbitration against China, invalidating its nine-dash line claim.
The United Nations-backed tribunal concluded that Beijing violated its commitment under the Convention on the Law of the Sea upon constructing artificial islands within Manila's EEZ.
Beijing, however, had refused to acknowledge the arbitration and insisted indisputable sovereignty over the region.
The possible joint development between the Philippines and China in the South China Sea may be discussed during Duterte and Xi's meeting in Hainan next week. This would be a follow-up to Foreign Affairs Secretary Alan Peter Cayetano's meeting with Chinese Foreign Minister Wang Yi last month.
"We can expect that pursuant to the follow up from the March meeting that any joint exploration will be based on prudent principles that will be beneficial to the Philippines and China and to the Asia Pacific region in general," DFA Undersecretary Manuel Teehankee said.