K-Pop among most-streamed genres on Spotify
October 16, 2018 | 9:50am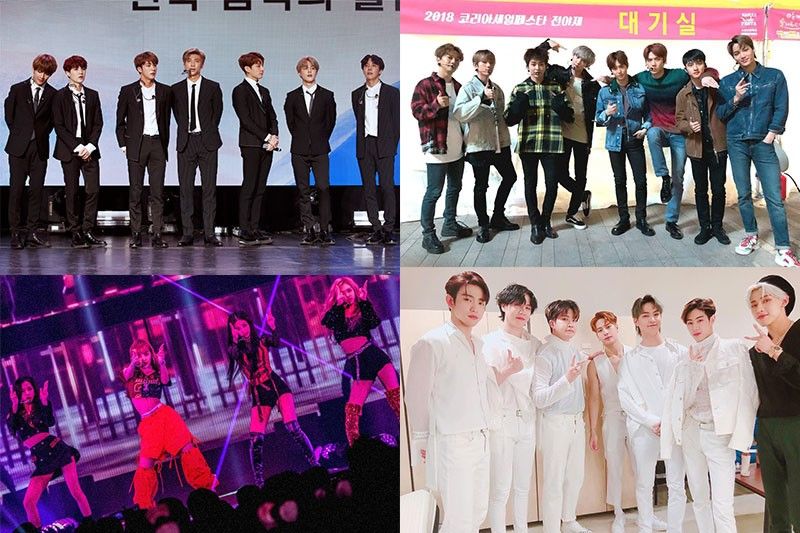 MANILA, Philippines — On its way to global domination, K-Pop has fast become one of the most-streamed genres globally on music streaming service Spotify.
More than 14.2 billion K-pop tracks have been streamed across the world and fans have spent 46 billion minutes since July 2015 listening to Korean tracks.
"K-pop or the Hallyu wave is truly an Asian success story. For a genre that's in a different language and from a very different culture, it is inspiring to see how K-pop is making its mark on the global stage," Spotify Southeast Asia Team Lead Eve Tan said.
"It is our aim to be a platform of discovery for both artists and music lovers and we are excited to help Spotify fans across the world enjoy and be inspired by Korean music," Tan said.
From PSY's 'Gangnam Style' to BTS's 'Love Yourself'
The Korean wave first caught the world's attention when PSY's "Gangnam Style" video went viral in 2012. The genre has evolved since then, driving an increase in global popularity of South Korean culture and entertainment.
Hallyu has broken through the United States, Latin America, Europe and beyond.
K-pop first debuted in the Billboard Top 10 with BTS's "Love Yourself: Her." Just last week, international BTS "Army" traveled across the US and camped out to catch the group's show at New York's Citi Field.
BTS, in partnership with UNICEF, was also the first K-pop group to deliver a speech at the United Nations for the "Generation Unlimited" campaign to promote education, training and employment.
READ: BTS at UN urge world's youth to 'just speak yourself'
In July, GOT7 became the first K-pop act to perform at the Barclays Center in Brooklyn. The group recently released an album with the title track "Lullaby" in four languages — Korean, Mandarin, Spanish and English.
Many K-pop artists have been forming subunits to target different audiences. This includes EXO, with subunits EXO-K for Korean audiences and EXO-M who performs in Mandarin. NCT has three subunits — NCT U, NCT 127 and NCT Dream — each unit targeting different age groups and demographics.
International collaborations
Several K-pop artists have also been collaborating with English-speaking artists as their popularity rises all over the world.
BTS has worked with American rapper Nicki Minaj for its "Idol" video, which was dropped last September.
Korean girl group BLACKPINK is working on a collaboration with English singer Dua Lipa.
In 2015, Spotify introduced its K-pop hub with the latest Korean tracks to OSTs. The streaming service's K-Pop Daebak playlist hosts access to vertical video premieres from emerging and chart-topping acts.
Spotify was first launched in Sweden in 2008. Today, it is the world's most popular music streaming service with 180 million users, including 83 million subscribers across 65 markets.
As It Happens
LATEST UPDATE: March 15, 2019 - 4:50pm
K-pop boy group BTS gives ARMYs worldwide a gift on Wednesday night as they give them a glimpse into their 2017 Wings Tour behind the scenes footage through YouTube Red Originals exclusive.

Korea Herald reports that the boys will release the eight-episode series in the succeeding weeks, until May 9.
March 15, 2019 - 4:50pm
Female K-pop stars and actors have rushed to issue denials that they appear in sex videos secretly shot by male singers, illustrating women's fears about victim-blaming and stigma in the face of South Korea's enduring conservative social values.
At least four women have issued separate statements denying they appear in the videos, with actor Oh Cho-hee saying on her Instagram account that the rumours were "really not true". — AFP
January 25, 2019 - 3:47pm
SM Entertainment reveals that EXO's Kai and BLACKPINK's Jennie broke up already.
News of their romance was first revealed in a January 1 report by local news tabloid Dispatch, which released photos of the two singers apparently dating at a park and going for a late night drive.
The two have been reportedly in a relationship since October last year.
The agency did not disclose the reason for their split, Soompi reports.
November 23, 2018 - 10:00am
Tickets for BLACKPINK's "In Your Area" Manila leg will be on sale to the public on December 6, MMI Live announced on Friday.
Globe subscribers may avail the tickets earlier during the presale on December 5. Prices range from P2,650 to P19,750.
ATTN BLINKS!
BLACKPINK / February 2, 2019 / MOA Arena
The hottest Korean female grp just announced their first tour, BLACKPINK 2019 WORL TOUR [IN YOUR AREA] MANILA on February 2, 2019 at the MOA Arena. See you later coz They're So Hot!#BLACKPINK2019WORLDTOUR #INYOURAREAMNL pic.twitter.com/XmP2nFdpwL

— MMI LIVE (@mmilive) November 23, 2018
November 2, 2018 - 5:23pm
K-pop sensation EXO is finally back on the scene with its long-awaited fifth studio album, "Don't Mess Up My Tempo."
EXO's fifth album marks the group's first release since its winter-themed extended play "Universe" and its first full-length effort since fourth studio album "The War" release in July last year.
Last Tuesday, the new album recorded over 1.1 million preorders, making EXO a "quintuple million-seller."
The group—composed of Xiumin, Suho, Lay, Baekhyun, Chen, Chanyeol, D.O., Kai and Sehun—also released the music video of lead track "Tempo."
The album also includes songs "Sign," "Ooh La La La," "Gravity," "With You," "24/7," "Bad Dream," "Damage," "Smile on My Face," "Oasis" and a Chinese version of "Tempo."