Cannes winner 'Triangle of Sadness' starring Filipina Dolly de Leon to hit Philippine theaters soon
August 12, 2022 | 12:30pm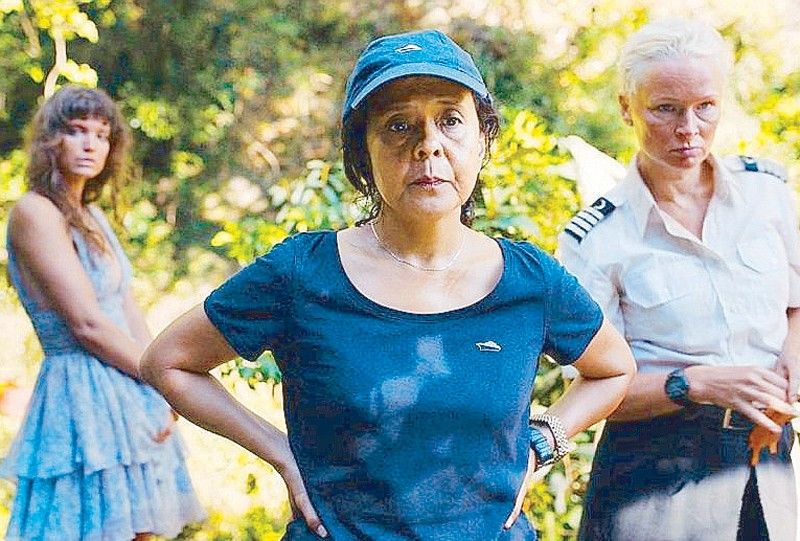 MANILA, Philippines — The international trailer for Ruben Östlund's Palme d'Or 2022 winner "Triangle of Sadness" has dropped, poking fun at the so-called "grandeur" of privilege and high-class society. Philippine production outfit TBA Studios teased its release in local cinemas soon.
The satirical trailer sees Harris Dickinson and Charlbi Dean's lead characters obtain tickets to a luxury cruise because of their celebrity status and good looks alongside other socialites, while the yacht's crew are told to obey every order as they make the cruise tick.
These include being commanded to "enjoy the moment" by dipping into a pool fully clothed and Woody Harrelson's Captain Thomas Smith being asked to wash the sails even if the yacht doesn't have any as it runs on a motor.
As Jackie DeShannon's "What the World Needs Now Is Love" plays, the yacht experiences stormy weather and rough waves, ending up with passengers and crew members stranded on an island.
The trailer ends with a clip of the Philippines' own Dolly de Leon saying, "This is really bad. This is really, really bad." The Filipina actress plays Abigail, the vessel's toilet manager who is also the only one who knows how to fish.
Neon will be distributing the film internationally while TBA Studios obtained the exclusive rights to release it in the Philippines, thus, in reposting Neon's trailer teased that a local premiere is imminent after it hits theaters in the United States, Sweden, Germany, and the United Kingdom this October.
TBA Studios also tweeted about the Cannes-winning film. The Philippine independent production outfit also brought The Daniels' absurdist comedy-drama "Everything Everywhere All At Once" in local theaters for screening in June.
At the 2022 Cannes Film Festival, "Triangle of Sadness" received an eight-minute standing ovation en route to its Palme d'Or win while Dolly de Leon's performance was praised by critics, pegging her as a contender at the upcoming Academy Awards. — Video from Neon Channel via YouTube
RELATED: Filipina Dolly de Leon gets Oscar buzz for superb acting in Cannes 2022 winning film