Pinoy fans go wild over 'Kenshin Himura'
MANILA, Philippines - Filipino fans went wild at the Red Carpet premier of "Rurouni Kenshin: Kyoto Inferno" as its top three cast members graced the event at SM Megamall on Wednesday night.
Takeru Satoh, Emi Takei, and Munetaka Aoki with the film's director Keishi Ohtomo spent a few minutes with their fans before the screening started.
The three actors, including Takeru who plays the movie's main character Kenshin Himura, spent almost an hour on the red carpet as they gave their fans a chance to take their pictures and shake hands with them.
The crowd at the red carpet premier went wild when the three actors addressed their fans and one by one spoke: "Mahal ko kayo!"
Some fans were even given the chance to ask questions from the three actors.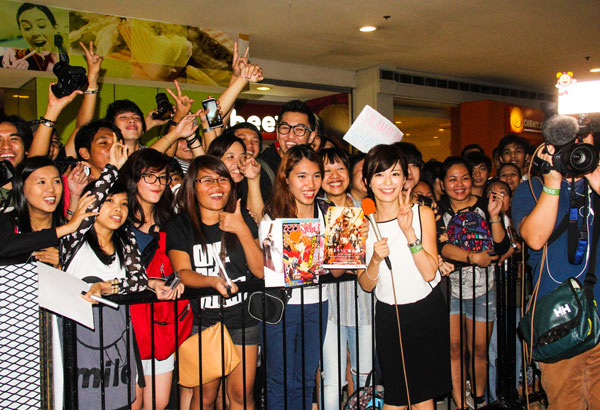 Asked how similar he is with Kenshin Himura, Takeru replied in Japanese: "It's not the similarities or the differences, but right now whenever I do things I always ask myself, 'What would Kenshin do?"
Takeru added: "I always refer to what I will do with what Kenshin will decide."
The Japanese actor also made the crowd laugh when he said that his favorite Kenshin move was "his running."
Meanwhile, Takei related that one of her favorite part of the film is when "I have to part ways with Kenshin."
Asked again if they would like to return to the Philippines, Takeru said "I want to!." Aoki, meanwhile, told the crowd "That will depend on you, guys!"
"Rurouni Kenshin: Kyoto Inferno" will be in Philippine cinemas on August 20.