How to make a hit show & other lessons from Hacks creators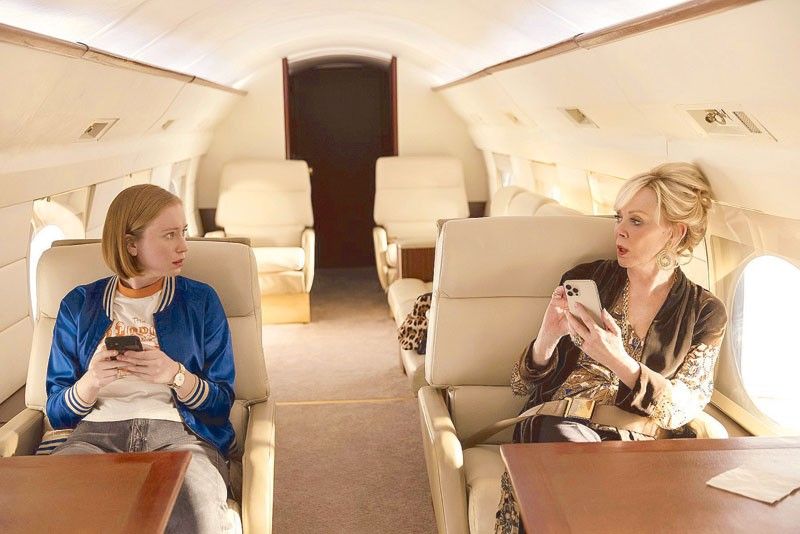 If two heads are better than one, what happens when there are three? A hit show is born.
Or, at least, if we look to the example set by the triumvirate behind the Emmy-winning and critically-acclaimed Max Original comedy series Hacks.
The show centers on the love-hate, supposedly strictly professional relationship between a young comedy writer named Ava Daniels (played by Hannah Einbinder) and a legendary stand-up comedienne Deborah Vance (Jean Smart).
The pilot season garnered critical acclaim and multiple recognitions, including Primetime Emmy Awards for Outstanding Writing, Outstanding Directing, and for Smart, Outstanding Lead Actress, as well as the Golden Globe Award for Best Television Series – Musical or Comedy.
In the first season, the two main characters meet as comedy queen Deborah is to be dethroned from her decades-long Vegas residency by an acapella group unless she reinvents her style. So, whether her ego likes it or not, she turns to the millennial Ava to update her "aging" jokes.
Season 1 ends with the mutual decision to collaborate again but not without their fresh start being threatened anew by what Ava earlier did behind Deborah's back. Season 2 begins with one character racked by guilt and one determined to have the other pay. At the same time, they find a way around their differences and embark on a tour to test their new materials at comedy clubs across the country.
When The STAR recently interviewed showrunners and creators Paul W. Downs, Lucia Aniello and Jen Statsky about the ongoing Hacks Season 2, they talked about the joys, challenges and pressures of having a hit series in their hands.
Paul is also executive producer (EP), writer and the actor playing the talent/business manager Jimmy in the show; Lucia is also EP, writer and director; while Jen is EP and writer. The three have a long history of collaborating with each other, while Paul and Lucia, you could say, have the added advantage of being husband and wife in real life.
When the trio was asked about their process of creating the show and why they work so well together, Lucia shared, "You know, it's not really the same (all the time). I think we all kind of contribute different ideas and pitches. And we do actually, sometimes, have a little bit of a voting system where if two people liked something and one person is like, no, then we try to always make everything unanimous."
She further said, "Sometimes, we will say, 'Let's keep going until we find something we all equally love.' But if time is of essence and we need to make a decision, we do have a little bit of a 'let's vote on it.'"
"(Voting is) easy with three people," Jen added.
While Paul quipped, "If you have a four-person group, it would be terrible to vote," to the laughter of everyone in the Zoom call.
Paul, however, stressed that the collaboration doesn't just happen while they're on set or in work mode. They throw ideas at each other anywhere, anytime.
"I will say that we thought of this idea on a road trip together. I guess — we were asked this a moment ago — one autobiographical aspect of the show is that we are creative collaborators and friends, and so the show is about creative collaboration.When we were on that road trip, we were talking about the show and continued to talk about it when we would get together or have dinner about, you know, what would be funny in the show that doesn't exist," Paul said.
"I think that happens with anybody when they're hanging with friends or family and you're laughing. Funny things happen. But we're so lucky that we work in this industry and we're able to put it on our show.
"I think, with a lot of people, you're at your funniest when you're with people you love or you want to laugh and you want to hang out with. So, that's part of our process — just being together and trying to make other people laugh. That's kind of the secret."
Since the show premiered at a time when the world desperately needed a laugh, we asked if they felt the timing of its release somehow influenced the positive reception.
"I think certainly because we were in the midst of a pandemic and people were watching TV and wanting a release. I'm sure that contributed to people enjoying the show," Paul told The STAR.
"But I also think we're at a time when narratives, especially of women in popular culture and in the media, are being rewritten. And more and more, we're realizing the stories that we got wrong. So, it's interesting that there are so many true stories that our perspectives have changed — whether that's about Britney Spears and her conservatorship or Marcia Clark and the way that she was maligned by the media.
"I think, a story about a woman who was overlooked or cast aside or misrepresented, also was weirdly right. So I think that also had an impact as much as people just wanting to laugh because they were tired of wearing masks and locking themselves in their house, you know."
The trio readily admitted to feeling the pressure going into Season 2.
Jen said, "It's such a lovely gift that the show was received the way it was. But I think that we tried to stay as true as possible to how the show started, which was like the three of us just coming up with ideas and making each other laugh.
"There's certainly more pressure with Season 2, but you just kind of use that as your North Star, that you're just kind of trying to think of things that make your collaborators laugh and make you laugh and that, you think, is fun to do. I think that was a way we didn't let the pressure get to us.
"And also, we were saying like in Season 2, we're so lucky now that we have this incredible cast that is so dialed into their characters in the show. In a way, writing Season 2 is a lot easier than Season 1 when you have to establish so many characters and figure out who they are. So there was pressure but it was fun. It was chill, good pressure."
Meanwhile, since the series tackles mentor-mentee relationships, albeit the darker kind, The STAR asked the showrunners if they were reminded of their mentors in the industry while working on Hacks. They all had one name in mind — Amy Poehler of Saturday Night Live and Parks and Recreation fame.
Said Lucia, "I wouldn't say any of us, as far as I know, haven't had any direct, you know, mentors. But I would say, in a way, we all worked on (TV show) Broad City and that was executive-produced by Amy Poehler. And Amy, I would say, is somebody we all really looked up to.
"I wouldn't say there's a dark mentorship there or even really so much of a mentorship but just somebody who we are able to look to as an inspiration and somebody who I think inspired us all even to get into this industry.
Lucia continued, "When I graduated college, I kind of knew what I wanted to do and kind of didn't. But I literally just googled Amy Poehler and that led me to Upright Citizens Brigade Theatre (which she founded). And this is where Paul and I met, and inadvertently is also kind of how we met Jen.
"So, you know, Amy was somebody whom we worked with in Broad City and she would give us advice when we were making that. That would probably be our (closest to a mentorship) but there's not a huge generational divide there. She's much closer in age…
"And she's not as torturous as Deborah Vance can be," added Paul, "but she did pave the way and she also created a space, this theater, that allowed us all to meet so we really do owe a debt of gratitude to Amy Poehler."
Now on its second season, the eight-episode Hacks airs two new episodes every Thursday, exclusively on HBO GO.