Family, friends gather virtually to celebrate Ricky Lo's life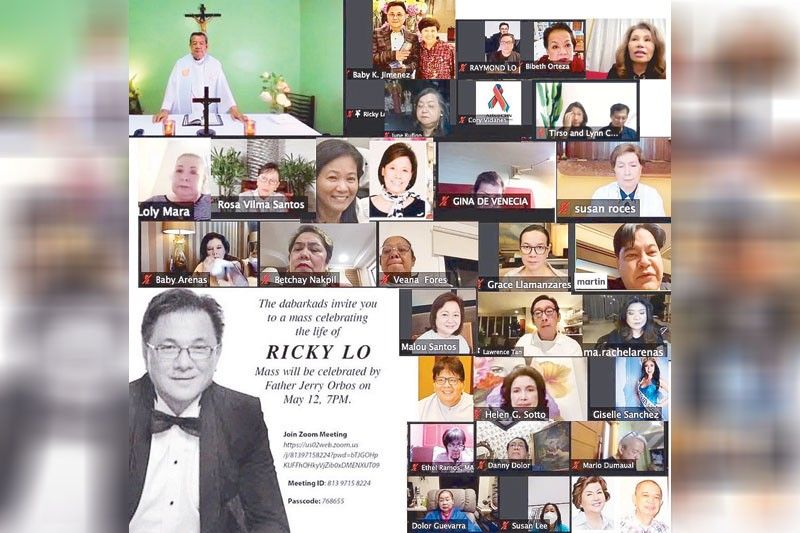 MANILA, Philippines — Even in death, The Philippine Star Entertainment editor Ricky Lo proved he was still a force to reckon with. The Mass held in Ricky's honor to celebrate his life, saw a rare Zoom gathering last May 12 with politicians and celebrities, who virtually merged with Ricky's close friends, family members and fellow journalists.
More than 150 attendees showed their love for Ricky. The Mass was celebrated by Fr. Jerry Orbos, with Giselle Sanchez as reader and lector. What followed was a short program remembering Ricky, hosted by Viva Entertainment executive Lawrence Tan.
Law, as he is fondly called, spoke on behalf of their Dabarkads, who gathered with Ricky for lunches or dinners on many occasions. "We should remember Ricky's half-smile, the sparkle in his eyes and we should always keep that in our hearts," Law reminded everyone.
Ricky's youngest sister, Susan Lo Lee, tearfully spoke on behalf of the family. "Thank you very much everybody for the time you've given us. To all of Ricky's colleagues, the whole Lo family appreciates your prayers and sympathies. Each and every message eases our grief… Ricky is always in our hearts. I'm sure he is very happy up there seeing all of you."
Susan shared what the personal nurse of Ricky told her. "'Mahal na mahal ko ang mga pamangkin ko. Ang dalawa kong kapatid, sila ang buhay ko.' My brother, Ricky, go now my guardian angel. Gua ai di (I love you). Thank you for the time you've given us."
Meanwhile, Ricky's closest friends Ethel Ramos and Ronald Constantino, who put up the premier PR agency El Oro back in the '80s, with its office at the Burke Building in Escolta, Manila, lovingly remembered him. Tita Ethel said, "We will always remember him. Maraming salamat, Ricky."
Tito Ronald disclosed Ricky was a devotee of Padre Pio and Our Lady of Guadalupe. As a young boy who grew up in Las Navas, Northern Samar, Ricky could still recite the Latin prayers he used to say when he was still an altar boy.
Ricky enjoyed the dinners hosted by Susan Roces, Helen Gamboa, Danny Dolor, Veana Fores, Tony and Mads Tuviera and June Rufino.
The day Ricky passed on was "one of the saddest days of my life," revealed Tito Ronald. "I'd like to remember — and all of us should all remember — Ricky with joy, happiness and gladness. That's how he wants to be remembered. In press conferences and other showbiz affairs, whenever I would go solo, others would often ask me, 'O, Ronald, nasaan na ang twin brother mo?' I am sure, he also shared the same sentiment. Ricky will always be in our hearts and minds for a long, long time. Perhaps forever."
Sen. Grace Poe-Llamanzares and her mom Susan Roces led the distinguished guests that night, as well as Rep. Vilma Santos-Recto, former Sen. Jinggoy Ejercito, Mayor Lani Revilla, Baby Arenas and daughter Rachel and Gina de Venecia.
Actress-turned-politician Vilma was only 10 years old when Ricky interviewed her and featured her for the first time in a magazine. "There was a time na nag-away pa kami ni Ricky," Vilma laughingly recalled. "Kasi si Cory Vidanes, napagkamalan niyang si Ma'am Cory (Aquino), 'yung president natin. Ina-arte ko kasi si Cory, 'Who am I daw para siraan ko ang presidente?
"So in my next live show, hinila ko talaga si Cory Vidanes. I told Ricky on air, 'Ricky, this is Cory Vidanes, ito ang ginagaya ako.' But did you know what he did? He apologized also in his article. Since then, we became friends."
And Vilma broke down. "We became very, very close hanggang halos kapamilya ko na siya. Kasi alam niya lahat ng sikreto ko. Alam niya 'yung susulatin niya at alam niya 'yung sa aming dalawa lang. Ang huling sikreto namin, 'yung kasal ni Lucky. He was one friend who could keep a secret.
"Siya rin ang nag-advice sa akin kapag galit ako sa mga tumira sa akin sa article. I would tell him, 'Ricky, magpapa-presscon ako. Lalaban ako. Sasagot ako.' Siya nagsasabi sa akin, 'Huwag na. Stay put ka lang. Just keep quiet. Kilala ka naman ng mga tao.' Basta the last time magka-text kami noong birthday niya, kasi ka-birthday niya si Lucky, April 21. I greeted him, 'Happy birthday.'
"It was just so sudden na bigla siyang nawala. I will never forget that Ricky is family. I love him and I will really miss him. Definitely. Lahat ng happenings ko sa career ko, sa artista, sa pulitika, he always featured it. Our condolences sa Lo family."
Film and TV producers, network bosses, recording executives, talent managers and PR mavens were among the guests. Mother Lily Monteverde attended with her daughter Roselle, Tony Tuviera, Rudy Tee, Cory Vidanes, Malou Santos, June Rufino, Dolor Guevarra, Malou Fagar, Girlie Rodis, Veana Fores, Doris Torres, Rubby Cuyuito, MJ Marfori, Mildred Natividad, Marivin Arayata and Mario Dumaual.
Ricky's friends who are based in the US and Canada also showed up in the Zoom gathering, including journalist Baby K. Jimenez, hairdresser Boots Babushka, lawyer Jemela Nettles, even his nephews, Raymond and Rainier Lo.
Showbiz stars close to Ricky also graced the virtual gathering. Tirso Cruz III and wife Lynn Ynchausti, Dr. Vicki Belo, Helen Sotto, Lolie Mara, Rez Cortez, Ricky Davao, Carlo Orosa, Boots Anson-Roa and hubby King Rodrigo, Jackie Forster, Lorna Tolentino, Martin Nievera and Bibeth Orteza.
"Marami sa grupong ito ang nakaka-alam na nagalit sa akin si Ricky," Bibeth shared. "Because he had thought that a scoop he was asking me to confirm, I did not give him, but instead, gave it to someone else. But I'm so glad na kahit paano, nag-usap din kami at nagkabati ulit.
"More than that, we chose to speak to each other in Waray. He was from Las Navas and ang alam ni Ricky, I was born in Catbalogan. So we always talked to each other in Waray… I wanted to let Ricky's family know that we ended really well."
Martin insisted there will never be another Ricky Lo. "There are so many great people in the press whom we depend on, but there was no one more feared than Ricky Lo," Martin said. "At the same time, as much as we feared him, we'd always look every morning if there was anything written by Ricky Lo.
"It was like the highlight and the nightmare of many artists. I think I said somewhere that getting a review from Ricky was always a keeper, but getting a blind item was always a creeper. It always scared you. You always asked people around you, 'Why did you tell him? How did he know?'
"Ricky just had a way to choreograph his words that it's actually a positive what he'd seen, but he's almost going into an area in your life that you're scared he is about to reveal, then he doesn't reveal it.
"For me, it was like a dance, a beautiful dance. Every writer or journalist has his own style. Ricky's style is to the point where you don't know if you're going off a cliff or is going to be a cliffhanger? We really are not sure. I'm proud to say that through the years, we became good friends. I could trust him and he could trust me with our secrets, true feelings, frustrations. I'm sure everyone agrees. There's never going to be another Ricky Lo."
Ricky's "favorite" nephew, Raymond, easily negated that he was the favored one. He said, "We are all his favorites. In showbiz, he was Tito Ricky, but to us, he was Uncle Cardo. He loved us, but we also loved him so much.
"I've been telling my friends, even if I live a thousand times and he lived a thousand times, we couldn't repay the goodness he gave us. I want to thank everybody for all those beautiful tributes to him. Our loss is filled by all the beautiful words coming from everybody."
Baby Jimenez said she cried like a child, the moment she learned about Ricky's death. "It brought me back on that day when we were starting to write and we rode a jeep to Cubao to collect our talent fee," Tita Baby recalled. "We sat there in the office and we waited for our check. Then I said, 'Probably, we could eat lunch somewhere.' Then we opened our check and it was post-dated. It was P20. Ricky and I both laughed. So we decided to walk as far as we could and get another jeepney ride.
"Flashback to the 1990s. We were seated at the Four Seasons Hotel (in Los Angeles) and we were having lunch. I said, 'Ricky, this is unbelievable.' And Ricky said, 'Oo, Baby, dreams do come true.' I love you, Ricky. I have shared so many memories with you."
Ricky's other colleagues like Dolly Anne Carvajal, Dinah Ventura, Shirley Pizarro, Aster Amoyo, Salve Asis, Nestor Cuartero, Allan Diones, Gorgy Rula and Baby Nebrida were in attendance.
Movie and Television Review and Classification Board (MTRCB) chairman Rachel Arenas shared that when she learned about Ricky's passing, a lot of people immediately sent her a message concerning her mom, Baby Arenas. "Their friends asked, 'Alam na ba ng Mommy mo? Kasi mahal ni Tito Ricky ang Mommy mo?' It was nighttime, so I told her chief of staff, 'Don't tell Mommy anymore. We'll just tell her tomorrow morning.' Expectedly, when she learned in the morning, she really cried.
"Kami siguro 'yung dalawang tao na hindi taga-showbiz na mahal na mahal ni Tito Ricky at mahal na mahal din namin siya. Lahat ng milestones sa buhay namin, kasama namin si Tito Ricky. We love you, Tito Ricky. We'll never forget you. You're always in our hearts."
Baby Arenas also lovingly reminisced about Ricky. "We don't really talk ng matagal, but on his last birthday, we talked longer. I remembered when he was in L.A., he saw Andrea Bocelli and he wanted to talk to him for an interview. He mentioned the Philippines, right away Andrea was so gracious and grateful that Ricky approached him. If only Andrea Bocelli knows that Ricky was our top journalist who was loved by everybody.
"Thank you very much, Ricky. You've been part of Rachel's life and mine, too. He was rare. We cannot compare him to anyone. I love you and I will always remember you."
Meanwhile, the novena that culminated with a Mass and a memorial service for Ricky on the ninth day last May 13, was attended by his family members, journalist-friends, stars and industry bosses. Nestor led the prayers nightly until the final night.
Rachelle Gerodias-Park regaled everyone with her mellifluous soprano by singing Hindi Kita Malimot and Saan Ka Man Naroroon.
Boots Anson Roa-Rodrigo and her husband King Rodrigo condoled with Ricky's family and loved ones. "Over the last nine days since Ricky's death, so much has been said about him. I affirmed all these, having known Ricky for more than 50 years.
"Ricky was very generous in giving space to not only his colleagues but to all those he thought was worthy of exposure about their advocacies. He gave me a whole-day spread about 'A day in the life of Boots.' This was in 1974 and I would like to thank Jojo Gabinete for clipping it and framing it together with all the pictures that came out in the spread.
"Thirty years later and me 20 pounds heavier, Ricky came out with another spread. It was a reprise of what he wrote, another 'A day in the life of Boots' for Philippine STAR. Again, our dear friend Jojo Gabinete, had the clipping and framed it for me."
In 2014, Boots was blessed with a second marriage with lawyer King, a widower of six years and she, a widow of seven years. "I remembered very distinctly, when we announced our engagement in December 2013, we invited a few of our friends, Ricky was there, Ronald (Constantino), Nestor (Cuartero), Crispina (Belen), Aster (Amoyo) and Lolit (Solis) to help us announce the tidings of our second marriage.
"From the engagement in December to the wedding in June 2014, Ricky kept tabs of the developments in our engagement. He was very assiduous in giving updates on the engagement. But Ricky outdid himself on the morning after the night of the wedding. We had slept at about 3 a.m. Relatives from around the world were with us to join us in the happy occasion. It was a very tiring evening. Guess who called up at 7 a.m. He called up the hotel and he was able to trace us in our room.
"I was pleasantly surprised when I answered the phone and asked, 'Sino ito?' He said, 'Boots, si Ricky ito. Gusto ko ako ang mauna. Gusto ko, maka-scoop ako from the horse's mouth. First hand from you. How was the first night?' Si Ricky talaga, hindi mapigilan. I didn't know what to say.
"I guess, it was his assiduousness, his intensity, his passion for his work as a journalist, as a friend to many of us, his dedication to his craft, to his trade, to his reporting. He wanted to make sure there was accuracy and immediacy. How immediate can you get a report after the wedding night?
"I was talking to Ricky in whisper. King was still snoring in bed. I didn't want to wake him up. Ricky told me he had a deadline. He wanted the quotes to come from me. It was funny enough, strange enough and colorful enough for a reporter to ask a newly-wedded couple the morning after, 'How was your night?'
"In Ricky's case, it was doubly interesting, because he was asking a 69-year-old and beside her was her 75-year-old husband on both their second marriages. Thank you, Ricky. I appreciate your effort. I admired your intensity and drive. But all I could say was, 'It was earth-shaking.' Thank you for all the support you've given me and all of us. It is a sad occasion remembering Ricky and grieving over his untimely demise, but we celebrate the evening and we celebrate the life that Ricky spent here on earth."
Raymond also described his Uncle Cardo as "The Rock" of their family. "He was very generous," attested Raymond. "I cannot recall any instance when he said 'no' to any of our requests. His passing still feels unreal. I will miss his regular visits to L.A., where we have bonded for the last 17 years.
"He was not a very demanding person. He would always adjust his time to anybody. He was also very shy. Very rarely would he agree to lunch or dinner that I would arrange for my friends in L.A. From Uncle Cardo, I developed my love for movies and fiction. I started my writing career because of him. From him, I learned my love for family and good friends… I learned that dreams do come true."
Others who talked fondly about Ricky were his sleep doctor from St. Luke's Hospital Dr. Roland dela Eva, journalist Mario Bautista, actor-director Ricky Davao, former STAR assistant Lifestyle editor and Ricky's colleague from the Daily Express Ching Alano, Film Development Council of the Philippines chair Liza Diño, STAR assistant Entertainment editor Nathalie Tomada, STAR columnist Wilson Lee Flores, immigration lawyer Jemela Nettles from L.A. and again, Vilma.
Friends who joined Ricky's last night included journalists Crispina Belen, Joanne Rae Ramirez, Tessa Mauricio-Arriola, Maridol Bismark, Shirley Pizarro, Ivy Mendoza-Yulo, Bum Tenorio, Bot Glorioso, Jerry Donato and Nickie Wang. Peachy Vibal-Guioguio, her daughter Trixie and the staff of their PR office, Media.Xchange, helped the Lo family in the nine-day novena.
Curve Entertainment president Narciso Chan, STAR columnist Danny Dolor, former ABS-CBN president Charo Santos-Concio, Rubby Cuyuito, Baby Nebrida, Winston Llamas, Bob Zozobrado, Kane Errol Choa, Gorgy Rula; PR mavens Joy Buensalido, Jingjing Romero and Rosbel Buñag also joined the final night of celebrating Ricky's very productive life.