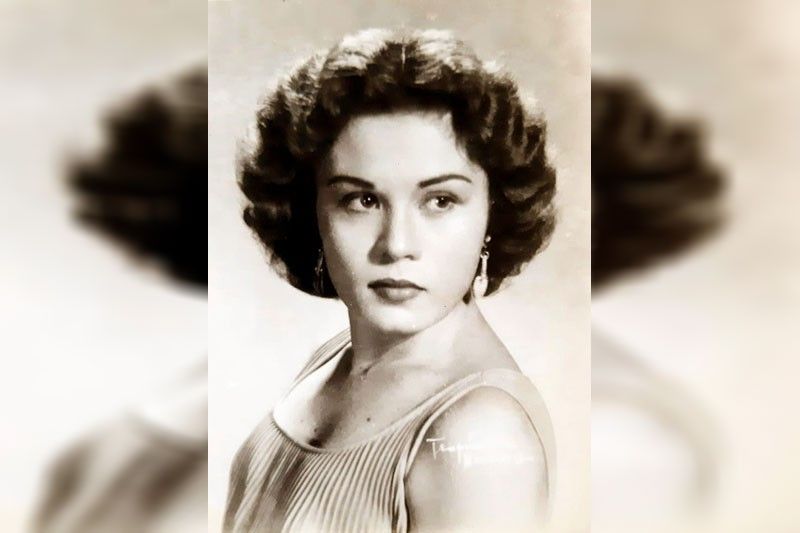 The sex siren of the '50s leaves a treasure of classic starrers, one of which enthrones her as the first Filipino to win Asia's Best Actress
The legacy of Lilia Dizon
FUNFARE
-
Ricky Lo
(The Philippine Star) - June 18, 2020 - 12:00am
I'll see you in the morning sun
And when the night is new
I'll be looking at the moon
But I'll be seeing you
That stanza is from Lilia Dizon's favorite song, I'll Be Seeing You, and she loved to listen to it probably because it brought her back to all the old familiar places, the park across the way, the children's carousel, the chestnut trees, the wishing well...and everything from her colorful yesteryear.
It was the song that capped the eulogy virtually delivered by Toni Abad just hours after her mom succumbed to cancer at 8:20 a.m. last Monday, June 15, at age 90. Toni is one of Lilia's five children also including siblings Pinky, Christopher (Boyet) and Melissa de Leon, and Cory. The first three are from Lilia's first marriage (to fellow LVN actor Gil de Leon) and Toni and Cory from her second marriage.
Lilia passed on five days after Anita Linda (on June 10). The irony of their close departures was noted by old-time showbiz-watchers who recalled that the two great actresses starred together in Perfidia (Kataksilan), the action-drama produced by Premiere Productions in 1947 with Jose Padilla Jr. as lead actor.
Only four days earlier (June 11) when Toni celebrated her birthday at her home where Lilia spent her last days, Lilia was still alert.
"Mommy wanted to hear Boyet's voice," related Toni. Boyet is Lilia's unico hijo who was in his knee pants when his parents separated half a century ago. "It was Boyet's voice that made Mommy so happy that day. She called Boyet the 'Jewel of the Family'."
Hours before her mom fell into an eternal slumber, Toni said that she hugged her, not wanting to let her go, whispering into her ears (sense of hearing is said to be the last to fade out), "I love you, Mommy! I love you!"
In her eulogy, Toni said, "When people say I am the mirror-image of my mother, I cannot help but be flattered. To be compared to such a spirited and luminous woman has always been the greatest compliment I have received. I am always ecstatic when I recount her unparalleled achievements, knowing that she has left an indelible mark in my life and in the lives of many others."
Ages ago when I was fresh from college, I was assigned by the late Danny Villanueva, entertainment editor of Weekly Nation, to interview Lilia upon the request of the revered Susana C. de Guzman, a pioneer lady scriptwriter-director who held a top position in the Makabayan Publications. At that time, Lilia (an American citizen whose father was an American) had just come back from the US where she hied off after her marriage broke up, purposely to file for divorce.
She left at the peak of her career, starring in dozens of movies and fondly remembered for her titular role in Bathaluman (co-starring Mario Montenegro) after which she named a beauty parlor that she put up in Cubao, Quezon City. The statue was sculpted for the movie by (now) National Artist Anastacio Caedo who gave it the name that meant goddess. Nobody knows what happened to that iconic statue.
Lilia had an impressive career topped by a Best Actress award from the 1953 Cambodia Film Festival for her performance in Kandelerong Pilak, directed by Lamberto Avellana in which she starred with Teody Belarmino. (Trivia: A newbie named Joseph Estrada was among the supporting cast.) She was the first Filipino actress to win that honor in an Asian filmfest. She was nominated several times by the FAMAS and was said to have lost by a slim margin the Best Actress plum to Gloria Romero (for Dalagang Ilocana).
"I owe my movie break to Nena (that's how she called Susana de Guzman)," Lilia said in an old interview. "She helped me establish a name in showbiz. She was the one who baptized me Lilia Dizon (real name: Claire Strauss), which was my character's name in the movie Probinsyana, Nena's first directorial job. Before that, I used the screen name Carole Lemay. My first-starring picture was Enkantada so it's memorable to me."
Toni: "While she carried all the accolades and recognition by her industry, to me her most award-winning role would be that of being mom to me, a kind-hearted mother-in-law to my husband Paolo and a very caring grandmother to my son Josh and my daughter Bella.
"To Pinky, Boyet, Melissa, Cory and me, she was simply 'Mom.' But above all, she loved the Lord Jesus Christ with all her heart and soul. She was always giving honor and praise to God even during the final days of her life. She often said that nothing could ever separate me from the love of God. When she couldn't read the Bible anymore, she made me promise to read it to her every night. Those are the most precious nights that I will always treasure in my heart.
"My mother was an extraordinary woman who took the world on with an exquisite grace that was possessed by her alone. She played many roles in her lifetime — woman, wife, mother, grandmother, friend, actress, muse and icon — and played them so phenomenally. I am proud of the woman that she was and grateful for the woman that I am because of her."
I'll be seeing you
In every lovely summer day
In everything that's light and gay
I'll always think of you that way
(Note: Lilia Dizon's remains were cremated. Due to the exigencies of the times, no wake was held. The urn is kept at an altar in Toni's home. Her sisters who are in the States — Pinky in Los Angeles and Cory in Chicago — may come home when the lockdown eases up. By then, Toni said that the family will hold memorial rites.)
(E-mail reactions at rickylophilstar@gmail.com. For more updates, photos and videos, visit www.philstar.com/funfare or follow me on Instagram @therealrickylo.)