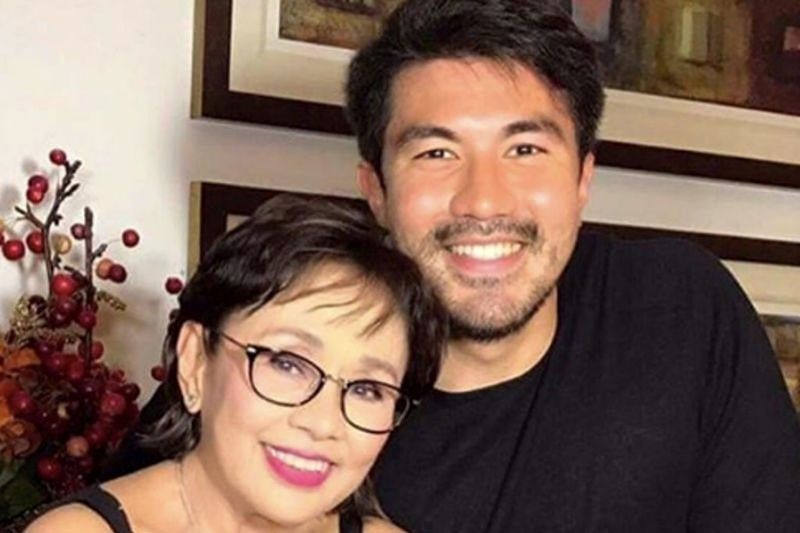 Batangas Rep. Vilma Santos (with son Luis Manzano): Scared of everything
Life On Lockdown (LOL!!!) seniors edition.
FUNFARE
-
Ricky Lo
(The Philippine Star) - June 3, 2020 - 12:00am
Vilma suffers from anxiety, Mike back on air, Charo hooked on K-drama, Mother Lily plays the piano
The celebrated singer is right. COVID-19 is a great equalizer. It has put most of the world's population behind (hopefully) closed doors, regardless of social or economic standing, whether young or old.
Funfare has interviewed seven below-60 celebrities about Life On Lockdown (LOL!!!). This time, let's listen to those above-60.
Batangas Rep. Vilma Santos
"It was fine for family bonding during the first several days but after three weeks iba na. I started to suffer from anxiety, especially after watching the news about people dying and getting infected, people losing their jobs at ang pagbagsak ng economy. I was scared of everything.
"I've been working from home (WFH) at puro Zoom meetings. I am 'high risk' because of my age. Sabi ni Ralph (Sen. Recto), health should be the priority.
"Oh, by the way, na-control na ang anxiety ko.
"For protection, I take multi-vitamins and Vitamin C with zinc, and drink water with lemon and salabat. With my family (Ralph, Luis, Ryan and my siblings), including kasambahay, we exercise together every other day after my Zoom meetings. Mahigpit sa protocols sa mga lumalabas ng bahay. Ako man, sunod sa health protocols...frequent washing of hands and wiping with alcohol.
"This pandemic has made me realize na wala tayong ibang kakapitan at tatawagan kung hindi ang Diyos. Let's continue praying to God."
Missed for two months, Mike Enriquez finally surfaced on his DZBB program and on the GMA newscast 24 Oras last Monday, June 1, when Metro Manila was moved from ECQ (Enhanced Community Quarantine) to GCQ (General Community Quarantine). When he successfully(!) e-mailed his answers and photo from home (where he has been working since March 15), Mike exclaimed, "Bingo! There's always a first time!"
Mike Enriquez
"On a typical lockdown day, everything happens late. I wake up later than usual. I can leisurely eat breakfast or brunch at home. I do my WFH (work from home) like doing e-mail and making phone calls at a less urgent pace.
"Lunch is at 2 p.m.Then, it's a combination of reading and sleeping and watching movies. Sleep is at around or past midnight EVERY NIGHT, would you believe? Three times a week I go to St. Luke's for my regular dialysis. I've gone to the office thrice for meetings. The rest of my meetings are via Zoom. And of course, prayers!
"I take Vitamin D and a multi-vitamin for seniors, which is Pharmaton. I continue to stick to a balanced diet, a combination of Tita Baby's (wife) cooking and food deliveries. Even at home, we constantly wash hands with alcohol. Plans on hold: kidney transplant and travel."
(Note: GMA chairman Felipe Gozon has advised Mike that he can resume his on-air radio and TV anchor duties. For Mike, it's back to waking up at 4:30 a.m.)
Charo Santos-Concio
"Nothing much has changed in my lifestyle since the lockdown. I am a stay-at-home person so I continue to do the things I love doing...read books, watch content on streaming apps (yes, I also got hooked on K-dramas and movies), listen to podcasts and good music, clean the house with my long-time household staff, making sure that we are mindful about the health and safety precautions given the pandemic, and do my regular yoga workout and treadmill.
"My meetings are now held over Zoom and I do video chats with family and friends. It is nice that you are able to connect with people close to your heart in the comfort of your home without having to think of what to wear and how to look, for as long as you are decent, of course. My husband (Cesar Concio) and my conversations with our two sons, our daughters-in-law andour grandchildren are precious.
"I am now learning to play a few easy piano pieces. It reduces my anxiety and is such a mood booster.
"What plans has COVID-19 made me put on hold? Nothing much, except a trip to South America and Seoul, South Korea. I go with the flow and allow things to happen. In this time of uncertainty, I find myself counting my blessings."
(Note: Shooting of Whether the Weather is Fine/Kun Maupay Man it Panahon, her Star Cinema movie with Daniel Padilla, is on hold.)
Regal Matriarch (Mother) Lily Monteverde
"I feel as comfortable as I did before the lockdown. I wake up earlier than usual, at 6 a.m., exercise by brisk walking around the house, take a shower and have breakfast. I play the piano; I'm composing songs. Then, I call some friends. I am with Father (Remy Monteverde, her husband), my son Goldwyn and his son.
"I make sure that I sleep eight hours per night. I get my nutrients not from vitamins but from food (vegetables [potatoes and kamote], etc.) and fruit drinks. I eat anything; I eat a lot. My daughter Roselle drops by regularly with my supply of food.
"Regal has around eight projects on hold. I'm worried that if the pandemic will take long, the entertainment industry might collapse along with other industries. I think it will take time before people will start going back to moviehouses."
(E-mail reactions at rickylophilstar@gmail.com. For more updates, photos and videos, visit www.philstar.com/funfare or follow me on Instagram @therealrickylo.)