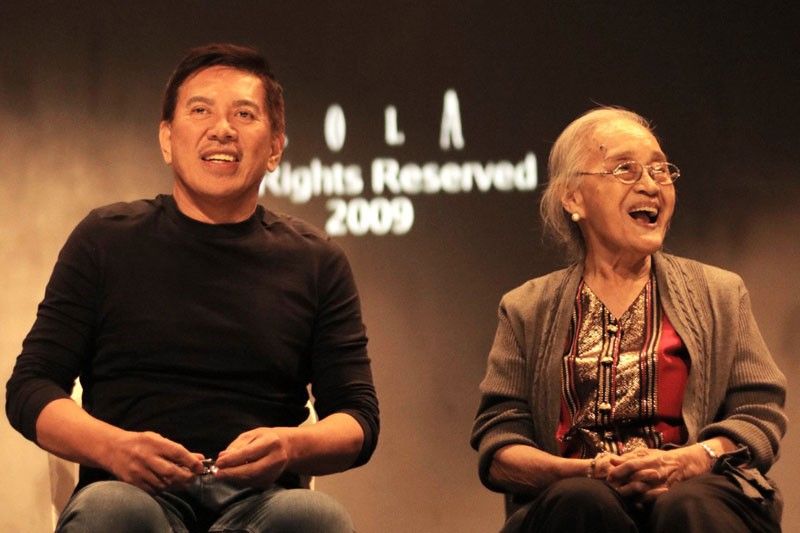 Direk Brillante Mendoza and Dr. Rustica Carpio enjoy a bond that goes even beyond the cameras
Rustica Carpio's furthest hill
Rustica Carpio, artist and academic, has climbed and conquered so many hills to get to where she is now — a beloved icon. A literal hill was named after her in 1951 by the Philippine Expeditionary Forces to Korea (PEFTOK), as she sang away the fear and loneliness of soldiers in the frontlines, who dubbed her their Doris Day. Today, she is scaling another hill, as she fights for her life at the Capitol Medical Center, a person under investigation (PUI) for the dreaded COVID-19.
A gifted woman, she has excelled in her studies in the Philippines and abroad to become an educator and administrator, at the same time carving her name in the marquees of theatre and cinema. Tita Rusty, as she is fondly called in her circles, obtained her PhD in Literature with highest honors at the UST Graduate School. She is a pillar of the UST Graduate School Academic Theatre and of the Pamantasan ng Lungsod ng Maynila (PLM) Dulaang Pamantasan. She was also UNESCO fellow in Dramatic Arts at the National School of Drama and Asian Theatre Institute in India. She was directed by film-stage legends who had nothing but praises for her brilliance, among them: Lamberto V. Avellana, in Portrait of the Artist as Filipino; Ishmael Bernal in Nunal sa Tubig; Lino Brocka in Bona; Jose Javier Reyes in Ano ang Kulya ng Nakalimutang Pangarap and Brillante Mendoza in Lola.
Before the pandemic, a tribute screening of the muti-awarded film Lola was held at the Far Eastern University, where Tita Rustie served as executive director of the president's Committee on Culture and the Arts. Her successor, Martin Lopez, surprised her with this honor, in behalf of the FEU Community, which she served so well.
Before her illness, Tita Rustie was preparing the screenplay for a movie she was dreaming of directing herself, based on a real life story of people she knew in her birthplace of Paombong, Bulacan. Titled Lagablab, it is about the elemental passions that spark the rise and fall of humanity — a theme she never tired of exploring in her pedagogy and art. Like the protagonist in this story, she has suffered from abandonment and ingratitude of people and places for whom and where she lavished her devotion, yet she has retained her quiet grace.
"Madali silang makalimot," she confided to this writer with a sigh, her eyes belying the sadness and pain of betrayal.
One can only hope that as she battles a cruel disease, people whose lives she touched in the classrooms, theater and films where she shared her loving heart, will hold her fragile hands, until she transcends this furthest hill.
(Facebook appeal from Tita Rustie's family: You can send your monetary donations to the following bank details: BANK — Union Bank; ACCOUNT NAME — Raniella Michelle Tibayan; ACCOUNT NUMBER — 109653904435. You may get in touch with Mitchi at 0966-1350906.)