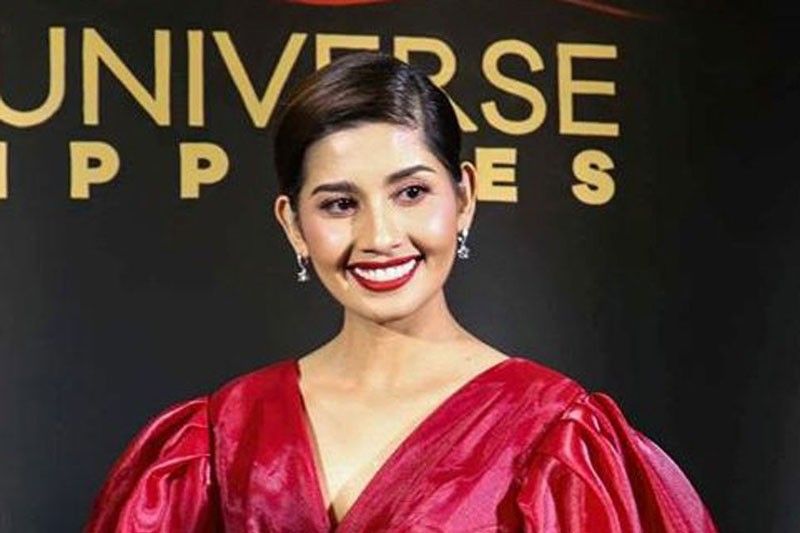 Shamcey Supsup-Lee, national director of Miss Universe Philippines
FUNFARE
-
Ricky Lo
(The Philippine Star) - March 27, 2020 - 12:00am
The all-too-familiar line "Beauty with a purpose," which sometimes rings hollow, takes on a substantial meaning in the time of COVID-19. Like other charitable-hearted groups, some of the country's pageant organizations have initiated efforts to help front-liners in combating COVID-19 and those who have been affected by the pandemic.
Mutya Pilipinas — President Cory Quirino and chairman Frederick H. Yuson with their committee members launched the fund-raising campaign Bayanihan Na! Talunin Natin Ang COVID-19 to support health workers and patients of the Philippine General Hospital (PGH) Medical Foundation, Inc.
"Our country is in crisis and we are challenged to act as one in the spirit of Bayanihan," said Cory. "We support the humanitarian efforts of the PGH Medical Foundation Inc. who answer the call to save lives through our front-liners and who cater to the sick. Every donation, no matter how modest, can save a life, We salute our fallen front-liners, heroes in the war against COVID 19. And to the brave and strong serving in the line of duty, we continue to pray for their safety. To you all, we owe a huge debt of gratitude. Philippines, please pray for and support our front-line defenders."
Anyone interested can donate to the following accounts:
• Philippine National Bank – PGH Compound, Taft Avenue, Manila, Account Name: PGH Medical Foundation, Inc. Account No. 168370000933.
• Banco De Oro (Savings Account) – Pedro Gil Branch Account Name: PGH Medical Foundation, Inc. Account No. 002410071569.
• Bank of the Philippine Islands (Current Account) – Ayala Alabang Branch, Ayala Alabang, Muntinlupa City Account Name: PGH Medical Foundation, Inc. Account No. 8291-0060-36.
• Landbank of the Philippines (Dollar Account) – Taft Avenue Branch, Account Name: PGH Medical Foundation, Inc. Account No. 0594-0012-22.
Miss Asia Pacific International — Here's the statement released by the organization headed by Jacqueline Tan-Sainz: "We are one with the international community in striving towards the speedy recovery from the pandemic. We pray that over the coming weeks, we can all show compassion and kindness as we go through these trying times. We are all connected in this fight against COVID-19 and we need to be united now more than ever. We extend our deepest gratitude around the world who are working tirelessly and selflessly. Thank you for your heroic and inspiring sacrifices, and know we are with you every step of the way. The fight against this pandemic involves everyone and it is our hope that we continue to support and uplift each other through the whole crisis. Stay safe."
Here are a few donation channels for hospitals in the Philippines, Italy and Spain. Together, we stand stronger.
• Philippine Heart Center – Contact Info: Anna Dy (+632)89252401 local 3299 or +639175003221/Drop Off: Incident Command Post
• National Children's Hospital – Contact Info: Dr. Jennifer Gianan, chief resident +639176392278
Donation Links – Croce Rossa Italiana: https://donazioni.cri.it/donazioni/dona-per-emergenza-coronavirus
Cruz Roja Española: https://www.cruzroja.es/webCre/donativos/donativos.php
Miss Universe Philippines — Headed by 2011 Miss Universe third runner-up Shamcey Supsup-Lee, the team started donating food last Monday, March 23, to stranded students in UP Diliman and families at the National Children's Hospital. Due to the lockdown, the families and the students have limited access to food. This endeavor is through Pedro and Coi's Byaheng Busog project.
Those who wish to help may check their website byahengbusog.com.ph on how to do so. Free delivery for a minimum order of 50 food packs. You can also donate food packaging materials and ingredients. For donations, you may contact 8936-1963 and look for Ira. Meanwhile, the coronation night of the 2020 Miss Universe Philippines has been moved to May 31, still at the Mall of Asia (MOA) Arena.
Miss and Mrs. Queen of Hearts of the Philippines — In addition to the relief goods ready for immediate distribution, CEO Mitzie Go-Gil and the board directors initiated a fund-raising project for the benefit of frontliners at the Philippine National Police General Hospital who are helping fight the spread of COVID-19. Badly needed are Personal Protective Equipment (PPE), N95 masks, surgical gloves, face shields, 70 percent alcohol, hand/body soap, coffee, tea, bread, biscuits and canned goods.
For cash donation: Account name MMG Queen of Hearts Foundation, Inc., account number 0100-8800-8044 bank name BDO (type of account is current). For donations sent via Paypal, e-mail: mmgqueenofheartsfoundation@gmail.com/Paypal Account: https://www.paypal.com/paypalme2/mmgqueenofhearts.
"The enhanced community quarantine directed by the government is an urgent and necessary measure to arrest COVID-19 spread," said Gil. "We should help the government against this health threat by starting with ourselves and our families; To those infected, let us pray for their recovery and for our government personnel who are at the forefront of this war. Let us encourage them to do their best to be successful in this undertaking. To those who are at the forefront, we are with you in heart and spirit. The Mrs. Queen of Hearts Pageant has been the major fund-raising event of MMG Queen of Hearts Foundation Inc. It is a beauty pageant for a cause that focuses on women empowerment." — based on a report from Celso de Guzman Caparas
(E-mail reactions at rickylophilstar@gmail.com. For more updates, photos and videos, visit www.philstar.com/funfare or follow me on Instagram @therealrickylo.)