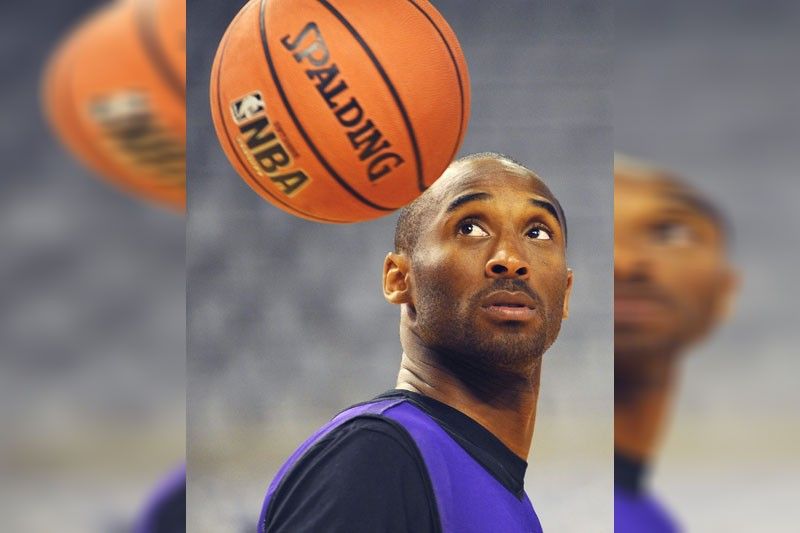 You will forever be missed. Rest In Peace, Mamba 4 Life!
FUNFARE
-
Ricky Lo
(The Philippine Star) - February 1, 2020 - 12:00am
Besides athletes who have had close encounters with Kobe Bryant during his seven visits to the country, the Black Mamba's avid fans are also shattered by his untimely demise in a helicopter crash last Sunday, Jan. 26, in California. Funfare has been publishing their outpourings, including those of, among other basketball players, James Yap and Hollywood actor Justin Timberlake (in yesterday's issue).
Here's one more from Kobe fan Martin Concio, son of Charo Santos-Concio, who gave Funfare permission to lift this letter from his Facebook.
Dear Kobe,
I only got to see you play live once. Dec. 4, 2009. It was against Dwyane Wade and the Miami Heat at Staples Center. It was a magnificent game. You and D-Wade were both in your prime, and the game was an entertaining back-and-forth between the two of you. With 3.2 seconds left in the game, D-Wade had scored 26 points. You already had gotten the better of him individually with 30 of your own. There was just one problem, however — the Lakers were down 107-105. Not necessarily the best of places to be in. But with 3.2 seconds left in the game down 2, Laker nation had two things going for them that night: 1. It was Lakers ball, and 2. We had you on our team. The next three seconds went by like a blur — Ron Artest inbounded the ball your way, and you proceeded to drill a one-legged three-point runner in Dwyane's face right as the buzzer sounded. Three… two… one… bang! Just like that, the Lakers won, the arena went wild, and all was right in the world again.
Your 20-year playing career was filled with such moments. No deficit seemed too insurmountable. No challenge seemed too daunting. There was no defender or defensive scheme that could not be overcome. For as long as you were the hardest worker in the room, there was always a fighting chance, no matter the situation. Being your fan and following you was falling in love with the magic of being in position to dare to achieve the impossible.
Which is what makes the past 48 plus hours so hard. Because you always managed to overcome. Because no matter the situation, there was always a chance. Because there was no impossible when it came to you.
I have tried to put off writing about this for so long. Partly because I didn't (and still don't) fully have the words. But also partly because perhaps I was subconsciously thinking that by not writing about it, it would be a little less real — at least to me. That maybe it didn't happen. That maybe we could all just #MambaMentality and will it all away. Sadly, when it comes to death, life just doesn't work that way. And so despite all of our wishes for the contrary, the sad reality is… you're gone.
I used to wonder why people would react with such grief during certain celebrity deaths. Of course, it's normal to be sad. But I couldn't understand the level of sadness of some — sadness as if they personally knew the person. Like I couldn't understand the depth of emotions my mother was feeling when Lady Diana passed away ("She doesn't even know you, mom…"). But after what happened two days ago, I now understand. To follow someone for so long is to invite them into your home. And sometimes, if you're lucky enough, when you follow someone for so long the best pieces of them take up space in your heart and manage to lodge themselves in who you are. And when they go, especially prematurely, your house, your heart, and your being all feel a little bit emptier. They may have been famous and larger than life, but they were also large in your life.
You entered my life at the most opportune time. It was 1996, and I was a chubby and short 10-year-old boy. I had just graduated from idolizing Cyclops (my older brother already had first dibs on Wolverine) and was searching for the next male role model in my life. I love my father in a million ways and he has taught me so much, but we have a 54-year age gap and he had just experienced a mild stroke at that time which left him half paralyzed. I guess looking back I was searching for someone a bit closer in age as some sort of guide. And just like that, there you were. Drafted 13th by the Lakers in the 1996 NBA Draft, and the rest is history.
Just like you admittedly copied Michael Jordan, I copied you a lot. I copied your fadeaway jumper so much that I ended up shooting open jumpers drifting or falling away even if I didn't have to. I idolized you so much that even when my height shot up and I slimmed down and my friends were begging me to play center or power forward, I stubbornly insisted on playing shooting guard because that was your position. I celebrated when you won championships and was frustrated alongside you when you did not.
I cried when you injured your Achilles because I knew that things would never be the same, but there was some solace because at least you would be back. True enough, you did come back, and while you were never the same player, you managed to pass Michael Jordan in total career points scored. I was sad leading up to your last game because I knew that following the game of basketball with you not in it would never be the same, but there was some solace because at the age of 37 years old, you did score an epic 60 points in your last game, and the world was curious as to what your next steps would be post-basketball. At least you would still be around. Around to win an Oscar. Around to be a bestselling author. Around to be a venture capitalist. Around to be a force in the community, especially for women empowerment and the growth of women in sports. Around to continue inspiring people like me in other new ways. And most of all, around to be a husband and father. Around for what really matters. Little did we know that it wouldn't be for long.
Your legacy in basketball is so great, and yet that isn't the greatest legacy that you leave behind. Your greatest legacy is in how you've managed to inspire us in our own lives. Watching all of the clips, reading all of the articles, seeing all the social media posts, it's clear that a lot of people — not just Kobe/Laker die-hards, but even the average NBA fan, the average person, and yes, even your haters — have been affected by your passing. Your life was a gift, a master course for others. Thank you for teaching us that true magic isn't found at the moment you receive the championship trophy but rather in going to the gym at four in the morning. You were far from a perfect person and made mistakes (some pretty big ones), but you were human, and you showed us that while humans make mistakes, we do not have to be defined by our mistakes as long as we are willing to change and work to be better.
I am not yet a father, although I do hope to be one someday. And when I am, aside from following the example of my own dad, I know that I will look to the Kobe Bryant Playbook of Fatherhood for some guidance. After spending my teenage and young adult years copying your fadeaway, I only think it's natural to want to copy your Father Way. You were an excellent basketball player, but you were a more excellent dad.
You really are gone too soon. This is an incomprehensible loss to the world. And while we will move on from this one day (because that is, of course, what #MambaMentality entails), we will never forget.
Three… two… one… (buzzer sounds). There is no game-winner, only silence. There is no victory, only great loss. The arena and our hearts are empty. All is not right in the world.
You will forever be missed. Rest In Peace, Mamba 4 Life!
(E-mail reactions at rickylophilstar@gmail.com. For more updates, photos and videos, visit www.philstar.com/funfare or follow me on Instagram @therealrickylo.)