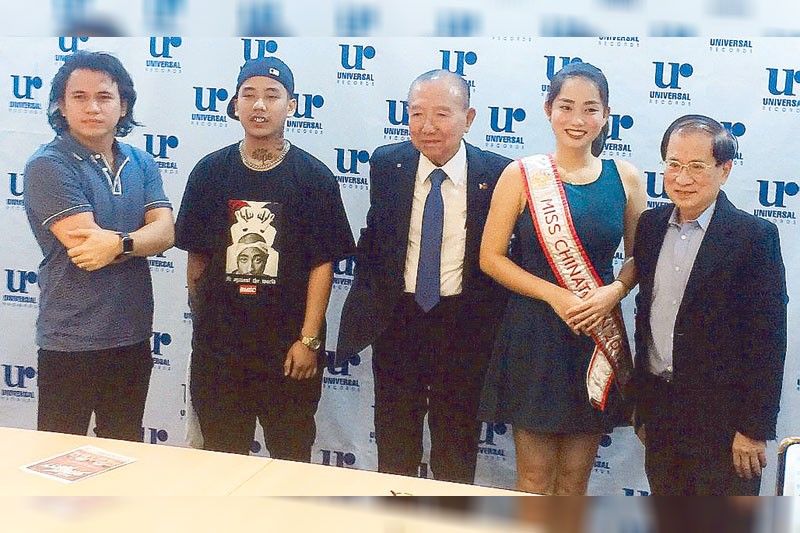 Sponge Cola frontman Yael Yuzon and rapper Shanti Dope (leftmost and second from left) are joined by James Dy and Ramon Chuaying (rightmost) of Filipino-Chinese Chamber of Commerce and Ms. Chinatown 2019 Nina Tey Lee in last Tuesday's presscon at Universal Records offi ce to promote the Chinese New Year 2020 street party happening at Plaza San Lorenzo Ruiz
Gil Villa
(The Philippine Star) - January 24, 2020 - 12:00am
Perhaps it's 2020 being the beginning of a new era or because the beloved Manila Mayor Isko Moreno is making another big statement that this year's Chinese New Year is being welcomed with a bang. Whatever the main reason, the Filipino-Chinese community is a happy recipient of this development as stars come together today for a Street Party Countdown to remember.
The Chinese New Year Countdown 2020 happens tonight at the Plaza San Lorenzo Ruiz, Binondo, Manila. It will be a festive musical show featuring some of the biggest acts in OPM led by Parokya Ni Edgar, Spongecola and Gloc-9.
"This is the first time that we are handling this celebration. We want it to be really a big one," said Ramon Chuaying, president of Filipino-Chinese Chamber of Commerce which is the oldest of its kind in the county, established in 1904.
Sponge Cola frontman Yael Yuzon, along with rapper Shanti Dope who will also perform at the event, attended the presscon last Tuesday afternoon at the Universal Records (UR) office in Quezon City. So were chairman emeritus of Filipino-Chinese Chamber of Commerce Dr. James Dy and Ms. Chinatown 2019 Nina Tay Lee.
The involvement of Chuaying, a record label executive, proved crucial in developing a roster loaded with UR-signed acts. Dr. Dy, with a nod to the youngsters, pointed out, "We will let the millennials enjoy the party and dance till 3 a.m."
Other noted artists in the line-up are solo acts Angeline Quinto, Darren Espanto, Joshua Garcia, Rita Daniela, Derrick Monasterio, Janine Berdin and Ex-Battalion.
This writer asked Yuzon if he and his bandmates will be willing to do a Mandarin version of one of their hits in line with the nature of the gig. He responded, "I'm up to the challenge. That would be cool. We have this song Tuliro that can sound okay in Mandarin."
Relating the Metal Rat to a music genre, he added, "I hope this will be a great year for rock!"
The show starts from 7 p.m. to 12 midnight, with a 30-minute grand fireworks display to officially start the New Year.
The following day, Jan. 25, a grand float parade to travel along the streets of Binondo and Sta. Cruz will also feature celebrities from the major TV networks. Admission is free for the two-day festivities.
Shanti Dope, when asked for his outlook in the coming year, expressed, "Sana sa taong ito, mas mahigitan ko pa ng triple ang nagawa ko nung nakaraan."
What's definite is this star-studded celebration will be a unique happening to usher in the Year of the Rat.