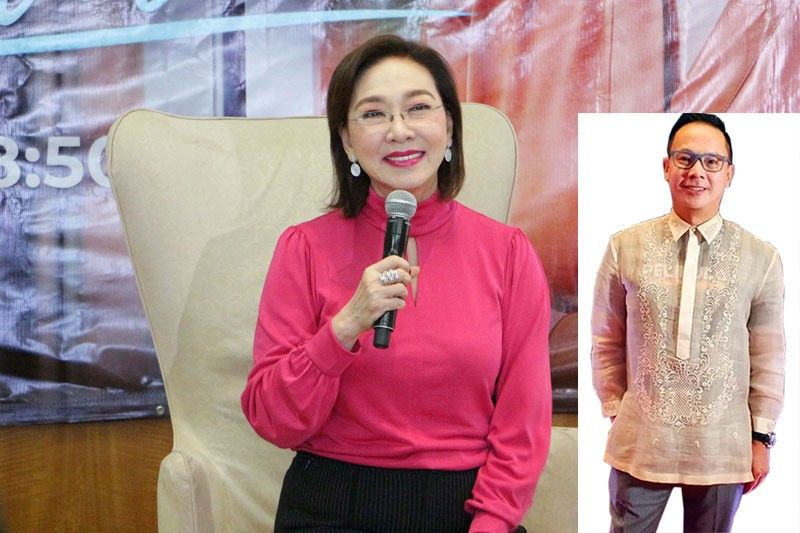 Magpakailanman host Mel Tiangco, also Kapuso Foundation founder and ambassador, and MPK head writer Senedy Que
Magpakailanman: The show is Mel Tiangco & vice-versa
FUNFARE
-
Ricky Lo
(The Philippine Star) - December 6, 2019 - 12:00am
Mention Magpakailanman and the name that pops up is Mel Tiangco and vice versa. The show and the host have become so intertwined that they have become like conjoined twins.
Known simply as MPK, the show is celebrating its 15th anniversary with a two-part "suspense-thriller" titled OFW Most Wanted tomorrow, Dec. 7 (Part 1) and next Saturday, Dec. 14 (Part 2). Starring Dennis Trillo, the "thriller" dramatizes the story of Rens Tuzon, a DI/writer/painter who decides to work in a furniture company in Saudi Arabia hoping to provide his wife and son a better life.
Funfare won't preempt MPK and rather let you find out what awaits Rens and 12 other OFWs in Saudi and what he discovers about his wife when he comes home.
Meanwhile, here's Mel (also Kapuso Foundation founder and ambassador) and MPK head writer Senedy Que:
What's the secret (or "formula") for the longevity of Magpakailanman?
Mel: It's not a secret. It's not hard to think what makes a program last. For Magpakailanman, it is being true to what they say na totoong kwento lang ang aming ipinapalabas, always totoong kwento. Of course, you cannot discount na kailangan maganda ang production at ang istorya, mga istoryang kakaiba subalit totoo. That's the formula for a good television program, not only for Magpakailanman but for all genres.
How many percent of the show's stories are true-to-life and how many percent are based on true stories?
Mel: All our stories are true stories, I interview the subjects.
Senedy: At the very least, it is based on true stories. We never produce the episode unless the case subject approves of the script page by page.
It's not a documentary in the sense that we don't use the same words they uttered in their real lives. We don't invent events just to make a story more dramatic and cinematic. It has to be very similar but we do not treat it like a documentary feature.
For example, instead of a train station, we situate the scene in a bus station for time and budgetary considerations. But the flow, the situation and the emotion of the story will be the same. At times, we have to omit some life events to protect the families and the people around the case subject kaya in the beginning, we add a 'Paunawa' to inform the viewers that some names, locations and situations have been altered.
How do you or your staff select the stories to be dramatized (what are the criteria)?
Senedy: It has to be stranger than fiction. It has to be bigger than ordinary life. Whether it is horror, action, romcom or drama. There has to be something different about it.
We stay away from the usual stories wherein somebody gets sick and dies in the end that is too predictable. No matter how dramatic the situations are or how well it is shot, we already know how it's going to end.
Sometimes, you see us doing edgy stories because we are also trying to court the male viewers since our competitor's core audience is female. They love inspiring and romantic-drama tales starring their network's big stars and loveteams in the cast.
How do you choose the actors for each episode?
Senedy: Of course, kung sino 'yung bagay sa role. We try to combine stars that you have never seen together in a teleserye or you have never seen do drama acting like our recent winning episode, Yaya Dubai and I, which starred "Hipon Girl" of Wowowin.
We are very excited about bringing together Ms. Amy Austria and Miguel Tanfelix for our Christmas episode because that's a new combination of two amazing actors from two different generations.
We don't really rely so much on the bankability of the star. More of our high-rating episodes did not feature big stars. It's more of if "bagay" sila sa role.
Sometimes, we do what we call "stunt casting." We cast the actual person in his/her own life story and those episodes always rate very well.
We had this boy who did not grow up. He just had a one-day workshop. There's also this midget painter who now has his own gallery. They played themselves in our program. It added authenticity to what we already strive for week after week. We have these kinds of episodes that are not star-driven and yet work for our viewers because they know and expect that #MPK is more story-driven. Mga totoong kuwento talaga ng mga totoong tao.
Mel: Matagal na namin (Kapuso Foundation) tinutulungan si Justin even before his Magpakailanman episode (the boy who did not grow up).
What would you consider your three favorite episodes?
Mel: Justin, that little boy because he has shown how people who are afflicted with diseases can continue in life and live it productively. I like also the MNLF and Muslim best friends. We also featured this young girl with a bone disease. Her bones are really soft. She's in a wheelchair but wow her fighting spirit nung bata ang galing and ang tali-talino niya despite her disability. It's worse than having walang paa, siya buo 'yung paa niya pero bali-bali. Pero nag-aral and nakapagtapos siya.
Do you ever get carried away by the storytellers and how do you prevent yourself from breaking down on air?
Mel: There was a time I broke down, isa lang 'yon. This was a mother who had three children, nagkasakit 'yung tatlong anak niya ng blood disease. Namatay na 'yung isang anak niya. They had to take this medicine for them to continue living pero ang mahal-mahal ng gamot. Ang sabi niya "Tita Mel, ang buhay ko po wala nang saysay kasi ang parati ko pong naiisip baka paggising ko sa umaga patay na 'yung anak ko sa tabi ko." You know all of a sudden naapektuhan ako, awang-awa ako doon sa mother kasi na-feel ko how she felt na she was so helpless, she has three children and all of them are sick because it's genetic. 'Yung future ng mga anak niya, papaano na ang gagawin niya. I broke down there while she was talking.
As I said, I also try to put a wall so that I will not be affected that way, it's alright to be affected that's what gives you feelings, that's what fills up your emotions. But it has to be in a controlled way kasi masama rin 'yon for me. I sort of know now, through the years, how to prevent myself from being affected by the stories that I tell. Kasi these are very real stories. Mga counselors, social workers, pari, and all they are trained kung paano hindi nila ma-absorb. I think I am also able to handle that for myself.
If you were to dramatize your own colorful/dramatic life story in Magpakailanman, how many episodes would it require?
Mel: Maybe only 30 minutes, it does not fit the criteria of Senedy na heart-shaking na istorya baka 'yung akin ang makapagpabagsak ng rating. I am the host; I don't like to be anything else. Hindi ako marunong umarte, matatalo kami.
(E-mail reactions at rickylophilstar@gmail.com. For more updates, photos and videos, visit www.philstar.com/funfare or follow me on Instagram @therealrickylo.)