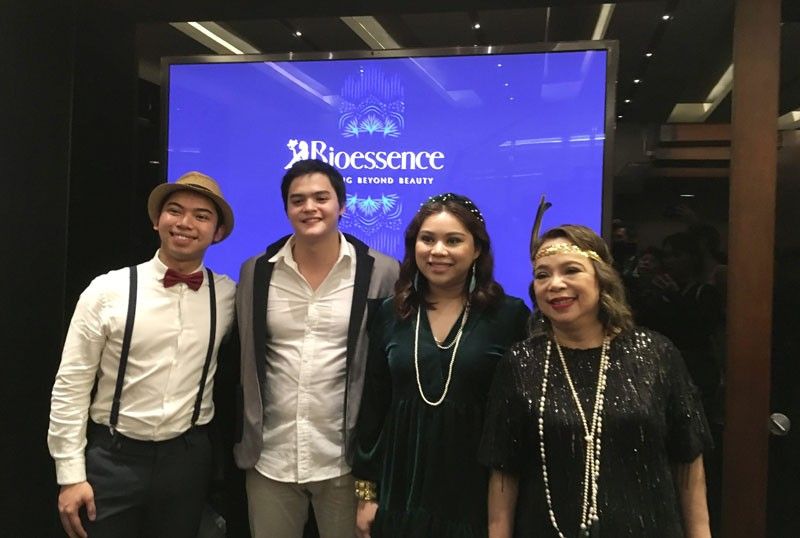 Mark Neumann is among the guests at the 25th anniversary celebration of Bioessence. With him are Bioessence execs Joseph Feliciano, Joanna Feliciano and founder and president Dr. Emma Beleno-Guerrero.
What's stopping Mark Neumann from getting married?
Bot Glorioso
(The Philippine Star) - December 5, 2019 - 12:00am
MANILA, Philippines — Mark Neumann admitted that he is now living in with his Cebuana girlfriend in a house in Lemery, Batangas that he inherited from his grandmother. In fact, he already refers to Maffy Villamor as "my fiancée" even if he hasn't popped the big question on a bended knee yet.
"It's been a year since I started calling her that and I like to call her that because I am serious and sure about it," said Mark who was among the celebrity guests at the 25th anniversary celebration of Bioessence held at the Cities Events Place recently.
Their love affair has been going on for four years now and the Kapamilya actor confirmed no exchanging of I do's has ever happened yet but he is ready to bid his bachelor days goodbye once every legal document required for a wedding to take place is ready. In his case, Mark has to fly to his birthplace in Germany first and complete the necessary papers to prove that he is single.
"The papers are a bit hard because I have to communicate with the civil registry in Germany and I have to contact the office where I was born and 10 years akong 'di nakabalik sa Germany and you can't just go to the embassy. So, it's taking a while."
Good thing, Maffy understands the situation as well as Mark's celebrity status. She does not get jealous whenever she sees fans swooning over him or being lovey-dovey with female stars. The only thing that made her cringe was Mark's gay portrayal in Mga Batang Poz where he had intimate scenes with co-actor Raven Molina.
Mark said, "She cringed a little there. I mean, everyone, when you see your loved one, parang…di ba? It'll (make you) cringe a little but she praised me for my performance."
He, too, is happy about finding someone who is outside from showbiz knowing how erratic schedules are, especially during out-of-town shows and shootings.
"We also have a lot in common when it comes to hobbies and views in life. We are so compatible."
Meanwhile, Mark has gotten a new role. No, it's not for a TV show or a movie, but the real-life role as a licensed financial adviser of Insular Life. He got interested in meeting up with clients and discussing their financial goals after getting himself an insurance plan three years ago. "My fiancée is also a licensed financial adviser but it was my friend who asked if I want to also try. So, I took the exam and luckily, I passed."
The trainings and seminars that he attended didn't only prepare him for the position but also led him to understand the importance of having a secured future.
"It's really good because we've been taught to actually teach personal money management. I can explain or teach how to allocate and prioritize your cash flow in order for you to grow because many of us do not think about saving first. They spent first then whatever is left they saved. It should be the other way."
But it doesn't mean Mark will turn his back on acting. "It will be 50/50. I mean whatever comes first. If, for example, I already have a commitment, then something comes in for that, then I should take the first one. I can still pursue my passion in acting and on the side, I can still be a financial adviser."