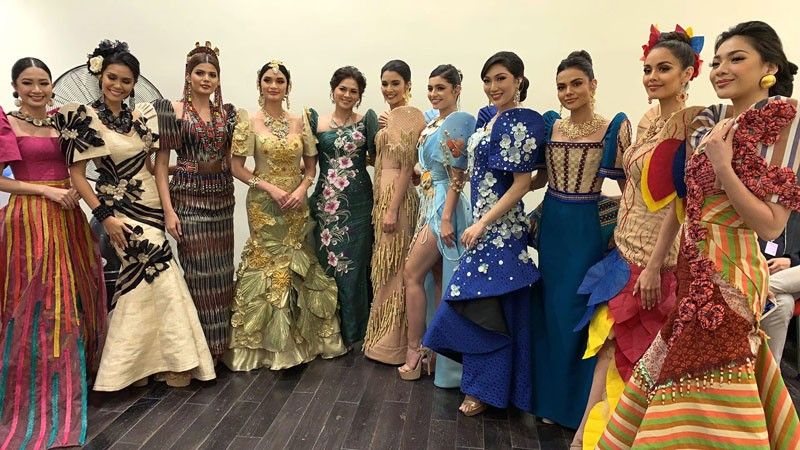 Top beauty queens all set to serve as muses for the participating countries at the 2019 Southeast Asian Games opening ceremony: Sophia Senoron (Cambodia), Angelia Ong (Thailand), Sharifa Akeel (Vietnam), Pia Wurtzbach (Philippines), Precious Lara Quigaman (Malaysia), Jamie Herrell (Singapore), Cynthia Thomalla (Laos), Karen Ibasco (Myanmar), Karen Gallman (Brunei), Megan Young (In-donesia) and Jannie Alipoon (Timor Leste).
Rikka Fernandez
MANILA, Philippines — Beauty titleholders, led by Miss Universe 2015 Pia Wurtzbach, served as the muses for the 11 countries participating in the 2019 Southeast Asian (SEA) Games. The world-class Pinay beauties graced the parade of athletes during the opening ceremony for the 30th edition of the biennial sports meet, which was held Saturday at the 55,000-seater Philippine Arena.
As each delegation entered the venue to rousing cheers, the ladies led the way, Santacruzan style. Some foreign press particularly took note of the bevy of beauties such as Malaysia's Star Online, which wrote, "The Philippines lined up its most beautiful and most famous in a one-of-a-kind SEA Games opening ceremony..."
The queens wore Filipiniana gowns created by Eric Pineda that had indigenous and traditional details or elements. Pia, for one, looked regal in a golden-hued gown that featured real anahaw leaves, while Miss World 2013 Megan Young channeled the Pahiyas Festival of Lucban, Quezon.
Certainly, these stunners added shine and sparkle to the opening ceremony that delivered as promise: a showcase of proudly Pinoy music, dance, talent and culture.
The awe-inspiring program was produced by the US-based Olympics ceremonies content creator Fivecurrents and the Philippine production team under the creative direction of Floy Quintos with National Artist for Music Ryan Cayabyab as musical head.
The event was a proud moment not just for the spectators, but also for the beauty queens.
"So happy and blessed to represent our beloved country at the 30th Southeast Asian Games. Good luck to all our hard-working athletes. Mabuhay po kayo at mabuhay ang bansang Pilipinas," Pia wrote on Instagram.
Meanwhile, Miss International 2005 Precious Lara Quigaman recalled walking with Team Philippines as the muse, also in 2005, when the country last hosted the SEA Games. "Today, after 14 years, I am grateful to again be a part of the 30th SEA Games to walk as a muse for Team Malaysia."
Megan, on the other hand, took pride in being the muse of Indonesia. "What an amazing experience it was to be a part of the opening number! Each of us walked with a participating country earlier and I'm so happy I got to walk with the Indonesian athletes. Indonesia will always be a country dear to my heart because that's where I won Miss World," said Megan, the first and only Pinay to be crowned Miss World, in an IG post.
"(I) took some photos backstage with Queen P who walked with the Philippine athletes during the opening number! Nakakakilabot nung sinabi ung PHILIPPINES! During that moment, we were all just so proud to be Filipino," Megan added.
The other muses were Miss Intercontinental 2018 Karen Gallman (Brunei), Miss Multinational 2017 Sophia Senoron (Cambodia), Miss Eco International 2018 Cynthia Thomalla (Laos), Miss Earth 2017 Karen Ibasco (Myanmar), Miss Earth 2014 Jamie Herrell (Singapore), Miss Earth 2015 Angelia Ong (Thailand), Miss Tourism International 2017 Jannie Alipoon (Timor Leste) and Miss Asia Pacific International 2018 Sharifa Akeel (Vietnam).