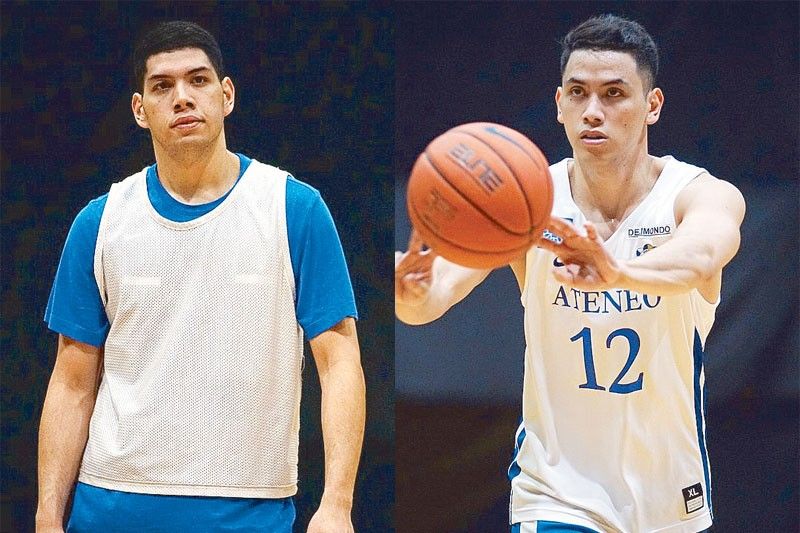 Matt and Mike Nieto: True-blue Ateneans
Photos courtesy of Aaron Vicencio/ADMU
RAZZLE-DAZA
-
Pat-P Daza
(The Philippine Star) - December 2, 2019 - 12:00am
Last Nov. 20, the Ateneo Blue Eagles made history by winning their third consecutive championship (three-peat!) and achieving the first 16-0 sweep in the Final Four era of UAAP Men's Basketball.
It was, however, a bittersweet victory for the five players who are graduating in May 2020: Thirdy Ravena, Isaac Go, Adrian Wong, and twins Matt and Mike Nieto. Because I'm a certified Blue Eagle fan (my brothers, my son and many of my relatives are Ateneans), I was interested to know how the five graduating players felt about their victory. I asked my brother Paul (who works in Ateneo) if he could interview any of the seniors for me. Thankfully, the Nieto twins generously made themselves available for an interview.
Here's what I learned from them:
Matt and Mike are true-blue Ateneans. For 17 years, they've been students of the blue school along Katipunan and have been passionately playing basketball since their grade school days. As collegiate players, they've trained under coach Tab Baldwin for the past four years. Matt reveals that Coach Tab's main goal for the Blue Eagles was not to win championships, but to make each man the best basketball player he can be. Matt says, "Ang gusto ni Coach Tab at the end of the day, ma-reach namin ang best namin as basketball players." The three-peat was just icing on the cake.
So how did coach Tab and the rest of the coaches do it? Preparing for UAAP Season 82 began in January 2019. Matt recalls that from January to May, the focus was on individual skills. "We forgot about team concepts and focused on our strengths and weaknesses." If, for example, a player's weakness was dribbling with his left hand, the next three to four months would be dedicated to improving that skill. The team then joined the summer leagues, with each player applying his newly-developed skill in these games. This was followed in July by a basketball training camp which took the team to Greece, Singapore and Australia, a camp which Baldwin described as "brutal." It was also around this time, three to four months before the start of UAAP Season 82 that the focus shifted to team concepts. Says Matt, "Lahat ng tinrabaho naming skills at strengths, nilagay sa system para mas gumanda pa."
During the school year, the team practiced every day from 5:30 p.m. to 9 p.m. Not many people know that Ateneo's student athletes must maintain a QPI average of at least 1.8 to play for the school, and it's no easy feat juggling academics and basketball. And then there was coach Tab, who pushed the Eagles to their limits and challenged them to constantly exceed their potential. Mike says that Coach Tab would have wanted the team to practice until 10 p.m. every night if he had his way, but rules are rules. "After practice, uwi tapos aral. And then sleep and get ready for the next day, go to class." Matt and Mike are both grateful and thankful to have been mentored by Coach Tab, whom they describe as a strict and exacting perfectionist whom they look up to like a father.
And what of the team's "godfather," Manny "MVP" Pangilinan? Following the championship wins in 2017 and 2018, MVP rewarded the Blue Eagles with trips to Hong Kong. Will there be a bonus trip following the 2019 three-peat sweep? Mike says that MVP has not told them if they have a bonus. "Rest assured, masayang masaya si Boss MVP," says Mike with a smile. "Sa aming lima (seniors), hindi na kami nag-e-expect ng bonus kasi sobra-sobra na yung ginawa niya para sa amin. Yung training camp na hinanda niya just to get us ready for the season… para sa amin sapat na yun."
What's next for the brothers? After they graduate in May 2020, Matt and Mike will set their sights on the PBA and are hopeful they will make it among the Top 10 PBA draft picks. To them, this will be the start of their adult life.
Of course, as is usually the case with good-looking athletes, the Nieto twins are already taken. Matt's girlfriend is fellow Atenean Bianca Matanguihan, while Mike's girlfriend is Aimee Lontok from UP.
Armed with their unquestionable basketball prowess and their degrees in Management Economics, the Nieto brothers will undoubtedly continue to soar like eagles. OBF (one big fight)!