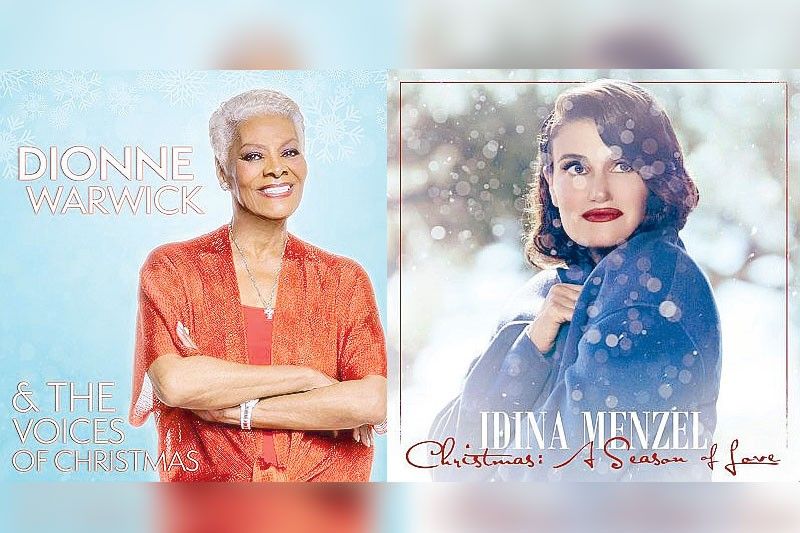 Great ladies sing new Christmas albums
I dream of new Christmas albums every year even if those mostly just keep repeating the old songs. But although all of us still dream of finding another Christmas In Our Hearts, I have sort of given up on new Christmas albums by Filipino artists. Producers just do not want to do them anymore.
So I find it wonderful that artists and producers overseas continue to sing of Christmas every year and this particular season has already produced quite a bountiful harvest of Holiday sounds. All recorded by great ladies with voices to match, these releases have gotten this year's Christmas listening off to one happy start.
Dionne Warwick & The Voices of Christmas. Dionne's warm tones have not changed much from the time when she was a 20-something singing the songs of David and Bacharach. These new recordings prove that. And how nice that she has invited guests of varied styles, soul, country, R&B and others to join her Christmas celebration. Best, of course, is White Christmas with Johnny Mathis. Their blended voices just sound so Christmasy.
Also included are Silent Night; Jingle Bells ft. John Rich, The Oak Ridge Boys & Ricky Scaggs; Frosty The Snowman ft. Eric Paslay; God Rest Ye Merry Gentlemen ft. Diane Reeves; Have Yourself A Merry Little Christmas ft. Jason Scheff; This Christmas ft. Aloe Black; The Christmas Song ft. Wanya Morris; Rudolph The Red Nose Reindeer ft. Andra Day; Jingle Bell Rock ft. Michael McDonald; Silver Bells ft. Chloe x Halle; and The First Noel.
A Season of Love by Idina Menzel. It is time for another Frozen movie. Frozen 2 is coming next month with another potential earworm in the song To The Unknown. Therefore, it is also the best time for a Christmas album by one of today's great voices, Idina Menzel. The Tony Award-winning actress for Wicked and the voice of the Princess Elsa in Frozen has just released A Season of Love, her first Christmas album named after the famous song from the musical Rent.
It mixes traditional carols like Auld Lang Syne, O Holy Night and Ave Maria, Broadway tunes as in Seasons Of Love and We Need A Little Christmas from Mame; Jewish Holiday favorites, Walker's 3rd Hanukkah and Ocho Kandelikas; plus pop tunes, Christmas Baby Please Come Home, I've Got My Love To Keep Me Warm featuring the sensational Billie Porter of Kinky Boots and We Wish You the Merriest, a duet with Josh Gad, the voice of Olaf the Snowman. There are even new songs for the Season like Christmas Just Ain't Christmas and A Hand for Mrs. Clause, which is a magnificent duet with Ariana Grande. The latter makes me think that Idina and Ariana should be on Broadway Defying Gravity together in Wicked.
Diana Ross, Wonderful Christmas Time. This is actually a compilation of cuts from three previously released albums from the past 50 years and it is truly loaded. What a fantastic line-up of selections. There are excellent and varied orchestrations with pop keeping company with a big band and the London Symphony Orchestra laced with big choruses. Most of all, the legendary Diana herself sounds absolutely divine.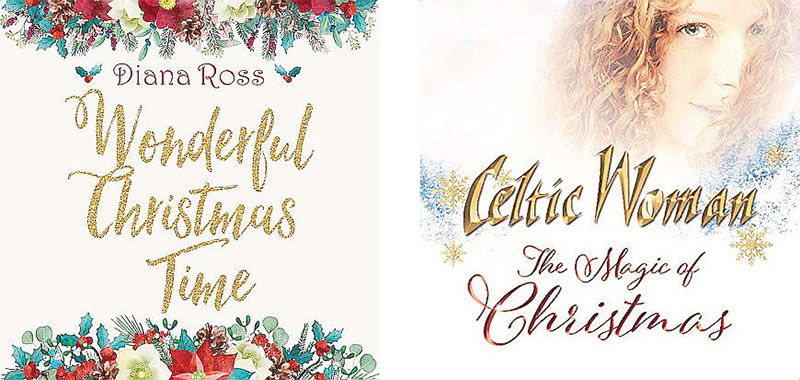 Diana opens and closes the album with songs by former Beatles, Wonderful Christmastime by Paul McCartney and Happy X'mas (War is Over) by John Lennon. Among the rest are Stevie Wonder's Overjoyed, the Jackson Five's Someday At Christmas, David and Bacharach's What The World Needs Now Is Love, Sweet Love, plus Sleigh Ride, Jingle Bells, Winter Wonderland, It's Christmas Time, White Christmas, Let It Snow Let It Snow Let It Snow, The Christmas Song, I Heard The Bells, His Eye On The Sparrow, Go Tell It On The Mountain and a most amazing Amazing Grace that gets the listener rethinking if Aretha Franklin's is indeed the best.
Celtic Woman and The Magic of Christmas. Song line-up ranges from mystical Irish carols, Dia Do Bheatha, to well-loved traditionals, Angels We Have Heard On High, all performed in the ethereal manner that only Celtic Woman can do. Accompanied by bagpipes and harps and a fiddle and the bell-clear voices of Tara, Mairead, Eabha and Megan do invite Christmas magic.
Also included are We Wish You A Merry Christmas; Do You Hear What I Hear; Deck The Halls; O Come O Come Emmanuel; Amid The Falling Snow; O Holy Night; Sleigh Ride; Greensleeves; Carol Of The Bells; Wexford Carol; Silent Night; Feliz Navidad and a tear-inducing Auld Lang Syne.