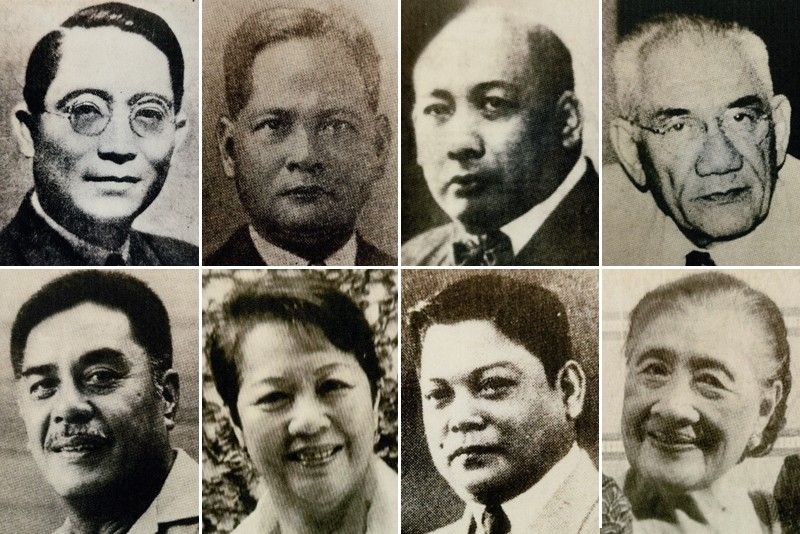 Clockwise from upper-left: Nicanor Abelardo, Leon Ignacio, Severino Reyes, Ramon Roces, Paz Cielo Angeles-Belmonte, Francisco Santiago, Gilda Cordero Fernando, Vic Silayan
8 more CCP Centennial Awardees
REMEMBER WHEN?
-
Danny Dolor
(The Philippine Star) - September 22, 2019 - 12:00am
Weeks back, Remember When? named eight of the CCP Centennial Awardees, Parangal Sentenyal sa Sining at Kultura, in celebration of the 100th year of Philippine Independence last 1999.
Here are eight more awardees honored by the Cultural Center of the Philippines on Feb. 2, 1999.
• Nicanor Abelardo — Composer and teacher, transformed the kundiman into an art song. His compositions — Mutya ng Pasig, Bituing Marikit, Nasaan Ka Irog and Kundiman ng Luha, among others — are favorites by the masses and culturati.
• Leon Ignacio — Composer of the most popular Filipino zarzuelas and memorable music for Filipino movies. His Dalagang Bukid catapulted the young Atang de la Rama to fame. His equally renowned works: Paglipas ng Dilim and Ang Kiri.
• Francisco Santiago — Composer of songs that fostered nationalism, the likes of Kundiman, Anak Dalita, Pakiusap, Madaling Araw. He pioneered in the use of folk themes in his music.
• Severino Reyes (Lola Basyang) — Foremost proponent of the zarzuela, having written some of the most important works — Walang Sugat, Minda Mora, Filipinas para los Filipinos, Ang Pagbibili ng Pilipinas sa Japon — that signaled the golden age of zarzuela. He is also famous as Lola Basyang, retelling local and foreign folktales.
• Ramon Roces — The man responsible for the unprecedented flowering of Filipino literature when he founded Liwayway, Bisaya, Bannawag and Hiligaynon. Roces also gave readers Pilipino Komiks, Hiwaga, Tagalog Klasiks and Espesyal Komiks.
• Vic Silayan — Movie and stage actor appearing in more than 300 films including foreign productions. His filmography includes A Portrait of the Artist as Filipino, Karnal, Kisapmata, Ligaw na Bulaklak and Diligin Mo ng Hamog ang Uhaw na Lupa.
• Gilda Cordero Fernando — Fictionist and publisher. Wrote well-crafted and significant stories about the Filipino middle-class and produced insightful books on the history and identity of Filipinos. Her works include Early in Our World, The Morning Before Us, Sunborn and High Fashion.
• Paz Cielo Angeles-Belmonte — Dancer, dance researcher, educator and choreographer. She was in the forefront of promoting Philippine culture through her devotion to the cause of folk dance. The Philippine Barangay Folk Dance Company, which she founded, has advanced Filipino culture and identity by inspiring the formation of similar dance troupes all over the country. As a young dancer, Angeles-Belmonte was the star performer in Francisca Reyes Aquino's UP Folk Song and Dance Troupe from 1933 to 1939. She was the choreographer in popular vaudeville productions at the State Theater and Avenue Theater during the war.
The CCP awardees earlier named in this column: Nora Aunor, Rosalinda Orosa, Nick Tiongson, Naty Crame Rogers, Luis Araneta, Dr. Jose R. Perez, Doña Narcisa Buencamino vda. de Leon and Constancio de Guzman. — RKC