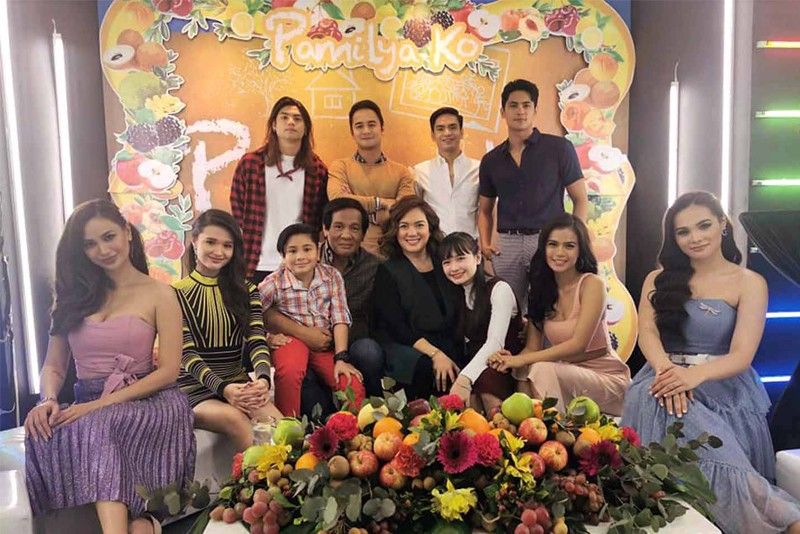 Sylvia Sanchez (fourth from right) with Pamilya Ko co-stars Arci Muñoz, Kira Balinger, Kid Yambao, Raikko Mateo, Joey Marquez, JM de Guzman, Mutya Orquia, Jairus Aquino, Kiko Estrada, Maris Racal and Alyssa Muhlach. The Kapamilya teleserye will air on Sept. 9.
The joys & sorrows of motherhood
MANILA, Philippines — On this rainy evening in this high-end shopping mall, Sylvia Sanchez talks with a couple of media friends on a subject close to her heart: Motherhood.
For the record, she is a mother of four, two of them following in her showbiz footsteps with good results.
But in this coming teleserye called Pamilya Ko, she is the mother of eight (!) coping with the joys and sorrows of ordinary couples.
"In a way, I am fully rehearsed for the part as a mother in real life," she said. "Having lived this long, I know what it takes to survive motherhood and to enjoy its blessings. I like being connected with my children although two of them are grown-up adults. When tapings find them unable to communicate with me, I'd text and remind them I am still around and waiting for a word from them. Yes, I like to be friends with my kids. But there is also a time when I draw the line and tell them, 'I may be your friend but I am also your mother.' When situations need my concern as mother, I forget I am also their friend. They have to know what I have in mind for their own good."
The past mother roles have given her an edge and a good rehearsal for present and future projects.
In Pamilya Ko, she is Luz Mabunga coping with love and heartbreaks of eight children.
How can you forget the feisty mother Sonya Magat-Alipio in Hanggang Saan?
And the incandescent Gloria Guerrero Alegre in The Greatest Love!
The actress admits it has not been an easy ride when she was just starting in showbiz. Now, she can choose her role and demand her price.
That was not so during her time. "When I was just starting, I was just following my handler and not choosy about roles. My mind was just on earning a living and putting food on the table. I am honest about this with my kids. There is no part of my past life they don't know. They know how I started but they also know how difficulties have toughened me into a strong person and a sensitive actor. True, life was my good teacher and it applies to my acting. That explains my penchant to be real in anything I do even in front of a camera. I know that acting workshops help a lot but if it doesn't draw what is real in me, I don't become too dependent on it. I absorb what the workshop teaches but I ignore some points where I'd look so unreal."
Conversation is interrupted as passing showbiz colleagues like Jennylyn Mercado and Dennis Trillo and Bea Binene stop by to say hello.
"I've worked with them in the other network," she said. "They are part of my growing up as an actress. In this business, you learn from everybody and not just from your co-actors and director but from everyone involved in the production.
"You can never tell when one of them could be the subject of another story and your services are needed to bring them back to life. I try to learn something new with every project. I think I have also perfected the art of collaboration with everyone in the production, especially the director. I always ask for a dialogue and discuss my character and the story. Experience has taught me that memorizing lines will not get me doing everything right. I prefer to absorb my role like trying on a second skin. I should connect to it internally and breath naturally like the character.
"I don't want to end up mouthing lines and not meaning it. Sometimes, I give up on reading scripts just to look natural when my part comes. I want to be the breathing character, not a mouthpiece of her dialogue."
Just to be the mother she is in real life, Sylvia likes immersing her kids and see life beyond their comfortable status. Early in their youth, she brought them to her hometown in Nasipit, Agusan del Sur and exposed them to poor families. She even encourages her kids to interact with them. "I was open to them about my being poor when I was just growing up in the province and starting a showbiz career. We all fly to the province and see how the poor live beyond our comfortable subdivision. Truth to tell, I am the kind of mother who will not gloat on the income her grown-up kids are making on their own."
She concludes: "I like it when people say my grown-up children are hardworking. But I derive a great pride when people tell me my kids are so grounded and respectful. I brought them up that way. That's the simple joy of motherhood I like to nurture within myself. It is far more enduring than material gifts."
Pamilya Ko where Sylvia plays mother to eight children airs on ABS-CBN starting Sept. 9. Directed by Raymund Ocampo, the teleserye also stars Joey Marquez, Irma Adlawan, JM de Guzman, Kiko Estrada, Arci Muñoz, Jairus Aquino, Maris Racal, Kira Balinger and Raikko Mateo, among others.