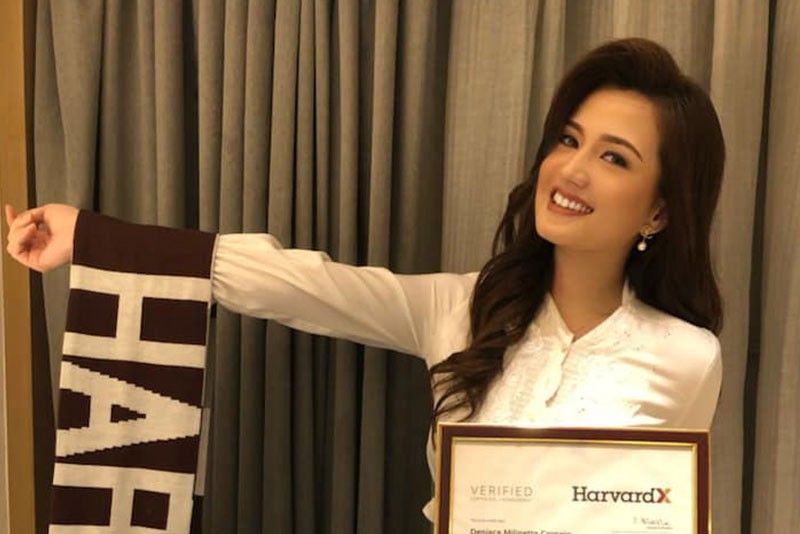 Former model-actress Deniece Cornejo
Facebook/Deniece Cornejo
Deniece Cornejo aces Harvard University exam
MANILA, Philippines — Former model and actress Deniece Cornejo has passed in an online examination of Harvard University on Children's rights in theory and practice-international human rights law.
In her Facebook account, Deniece said she got the perfect score in the finals.
"I finally did it! And received a cute gift. Yes I passed!!!! Got the perfect in the finals! What they say is true, hard work never betrays. It all pays off in the end. Almost 8 months of sleepless nights and a lot of reading, it finally led to this," Deniece said.
"The work continues for the children rights protection program where countries such as Nigeria, Nepal, Africa, Japan, US, India and Russia took active participation in the discussion. I am honored to lobby for international human rights specifically in children rights theory and practice," she added.
She thanked her mentor for passing the exam.
"I would like to thank my mentor, Jaquelene Bhabba, Professor of the Practice of Health and Human Rights as well as the Director of research at Harvard FBX Center for Health and Human Rights. Thanks for this awesome scarf!" she wrote.
Deniece became a household name years ago after the controversy with Kapamilya actor and "It's Showtime" host Vhong Navarro. She accused Vhong of raping her, but the court dismissed the charges due to lack of evidence. A Taguig court charged grave coercion against Deniece as well as Cedric Lee and others in a mauling incident on Vhong.
After the controversy, Deniece joined different organizations with a cause. She was even appointed as ambassador of goodwill for the youth by the Chivalric Order of the Royal House of Baloi. She was also a member of Volunteers Against Crime and Corruption.