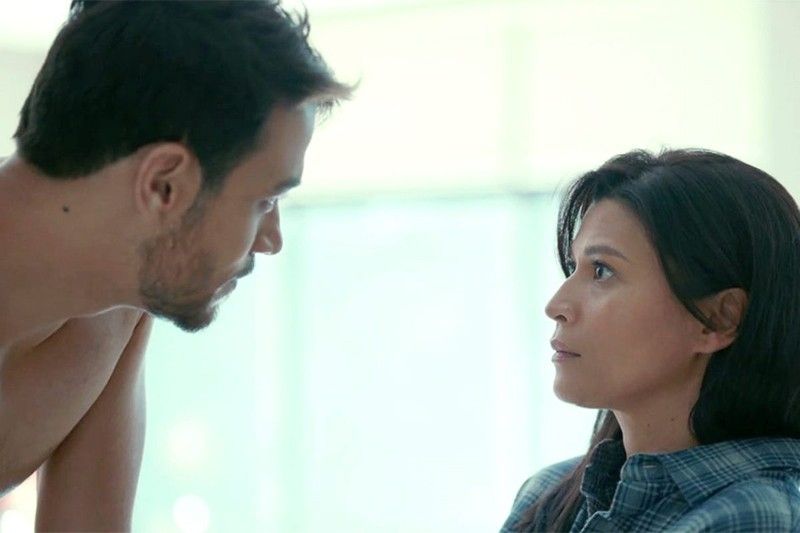 Mylene Dizon and Kit Thompson in the Joji Alonso directorial debut. Highly expressive and spontaneous.
A beautiful variation on La Vie En Rose
Film review: Belle Douleur (Beautiful Pain)
MANILA, Philippines — Joji Alonso's directorial debut in the film Belle Douleur (Beautiful Pain) is quite an auspicious one.
The storytelling flows spontaneously and the characters (Liz and Josh excellently played by Mylene Dizon and Kit Thompson) enliven their parts as naturally as they should. Indeed, the rapport is easy to detect.
This is another variation on a May-December affair and indeed the subject could be tiresome, especially when you note that the leading man has another role of the same nature in another well-received film project.
But the film's narrative acquires a special appeal all its own as you follow the story of a 45-year-old daughter of an anthropology professor, Liz and an antique dealer, Josh.
Why she would serve him breakfast at first meeting seems like a good signal for Josh to make something out of that initial encounter. But as it is, they feel good about each other and later they enjoy each other's company and soon enough, she heeds a friend's advice to do something reckless and irresponsible to spice up her life. She did just that and the man didn't seem bothered that someone pushing 50 could be as daring and as sensual as the encounters become pretty often.
In the initial negotiation for the antiques' sale, she seemed hesitant to part with her mother's heirlooms. Josh interprets this as a sign she is not ready to move on. He has a special eye on an old gramophone player that meant a lot to his grandfather. But she wouldn't part with that as well.
Later as the relationship moves on to another level, she agrees to part with it. It was her way of saying that yes, she likes him enough to part with what her mother holds dear.
But as the story unfolds, there suddenly is a spark and a special feel when the Edith Piaf favorite, La Vie En Rose, warms up their latest encounter.
Like it or not, La Vie En Rose was a beautiful centerpiece of the film and indeed it describes the love that suddenly bloomed between the two of them.
How direk Joji handled the ending is something else. She let the characters reveal themselves and another kind of relationship suddenly took centerstage. At Liz's age, she didn't want to look and sound selfish. She was aware of her age and she knew that a baby that Josh wanted so much from her was out of the question. She had one more warm night with him and she paved the way for an eventual exit.
The way direk Joji wrapped up the ending was actually a noble act of selflessness. Then you realize love was not as deep and noble like this before.
Indeed, this ending yielded a quiet but beautiful film on May-December affair.
The Joji Alonso film connects easily with a lump in your throat when the Edith Piaf favorite is heard as the romance reached its mutually satisfying terms.
This Cinemalaya entry has the poignant patina of Butterflies Are Free.
And then you realize there is another Cinemalaya gem of a film worth watching.
In this sense, direk Joji's directorial debut is quite admirable with beautiful intentions fully realized.
Mylene and Kit didn't disappoint and indeed at some point, you feel they deserve an award.
Moreover, one is not surprised that the film is the top grosser in this year's Cinemalaya.
Belle Douleur (Beautiful Pain) is now showing in cinemas.