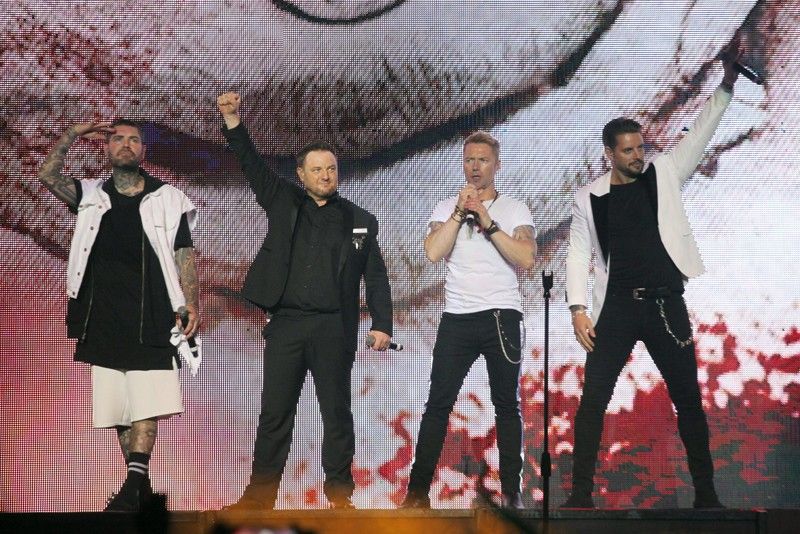 Irish boy band Boyzone made the Filipino crowd nostalgic as members Shane Lynch, Mikey Graham, Ronan Keating and Keith Duffy performed for the last time at the Mall of Asia Arena last June 23. The concert was part of their Thank you & Goodnight farewell tour.
Photos by Charmie Joy Pagulong
Reminiscing the '90s with Boyzone
MANILA, Philippines — It might be their last, farewell concert tour but Boyzone will remain in our hearts.
Filipino fans couldn't help but swoon and reminisce the '90s feel as the Irish boy band Boyzone played its greatest hits during the Thank You & Goodnight farewell tour last Sunday night (June 23) at the Mall of Asia (MOA) Arena in Pasay City.
Keith Duffy, Mikey Graham, Ronan Keating and Shane Lynch took the crowd to a trip down memory lane as they performed their iconic songs in the '90s, such as No Matter What, Isn't It a Wonder, Baby Can I Hold You, You Needed Me, I Love the Way You Love Me, Every Day I Love You, Words, Love Me for a Reason and When The Going Gets Tough.
The four charming members all had their moments during the one-night show and delivered an amazing performance matched with wonderful choreography.
"We are back in your city for the very last last time… You were so good the last time, we thought we'd come back and see you again. So for the last time, we're gonna bring you back, we're gonna make you feel young again. We're gonna transport you back to being teenagers with no worries. We're gonna sing songs we haven't sung in 20 years," Keith greeted the fans before starting the first song of the night, Who We Are.
Last year, the members announced that they are splitting up for good after 25 years of making music.
The group also thanked the overwhelming Filipino audience a million times.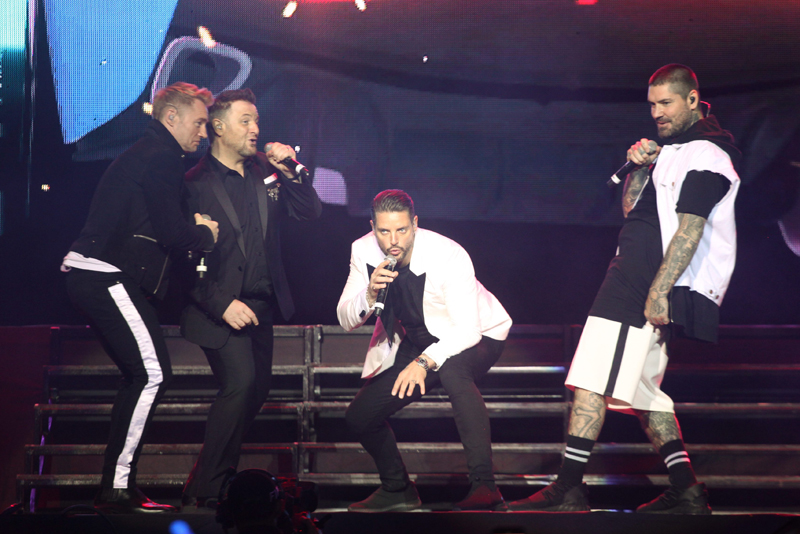 "We are grateful for the last 26 years, the opportunity that you have all given us. We came here a lot in the '90s. We spend a lot of time in the Philippines and across the region in Asia. Great memories, great times. We came back here (to) say thank you. You're gonna hear songs that remind you of your first kiss, first dance," Ronan said, then delighted the fans with All That I Need.
Mikey echoed, "I love Manila so much. Everytime that we come here, you always provide us a beautiful, warm welcome. All the time, the support was always there. Thank you very much for the 25, almost 26 years, of supporting Boyzone."
When they started singing When You Say Nothing At All, the crowd lit up, waved mobile phones and sang with the band. The loyal fans were actually singing and dancing with them the whole time.
Despite being a band for the longest time, Ronan noted that each member has a different personality from each other: "Last year, we recorded a brand-new album. It was our final album. It's a very, very different record from the one we made before. If you'll listen to the album Thank You & Goodnight, you'll hear very different sounds from Boyzone music. You'll hear urban music, rock music, dance music, country music and pop music. You got everything in there because it represents our personalities in the band. Believe it or not, we're very different people."
Boyzone then continued with songs from the seventh and final studio record Thank You & Goodnight — Dream and Talk About Love.
The quartet also devoted a part of the show to pay tribute to their comrade, Stephen Gately, who died in October 2009. They played a series of images of Stephen in a video presentation showing the memories they had with him.
"We all have a very close bond," they said, "we had our highs together, we had our lows together. We have a very unique, special friendship. The band, Boyzone, is always a five-piece and always will be."
They also described Stephen as a person "who made so much impact in our lives" and "loved to sing all the time."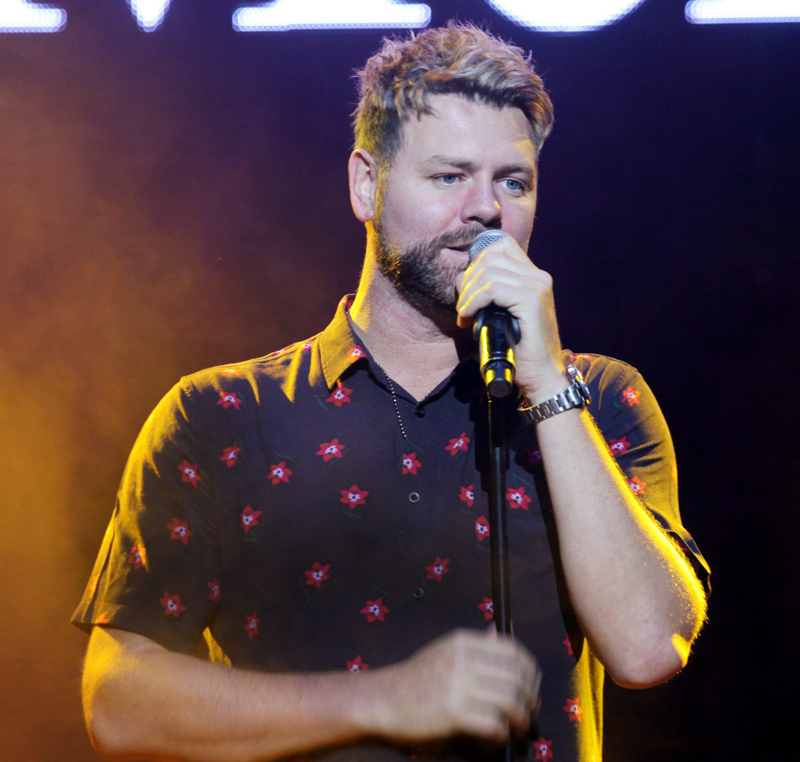 Brian McFadden
"He left a remarkable impression on every one of us, as a friend, as a brother and as a bandmate. He was a special guy. Always full of beans, nonstop. He never stopped singing."
The show ended on an upbeat note with the band's 1997 hit Picture of You.
It was indeed a total rewind '90s experience as ex-Westlife member Brian McFadden was the opening act for Boyzone and performed some of his former band's hits like Mandy, Swear It Again, Flying Without Wings and Uptown Girl.
The 39-year-old singer went down from the stage and interacted with the crowd inside the arena. He also expressed his gratitude to Boyzone for the opportunity they gave to Westlife in the early days. "They (Boyzone) put the five of us on stage back in 1998, in front of the whole world, and that's how Westlife became Westlife. It was because of Boyzone. I respect you and love you."
Boyzone was put together by Louis Walsh in 1993, who also managed another boy band, Westlife. Boyzone disbanded in 1999 and reunited in 2007.
They first performed in the Philippines in the late '90s and came back in August 2018 for their 25th anniversary tour.
The band has been together for 25 years and sold over 25 million records worldwide.
Boyzone's Thank You & Goodnight farewell tour was presented by Wowstar Creative Entertainment and All Access Productions.