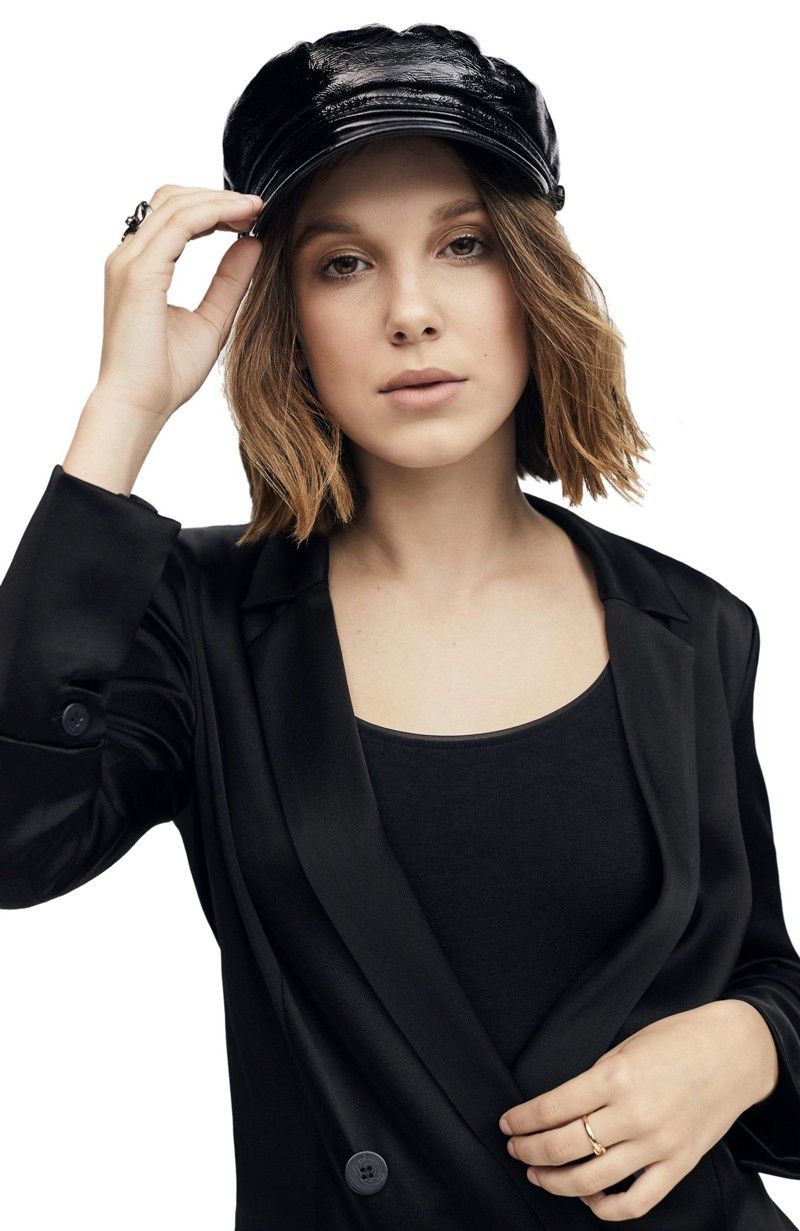 As Eleven, the young girl gifted with psychokinetic abilities, Millie Bobby Brown's innate acting giftedness has wowed audiences from all walks of life.
Millie is all grown up in Stranger Things 3
TOKYO — When Netflix's paranormal, sci-fi shocker Stranger Things premiered three years ago, young actress Millie Bobby Brown, then 13 years old, inevitably emerged as the series' breakaway star.
As Eleven, the young girl gifted with psychokinetic abilities and limited vocabulary, Millie's innate acting giftedness wowed audiences from all walks of life. Consequently, Millie received a primetime Emmy nomination for Outstanding Supporting Actress in a Drama Series and became one of the youngest ever to get this citation in Emmy history.
During the promotional junket of Stranger Things Season 3 held at the Ritz Carlton Hotel in this city recently, quirky and youthful Millie, now 15 years old, revealed what it's like for her character in the Netflix series to excitedly come of age in this season. Eleven is in love! In fact, a must-watch would be her kissing scene with boyfriend Mike Wheeler (played by Finn Wolfhard).
So how did that feel? Did she have to make special preparations for it? She responded with a glint in her eye, "We're actors. There's a script that we have to do. It's not like, oh, my God, like I actually had this immense love for him. No, it's not like that at all. This is what we have to do. It's awkward. I mean, we're 15 years old. We have no idea what to do. It's like real life. So there's never really any preparation. It's just work at the end of the day."
She added, "And my dad watched the whole thing. My whole family was there and it's the most awkward thing in the world. But it's so cool to have your first kiss on screen so I can show this to people when I'm older. Like, this is my first kiss on screen. Some people take it as a negative way I take it as positive. I think it's actually really cool."
We asked Millie if being in love would, in any way, affect Eleven's powers. The young actress acknowledged the question as "beautiful," smiled meaningfully as she played back the scenes of Season 3 in her head, and said, "Yes. Okay. It does, it does. But that's enough. I can't tell you any more than that" probably afraid she'll give away spoilers.
Still, Millie seriously interjected, "Eleven is very vulnerable, powerful and strong. I can relate to her strengths mostly. But she becomes much more like me in this season. Especially in terms of her style — in what she wears, more color, more vibrant, showing a little leg? (Laughs) But you see, that's the thing with the Duffer brothers, (Matt and Ross Duffer, the show's creators, writers and directors). They really allow us to explore what we really want with the character. Even in my hairstyle."
It is common knowledge how Millie and the rest of the young cast members of the show — Finn Wolfhard as Mike Wheeler, Gaten Matarazzo as Dustin Henderson, Caleb McLaughlin as Lucas Sinclair, Noah Schnapp as Will Byers, Sadie Sink as Max Mayfield — have bonded together in friendship in the last two seasons.
Millie said that nothing has changed when they filmed for season three. "The environment was kind of the same. We all got treated the same. The kids were listened to as well as the adults. We weren't talked down to. All of our voices are heard on an equal playing field, which I thought was really important. And I really, I'm very passionate about that. We're all co-workers. It's not like one kid gets more than the other. We're all very equal in that respect, which I love. Nothing is changed, you know, in fact, we've just gotten closer, as people," she shared.
And the friendship? "I love them, you know. All I can say is that I'm just so lucky to have worked with my best friends. And, you know, to experience all of this with my best friends not even just in the show but when we go to the award shows to have your best friend in your arm? And when you're nervous to look at them and be like, 'Are you feeling what I'm feeling?' I would not go through this alone. And that's why we keep each other so close. We don't talk to each other every day. We don't talk to each other for months sometimes. But when we do talk to each other, it's like, where we're going right back to our old ways again. So I mean, I hadn't seen Noah for five months. And we saw each other the other day, and it was like, you know, it's crazy. Like, like how we used to be. So I think we're really lucky."
The rest of the cast members of Stranger Things are Winona Ryder as Joyce Byers, David Harbour as Jim Hopper, Natalia Dyer as Nancy Wheeler, Charlie Heaton as Jonathan Byers, Cara Buono as Karen Wheeler, Matthew Modine as Martin Brenner, Joe Keery as Steve Harrington, Dacre Montgomery as Billy Hargrove, Paul Reiser as Sam Owens, and Maya Hawke as Robin who will be introduced in this season.
Stranger Things Season 3 premieres on July 4 on Netflix. It is an American sci-fi horror TV series set in a fictional town called Hawkins, Indiana in the 1980s. Season 1 was all about the town's upheaval after the disappearance of a young boy (Will Byers) amid the supernatural events occurring around town and the appearance of a girl with psychokinetic abilities (Eleven). Season 2 is set one year after showing the town struggling for normalcy after the events of the past year. Season 3 is set in summer and "the crew is in the cusp of adulthood." This time, the danger that the town faces as it gets threatened by old and new enemies reminds Eleven and her friends the need to band together to survive.