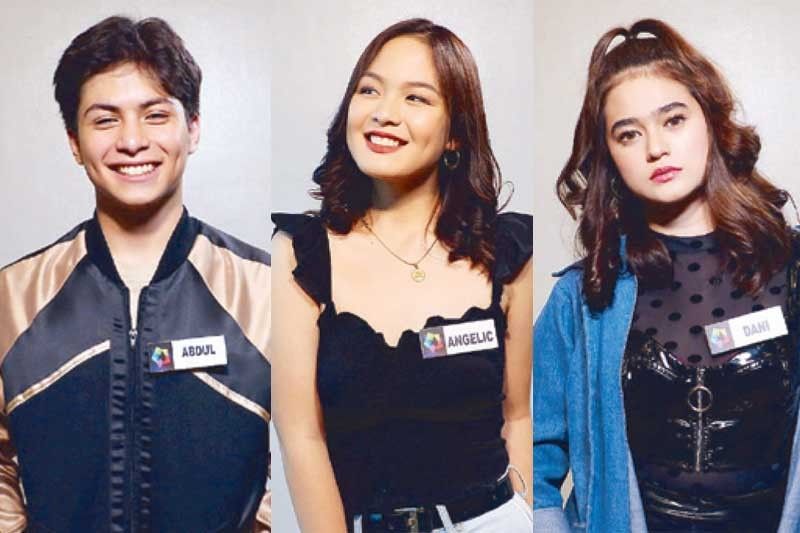 From Left: Abdul Rahman, Angelic Guzman and Dani Porter.
Who will complete StarStruck's Final 14?
Bot Glorioso
(The Philippine Star) - June 21, 2019 - 12:00am
MANILA, Philippines — It is always saddening to see a contestant leave not because of looks but lack of talent.
That was exactly felt by some when the pilot weekend of StarStruck Season 7 aired June 15 and 16 saw a number of contestants making their grand exits after judges Heart Evangelista, Cherie Gil and Jose Manalo selected the first half of the Final 14 from the Top 22 artista hopefuls.
Four lads and three lasses gave convincing performances during their final auditions. They were asked to do a song or dance number of their choice and each of them took an acting test recorded before the show proper.
Come June 22 and 23, the names of seven other contestants who will complete the Top 14 will be announced. Certainly, the coming weeks will be filled with suspense, excitement and disappointment by watching who among them will make it to the final battle for the titles of Ultimate Female Survivor and Ultimate Male Survivor.
While we all wait who are the remaining lucky aspirants, here are the first seven finalists and the judges' remarks on their performances:
Pamela Prinster –– The 18-year-old Fil-Am now residing in Cavite was chosen over 21-year-old Crystal Paras. Pamela displayed her vocal talent like a pro. She, too, showed a natural flair for acting through her portrayal of a girl expecting her male bestfriend to reciprocate her love.
Heart found Pamela convincing. She said, "I like your performance. Considering that you are so young yet you showed that you're really feeling the pain. It's very promising so I think it's good."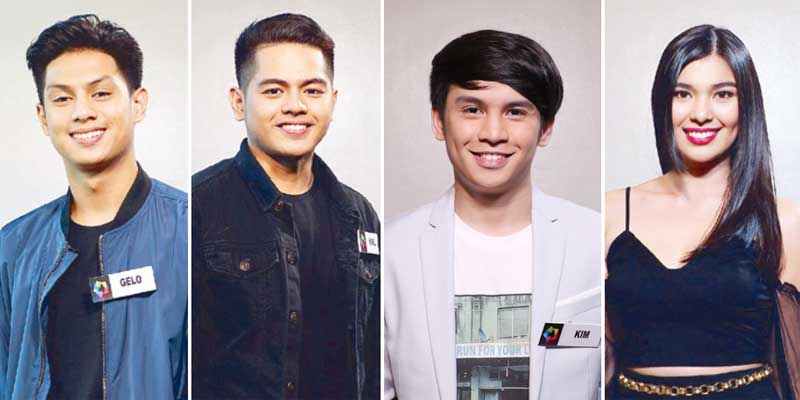 From: Gelo Alagban, Karl Aquino, Kim de Leon and Pamela Prinster.
Jose, on the other hand, said Pamela came out natural in her acting even while her co-actor in the audition tape didn't show any facial reaction.
What Cherie loved about Pamela is her face and told her, "Your asset is your mouth. You have a beautiful smile. So, when you are playing a role that is angry like what you did in the tape, lalong lumalabas yung pagngingitngit ng kanyang bibig. But you have to allow your face to shine because you are beautiful."
Karl Aquino — He is the son of Gary Laurente, a former That's Entertainment Wednesday group member. Karl said his dad never stayed long in showbiz that's why he promised him to continue his dreams of becoming an actor.
Karl was a former member of Clique 5. That explained why he is good in dancing, which impressed Cherie. She said, "I enjoyed your dance very much. You have the spunk; meron kang landi at meron kang confidence."
Abdul Rahman — The 16-year-old hopeful from Marikina did a heart-rending version of Ed Sheeran's Shape of You but fell short in acting.
Heart believed that he needed a little more practice so as to hone his acting. Cherie and Jose nodded in agreement.
Cherie remarked, "I'm sure everyone agrees with me that you've got what it takes. You've got the package, there's a lot of room for improvement but that charm can actually woo any woman's heart or even a man's."
Dani Porter — She was born in the US to a Filipino mom and American dad but she was raised in the Philippines. She gave an impressive acting performance but Heart stressed the importance of charisma in front of the cameras.
Angelic Guzman — The 18-year-old artista wannabe from Laguna earned praise from Cherie after singing Irene Cara's Out Here on My Own.
Cherie said, "To be able to sing in that level is not easy. Hindi madalas makarinig ng ganung level of singing. I was taken aback. It was my favorite song and I used to sing that a lot in my teenage years. Well done, Angelic."
Kim de Leon — The 19-year-old Batangueño captivated everyone with his good comedic timing after his song number. He has a nice guy presence that exudes naturally.
Heart said that he has a kind of charm that's relatable and added, "Meron kang distinct charm na feeling ko sa 'yo lang 'yun and then your acting is very natural."
Cherie agreed by telling Kim, "I think that the camera seems to like you a lot. So, looks like young stars are probably shining bright tonight."
Gelo Alagban — He wowed the crowd with his comedic acting piece with Cherie, Jose and Heart praising his performance.
"Actually, for someone with not so much experience, okay 'yung timing mo and that's really tough," Heart said.
(StarStruck Season 7, hosted by Dingdong Dantes and Jennylyn Mercado, airs Saturdays after Daddy's Gurl, and Sunday nights after Daig Kayo ng Lola Ko on GMA 7.)