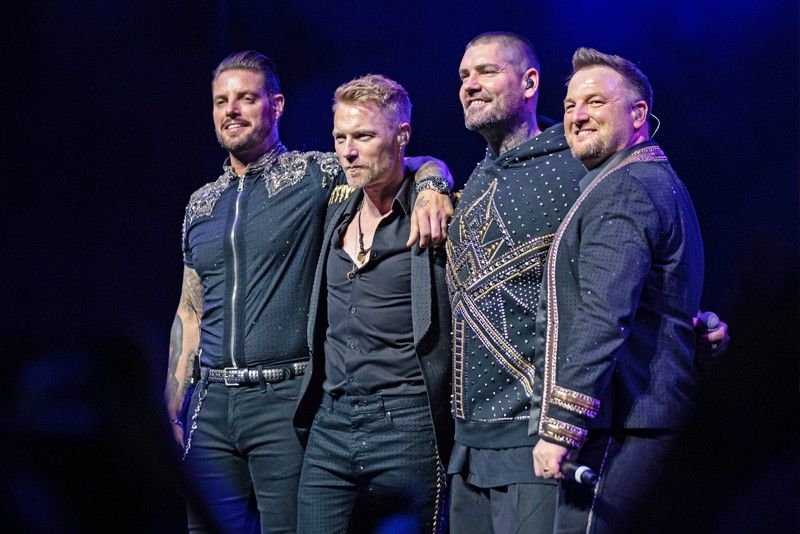 From left: Keith Duffy, Ronan Keating, Shane Lynch and Mikey Graham are happy to see the crowd at their Singapore concert. One of their next stops is Manila on June 23 at the Mall of Asia Arena. Below: One of their numbers shows an image of the late member Stephen Gately in the background.
Photos courtesy of Wowstar Creative Entertainment Co.
Boyzone's last Philippine show: All about nostalgia
MANILA, Philippines — Boyzone is saying Thank You and Goodnight to its Filipino fans on June 23, as part of its final and farewell tour as a boy band of 25 years and over 25 million records sold worldwide.
One of the leading groups to have emerged in the '90s, Boyzone helped define the pop charts of that time with such songs as No Matter What, Picture of You, Love Me For A Reason, Every Day I Love You, Baby Can I Hold You, among others. The Thank You and Goodnight tour, titled after their last album released in November 2018, promises a nostalgic songfest of their hits, now classics. The tour wraps up in October in honor of former member Stephen Gately who died in October 2009.
The STAR had an exclusive chat with Ronan Keating, Keith Duffy, Shane Lynch and Mikey Graham before their recent Singapore concert produced by Wowstar Creative Entertainment Co. (who is partnering with All Access Production for the Manila show). Being boxing fans, they opened the conversation with questions on Manny Pacquiao (from "When is his next fight?" to "He's a Senator now?"). The boys — or men, rather — also talked about their "very loyal" following in this corner of the world. The first time they performed in the Philippines was in the late '90s. They last came to the country in August 2018 for their 25th anniversary tour.
The June 23 show has been described as the one last stand for the Irish group. They broke into the music scene as teens and now, they're in their 40s, touring at times with wives and kids older than they were when they began Boyzone, in tow.
Before the BTS and other K-pop idol groups of this generation, Boyzone helped fuel the boy band mania although they quipped "no thanks" when asked to imagine their rise to fame as accompanied by the reach and power of the Internet and social media. Nevertheless, they are impressed by the new breed of boy bands. "I think it's fantastic. The whole K-pop era is fantastic. I think it's great to see Asian bands being influential in the West. It's always been the other way around, and now to see that phenomenon coming to the West, I just thought, well done!" said Mikey. While commenting on the "Asian boy bands," they jokingly referred to themselves as ancient boy band, but no matter what, music fans will beg to disagree, definitely. Case in point: The photos on this page from their Singapore concert.
Meanwhile, here's the rest of The STAR interview.
On returning to the Philippines in less than a year:
Keith: "It's just that we have a very loyal following in the Philippines, and these days, as opposed to when we first started in the '90s, we have a much better idea of where our fanbase is strong because of social media. We played in Manila (in 2018) and all of a sudden, we get a lot of requests, get a lot of people talking to us, DM-ing us, on our various social sites. So, it gives us a very clear idea of where our fanbase is and after our last show in Manila, the response from our Filipino fans was fantastic.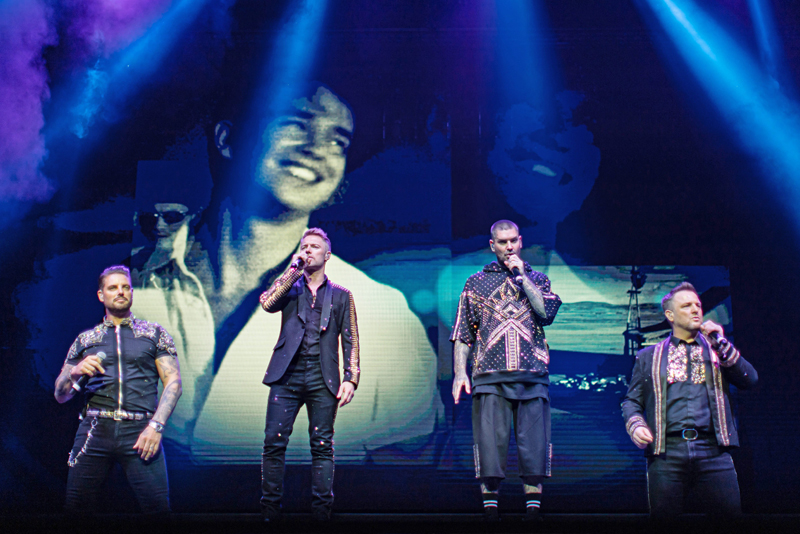 "And this is our last stand. Thank You and Goodnight we decided is going to be our last tour. This year is the last year that we will be touring and we've come back to Asia to cover a lot of places that we haven't been to before. Then we got an opportunity and invitation to play back in Manila yet again. So we're delighted to go back to Manila. We're really looking forward to our last show in the Philippines."
Ronan: "It's a brand-new set list to the one we played in the last show. It's gonna go crazy because we're doing songs in Manila that they're gonna love. The old stuff from the '90s like all of it! I think it's going to be pretty special."
On fans from Asia, including the Philippines:
Mikey: "The first couple of times we came out to Asia, it was very educating for us, five young lads from Dublin (Ireland). To witness all the different cultures and what-have-yous, you know, every place is unique and has its own thing to offer. I did personally love the Philippines and Manila because everybody sings out there. It's a nation of fantastic singers! I suppose they had that in common with the Irish, who sings as well, usually with a Guinness (beer). It's just a lovely, lovely experience every time we get to Manila and the Philippines, in general."
On Stephen as still a huge part of the band:
Shane: "It's something that we will always do. Stephen's a massive part of this band. He is still this band. We are four people who are allowed to continue in the band, so of course, we will always going to honor him. We started and grew up with him, and end with him, especially in this album. He finishes this album. (Note: His vocals are featured on the track Dream). He's always a part of it. We've never left him out."
On their early days and longevity as a band:
Keith: "The chemistry wasn't immediate. It took us a while to learn our craft. It took us a while to learn our trade. And to see us today, we're a different band than we were back then. We had the opportunity, obviously, to become successful and to go from playing in nightclubs, in farm barns and in the back of trucks, to the theater halls, then bigger arenas and stadiums. So, it's a process and a progression and we went through the progression. We're quite versatile now. We can do a corporate event in a small stage, and we will fill that stage as amicably as a massive stadium stage.
"Of course not (we didn't think we'd last this long). We're a boy band, we're supposed to break up 25 years ago (laughs). To be in your 40s, and have children older than we were when we started is a bit crazy. But it's about the music, the music stands the test of time. What we're doing is we're giving people the opportunity to relive their youth, where nostalgia is alive and well. For the two hours of the show, the people that will come along will have great memories of their childhood years, of the friends they have at that time of their life. Stress-free, worry-free life before they had to grow up and be responsible, get a mortgage and have bills and be responsible over children. Before all those stresses and worries of the world were kind of put on their shoulders, they will be reminded of how free and easy, and how loving of life they were back then."
Ronan: "(I would advise my younger self to) have more fun. I took it very seriously. I didn't enjoy it. It went by very fast. They were great years and we were really blessed but I wish I could have enjoyed it more back then, like Keith did (laughs)."
Shane: "It's a difficult thing to enjoy because you're on a schedule. You know you're in your room, you gotta come down at a certain time, do interviews... which is all part of the process of it. But I think when you try and enjoy it, it gets lackadaisical. We try and be professional and to enjoy it. If you're not professional, you're not really enjoying it, because you're just yourself, you know what I mean, and having a great time. I think that's the difficult part of getting it right. In the later years of life, that's why we've been able to do this, because we are more professional but older, more enjoyable, we make more sense of the whole situation."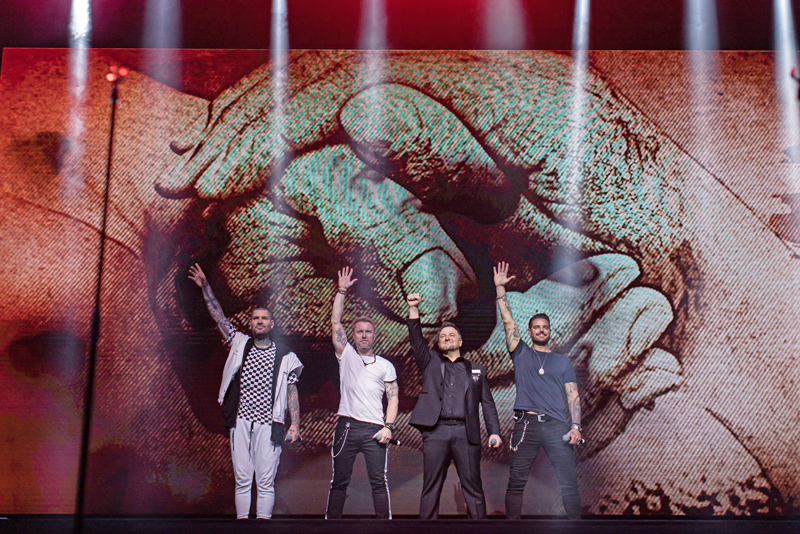 On what's next after the tour:
Keith: "For over the last 20 years, we've all carved different careers for ourselves in various areas in the entertainment business and outside of business. I've been working for the last few years with Brian McFadden (formerly of Westlife), who's with us on this trip. We've been going around singing Boyzone and Westlife songs together which has been good fun and keeping my nose in the business a little bit. It will never be what I have here with the boys. It's a little taster of what I used to have."
Shane: "I go back to what I do, most of my life now, all car-related, race cars, TV shows about cars and different business interests in general. Boyzone is always there, the pinnacle for me, always the cream of the crop. I wanna come back here, I love it, but life really goes on, I continue to survive in the world just being a human. Just because you've lost one thing, that doesn't mean you give up anything. You continue to go out there, you push forward, you find new avenues and new ways in life. It's an exciting time. Life is always exciting, so I continue to be excited over different opportunities."
Mikey: "I just signed a new publishing contract. I'm in the middle of refurbishing my new studio. I've been working on that all the time. But as what Shane says, I'm excited about looking at new areas in the industry to work in, probably TV shows and different things. I have a couple of different things lined up that I am excited to begin."
Ronan: "I have an album before Christmas. I'm in the process (of recording), getting there. There are surprises in the album. It's quite a special album for me. It's been 20 years since I went solo so it's very special."
(Tickets to Boyzone's Thank You and Goodnight Tour, featuring Westlife's Brian McFadden, at the Mall of Asia Arena on June 23, 8 p.m., are available on www.smtickets.com and SM Tickets outlets. Prices are at P7,300, VVIP; P6,800, VIP seated; P5,800, VIP Lower Box; P4,800, Gold Lower Box; and P2,600, Upper Box.)