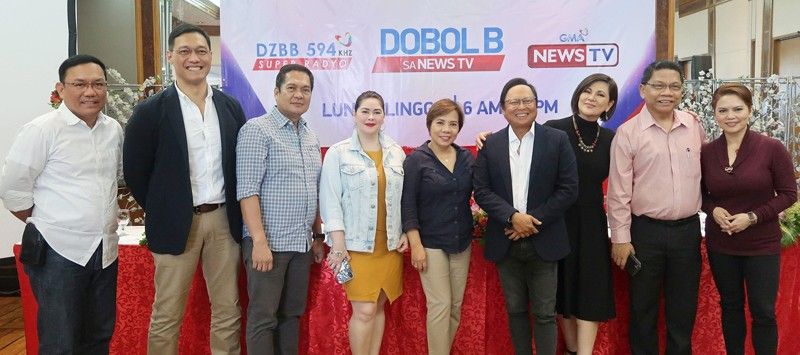 Dobol B sa News TV anchors (from left) Melo del Prado, Joel Reyes Zobel, Nathaniel Cruz, Connie Sison, Susan Enriquez, Arnold Clavio, Ali Sotto, Mike Enriquez and Rowena Salvacion.
More quality time with Radyo na, TV pa!
Jerry Donato
(The Philippine Star) - June 18, 2019 - 12:00am
MANILA, Philippines — Audience response and work efficiency are the main drivers why Dobol B sa News TV has completely taken over the GMA News TV morning slot and extended its broadcast until weekends. This was what The STAR learned from a conversation with Glenn Allona, GMA vice president for radio operations. Dobol B sa News TV used to broadcast from 6 a.m. to 11 a.m. from Mondays to Fridays. This latest development means more quality-time experience of Radyo na, TV pa! for Kapuso audiences. Dobol B sa News TV fulfills its call for more news and information to get around so that the public can have a better grasp of issues.
"The top management decided na kunin na namin yung buong block, so the content will be consistent. We can reach out to a wider audience if we will do it the whole morning, from 6 a.m. to 12 noon," said Glenn, "at hindi lang yung weekdays ang i-nexpand namin para consistent na rin yung content ng GMA News TV, i-nexpand na rin (ito) into weekends. It's more on actually not only (improving) the efficiency of the operations but reaching out to a wider audience, plus the consistency with the content."
The think tank behind it also keeps up with the times when listeners are also viewers as they shift from one source or platform of news to another.
"(It's the) trend in technology these days. Nagiging multiplatform na yung access ng audience (the audience access has become multiplatform)," said Glenn. "So if they are radio listeners, they also access content somewhere else. In order to service your radio listeners anywhere, anytime, you need to offer your content in other platforms. The project Dobol B sa News TV is consistent with that. We are able to keep our radio listeners (for tuning in with us)."
Yes, Dobol B sa News TV has explored the possibilities of radio-TV to keep audiences engaged and it has strengthened its thrust to provide Kapuso audiences quality news. That's the best part of the "expansion."
"Otherwise, we wouldn't be asked to extend. The audience is your consideration, since the reception is good and others are also clamoring if they can hear or watch this (kind of) content," shared Glenn. The Dobol B sa News TV team considered those as bases for the said efforts.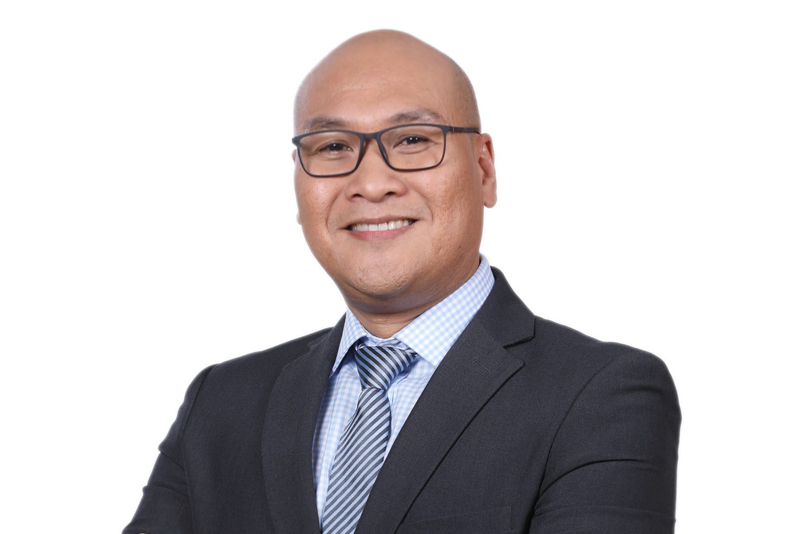 GMA vice president for radio operations Glenn Allona
The weekday mornings begin with Melo del Prado sa Super Radyo DZBB at 6 a.m. The radio personality delivers the news that happened the day and the night before. On top of that, he offers commentaries and public service. The tandem of Mike Enriquez and Joel Reyes Zobel takes over in Super Balita sa Umaga Nationwide. Then Mike and Joel have their solo slots in Saksi sa Dobol B and Anong Say N'yo?, respectively. Tickling Kapuso's minds through interesting and intriguing blind items are Arnold Clavio and Ali Sotto in Sino?. They continue on in Dobol A Sa Dobol B to analyze issues. Concluding the weekday programming from 11 a.m. to 12 noon is Kay Susan Tayo! Sa Super Radyo sa Dobol B. Susan Enriquez provides the break from hard-hitting news as she presents topics that appeal to the interests of the general public ("pang-nanay, pang-soulmate, pang-entertain lang," as she put it).
Aside from Kay Susan Tayo!, new content includes Super Radyo Nationwide hosted by Melo; Super Balita sa Umaga (Sam Nielsen and Rowena Salvacion); Isyu Atbp. (also with Rowena); I M Ready sa Dobol B (Nathaniel "Mang Tani" Cruz); Pinoy M.D. sa Super Radyo DZBB (Connie Sison); DZBB Super Serbisyo: Buhay, Trabaho at Negosyo (Norilyn Temblor, Tootie and Lala Roque); Buena Manong Balita (Orly Trinidad); Super Balita sa Umaga (Sam and Nimfa Ravelo); Dobol B: Bantay Balita (Bantay sa Senado, with Nimfa); Liwanag sa Balita (Benjie Liwanag); Dobol B: Bantay Balita (Bantay sa Kamara, with Divine Reyes); and MMDA sa GMA (Orly). Audiences can sink their teeth into all this on Saturdays and Sundays. The content can be accessed through the standard (radio and TV) and online platforms. "It's also streaming," said Glenn. "It's (like) the world is getting smaller in terms of getting access to the content you want."
Since it has flexed its muscles in the "hybrid" platform, can the public see Dobol B sa News TV as a 24-hour news channel soon?
"Actually, hindi naman (sa) di gagawa, but it is something that is a floating option for us," Glenn replied. "Right now, we are just covering the 6 a.m. to 12 noon (timeslot). Primetime in radio is in the morning, (while) primetime on TV is in the evening. Our programming and content will provide what is needed in the morning."
With that, Dobol B sa News TV has the potential to reach more (diverse) audiences, aside from the 40 and up market.
"There's a trend now that the younger audience is getting into news. So that's why we stream online kasi yung mga bata nasa Internet," said Glenn.
Dobol B sa News TV is also a story of how technologies can be tapped to serve the public better.