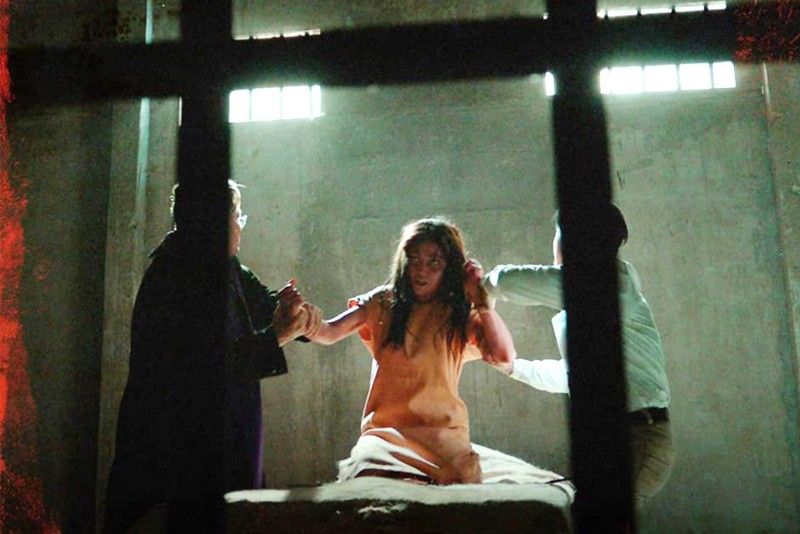 Clarita starring Jodi Sta. Maria shows great horror debut by direk Derick Cabrido.
Finally, a beautiful horror film
Film review: Clarita
MANILA, Philippines — In the wake of the showing of a highly ambitious film that confused instead of horrify, Derick Cabrido's Clarita is like a whiff of fresh air in the horror genre.
The initial reservation comes from seeing a trailer that one thinks doesn't do justice to the film.
But after watching the finished film Saturday night, you see a horror film coming to new life and with a well-fleshed-out screenplay based on the sensational 1953 exorcism case of Clarita Villanueva who made headlines not just here but abroad.
It is 1953 in Manila and the mayor is the legendary Arsenio Lacson (portrayed with conviction by Nonie Buencamino) who wants negative stories out of the Loyal City of his affection.
But the story of Clarita keeps newspaper headlines alive.
Out of this, direk Derick made a haunting tale that is several notches higher from what we see in horror films today.
It opens with a nearly black and white pastoral scene in the countryside complete with songs of the 1950s. But as the protagonist (Jodi Sta. Maria) as Clarita and her mother move to the big city after being ostracized by their own neighbors, the demons started coming back and the doctors attending to her die one mysterious death after another.
The only solution left is exorcism conducted with credible rituals by Fr. Salvador (Ricky Davao) and Fr. Benedicto (Arron Villaflor).
As it turns out, the film is a winner on many fronts.
The musical scoring enhances the story and with a cinematography that captures barrio idyll and urban decay. The pastoral flashback is like scenes emerging from Amorsolo paintings.
There is something highly revealing about how the screenplay unravels. Flashbacks are very visual and not given to talky narrative.
Through it all, the story is taut and yet powerful. It is the simple but effective storytelling that makes this horror film so compelling.
It is also a big winner in the acting department with Ricky as Fr. Salvador, Arron as Fr. Benedicto, Nonie as Mayor Lacson and with memorable appearances of Romnick Sarmenta, Alyssa Muhlach and Bibeth Orteza, among others.
There is a big contrast between the young priest (Arron) and the mature, if, battle scarred priest (Ricky) that provides a good platform on which to launch a good discourse on faith. The brilliant exchange makes you conclude the scriptwriter did his homework.
As it stands, Clarita projects the best of Jodi in the title role. Her innocence back in her countryside life and warped by the demons in the big city allowed her to provide big contrast in her characterization.
Her exorcism scenes horrify and through various spirits that haunt her body, you see an actress doing justice to her part.
The film's beautiful ending provides a cathartic contrast to her character's harrowing life.
Indeed, an actress who gave everything to her role emerges from this well-made horror film. But most of all, she springs a lot of surprises and truly horrifies without trying too hard.
On the other hand, the film hints of evil as it resides in all of us.
An American motivational speaker has once pointed out that we need to learn from our shadow, from our dark side, in order to be good.
The film is a fine example of this.
Somehow, the story found a way to take a break from the horror scenes to make the moviegoers ponder on the true nature of evil.
One has not seen a beautiful horror film in a long, long time.
Rated A by the Cinema Evaluation Board and produced by Black Sheep, Clarita is now showing in cinemas.