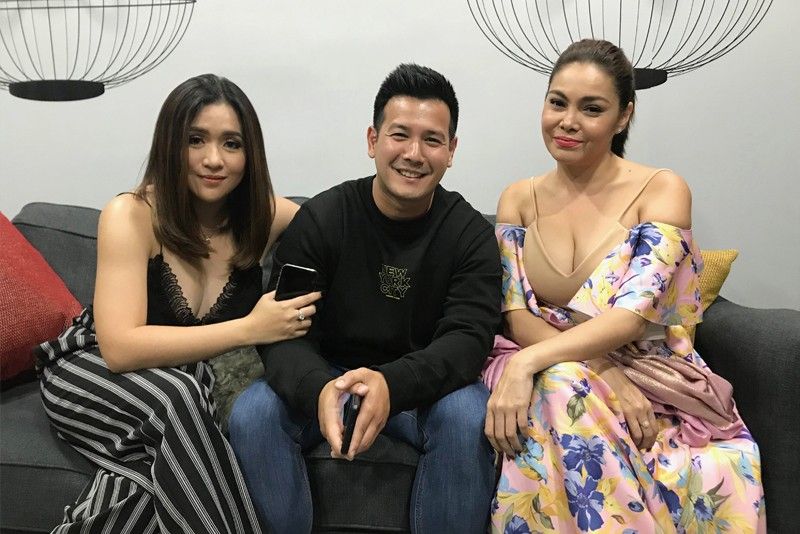 K Brosas and Angeline Quinto with their concert director John Prats: The chemistry is almost palpable.
Photos by Ricky Lo
Can K Brosas & Angeline crack up the Big Dome?
FUNFARE
-
Ricky Lo
(The Philippine Star) - June 13, 2019 - 12:00am
If Funfare's 10-minute interview was a sneak preview, for sure K Brosas and Angeline Quinto could "crack up" the Smart Araneta Coliseum during the Angeline K 'to, Concert Namin 'To on July 12 (Friday), starting at 8 p.m.
Asked if they are ready for Araneta, K said without batting an eyelash, "The question should be, 'Is Araneta ready for us?' 'Yan ang tanong." And then she laughed.
They have appeared as guests in some shows (Divas Live, TNT, etc.) and it's the first time they are starring in a major concert, just the two of them. What? No big-name guests?
"There will be surprise guests," assured K, "sobrang surprise at pati kami ni Angeline ma-so-surprise, hahahaha." Then she rattled off the names of artists who have long, well, "crossed the Bar," such as…never mind. Surprise nga, eh!
Besides being a good singer, K is also a wacky comedienne, spicing up her performance with jokes. That's her trademark. On the other hand, Angeline is more on the serious side.
"Serious?" K begged to disagree. "Baliw din 'yan katulad ko. Luka-luka rin 'yan."
"Depends on people around me," clarified Angeline. "Pag baliw at luka-luka ang mga kasama ko, lumalabas ang pagka-luka-luka at pagka-baliw ko."
Added K, "Sabi ko na sira ulo din 'yan, eh!"
Angeline K 'To is the ninth directorial job of John Prats (who helmed K in her first solo concert at Kia/New Frontier Theater).
"This will be fun," said John. "I could feel the chemistry between them. The show will combine songs and laughter. Yes, dadagundong ang Araneta, promise! When Cornerstone got me to direct the show, sabi ko, go! The Cornerstone guys saw Angeline and K together in their guest appearances and they, too, saw the chemistry between them. So why not put them together in a show, just the two of them, at pahabain natin ang saya?"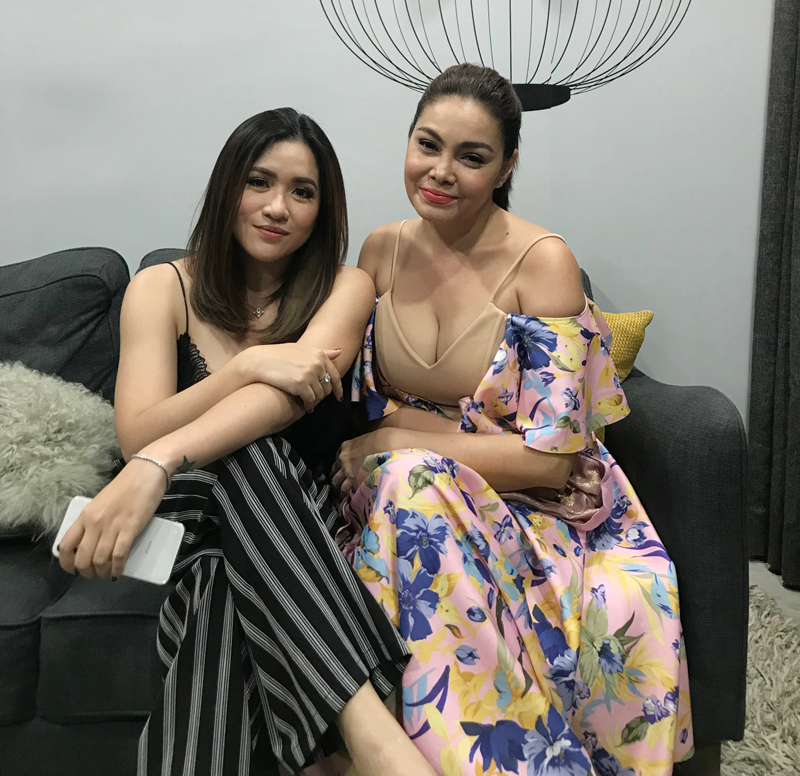 John finds K easy to work with.
"During the initial meeting," revealed John, "she already has a concept so she makes things easy. All I have to do is enhance whatever she has in mind and then we collaborate."
"I would tell John, 'Direk, I don't need anything more, hindi ko na kailangan ang kung anu-ano pa'," said K. "Tutukan mo lang ako ng ilaw, ok na ako."
"I have worked work with Ate K but this show is different," added Angeline. "Sabi ko, go!!! Sobrang saya 'to!"
"I want the audience to see the funny side of Angeline," promised K. "Halimaw siya as a singer and I'm sure kaya niyang tapatan ang pagka-luka-luka ko."
During this interview, K and Angeline were in revealing outfit, their "northern part" almost spilling over. Hmmm, is that also part of the show?
"That," said John in jest, "and more!"
"During the show," threatened K, "the audience will see who between Angeline and me ang bagay mag-Darna!"
Araneta is so huge that, John admitted, he needed to "level up," compared to Kia/New Frontier Theater which has a fixed (limited) space.
"At Araneta," explained John, "you can play around with the venue. Masarap laro-laruin."
Asked if they still experience stage fright, K said yes.
"If the 'nervousness' is gone, kapag wala nang kaba, tawag ko d'un tugtog pera, no more passion. The venue doesn't matter. Big or small, the kaba is still there before a show."
"Same with me," agreed Angeline. "Grabe ako kabahan kasi mahilig ako uminom ng kape. I take lots of cups every day. Maybe it adds to the tension, especially if I have to perform on ASAP."
(Tickets to Angeline K 'To are priced at P6,825, Platinum; P5,250, VVIP 1; P4,200, VIP 1; P3,150, VIP 2; P2,100, Patron; P1,575, Box A Premium; P1,575, Box A Regular; P420, Upper Box; and P265, General Admission. Call Ticketnet at 911-5555.)
Mayor Goma has a point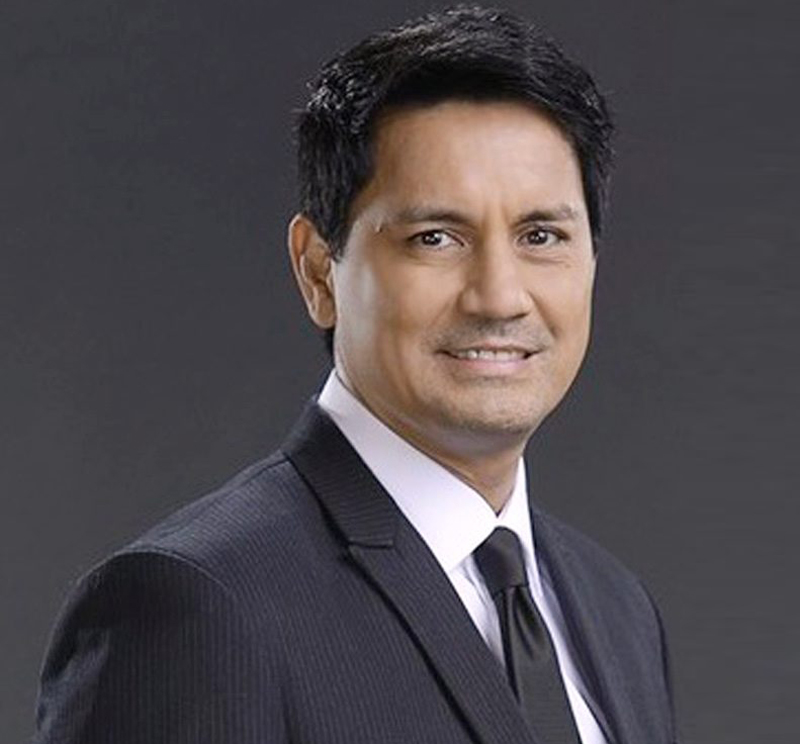 Ormoc City Mayor Richard Gomez
In view of the on-set accident that left Eddie Garcia comatose, re-elected Ormoc City Mayor Richard "Goma" Gomez reiterated the need for TV networks and movie companies to have medics on standby in case of emergency.
Not only that. Goma is seeking to push for a law on the mandatory use of Automated External Difibrillators (AEDs) in public places such as markets, conference halls, sports arenas and hotels.
"I will ask the Congressman of our district, which happens to be my wife to file a bill making AEDs mandatory for LGUs and establishments," Gomez said during a forum with the Philippine Heart Association in Pasay City, Sunday.
An Automated External Difibrillator is a portable electronic device commonly used as first aid to restore a person's normal heartbeat in emergency cases such as cardiac arrest.
Republic Act 10871 provides that students should be provided basic life support training to include the usage of equipment for first aid. However, Goma pointed out the existing law is not enough having no emphasis on the importance of AED units and training.
"CPR is usually taken for granted until it happens to a person or to their loved one. Kids as young as 10 should learn to do CPR," he added.
Gomez also stressed the importance of the CPR training and AED unit in the entertainment industry, noting that artists and workers are most vulnerable to heart disease due to long hours of work.
"In every set, we've seen a lot of people in the movie industry die and collapse because of stress and fatigue, because of lack of sleep. It should be mandatory in every taping set," he urged.
World Health Organization also found about 35 percent of the country's total population died of cardiovascular diseases.
Sen. Grace prays for Eddie's speedy recovery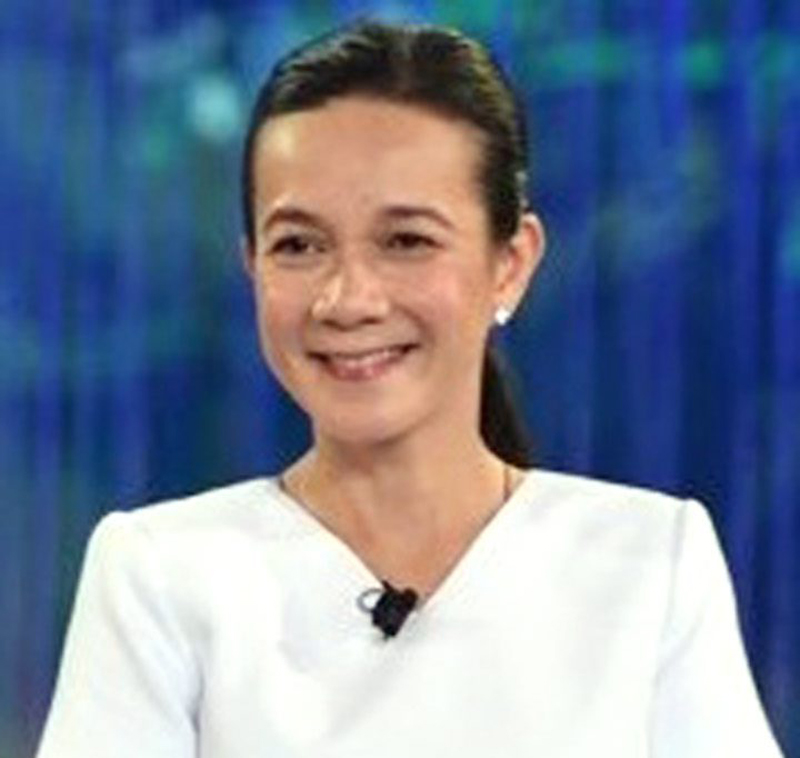 Sen. Grace Poe
Sen. Grace Poe is among the industry people praying for the speedy recovery of Eddie Garcia who remains at the ICU of Makati Med sustained by life-support machine. Eddie co-stars with Grace's mom Susan Roces in the ABS-CBN TV series FPJ's Ang Probinsyano.
Here's Grace's statement:
Manoy, we are praying for you.
We hope you find strength with each new day to bring you to full recovery.
As you have said in your famous line, "Marami ka pang bigas na kakainin."
Marami pa kaming mga aral at karanasan na matututunan mula sa isang mahusay na aktor, mapag-alagang kasama at mabuting taong tulad mo.
You are constantly in our prayers.
Our kababayan await your return to television and the big screen.
* * *
(E-mail reactions at rickylophilstar@gmail.com. For more updates, photos and videos, visit www.philstar.com/funfare or follow me on Instagram @therealrickylo.)