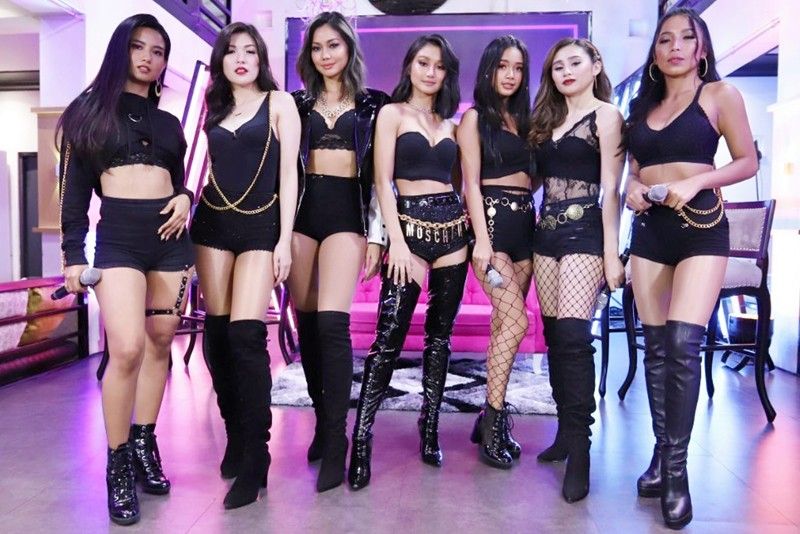 GT, composed of (from left) Krissha Viaje, Mikee Agustin, Mica Javier, Chie Filomeno, Sammie Rimando, Joanna Hipolito and Dawn Chang, has released its debut single Breakthrough. It tells that everyone has the right to make choices.
Goodbye, GirlTrends; hello, GT
MANILA, Philippines — GirlTrends, the all-female group of It's Showtime, has reinvented and renamed itself as GT, announcing the big change with its debut single titled Breakthrough.
Being GT also meant taking a complete departure from GirlTrends' sweet, bubbly image, and becoming a bolder, fiercer and more empowered sing-and-dance group.
But unlike GirlTrends that had 23 members, GT only has seven namely, Mica Javier, Dawn Chang, Sammie Rimando, Chie Filomeno, Krissha Viaje, Mikee Agustin and Joanna Hipolito.
According to Mica, screenings were held under the supervision of director Laurenti Dyogi to select from among 100 auditionees the ladies fitting to become members.
"We were asked to dance one by one so it was really a process to form a group like GT," shared Mica who, by the way, is the fiancée of Jay-R. She took up individualized study at the New York University. "And then after the final seven were chosen, GT was turned over to (the production people of) It's Showtime and they provided us the platform."
Along with their new name, look and dance moves, Mica said their sound has also become a bit sexier yet they are responsible enough to consider their young followers.
"Hindi po siguro sa pagiging bawal. We represent women empowerment na 'yung fans namin na mga bata dati ay lumalaki rin po sila and daring kami in a sense that we stand by our actions. We just want to be positive with our fans kung bata sila o tumanda na sila," she explained.
It was Mica who composed and produced Breakthrough which tells everyone has the right to make positive choices and has the power to shape one's own destiny. She was supposed to release the song as her solo single but Showtime executives deemed it more fitting as the debut song of GT, especially with the group's goal of defending women's rights.
Joanna added that they went through a lot of ups and downs since the beginning of their career as GirlTrends in February 2016 and she couldn't be thankful enough for being still together until this day.
In spite of their popularity, reinvention took place and other members of the group had to bid goodbye.
Dawn said, "Because we want to show the different side of us. We want to show people that we can do so much. It's not just dancing na kumekembot lang kami sa Showtime during opening number. We're not just pretty faces and we try to empower ourselves by taking responsibility for our own actions and eventually to make (our group) an inspiration not just to the youth because for me, it is important to be aware of what's happening in our surroundings even at a young age."
Aside from their singing and dancing talents, GT ladies have credentials to be proud of. Mica is also a record producer/businesswoman. A former Hotlegs member, Dawn took up dance lessons in New York. Krissha was named champion in an international singing competition in Japan in 2016. Mikee, a singer, also makes short films on YouTube. Sammie is among the popular Pinoy stars on TikTok. Chie is a professional car racer, while Joanna is a University of the East graduate and a former university cheering squad dancer.