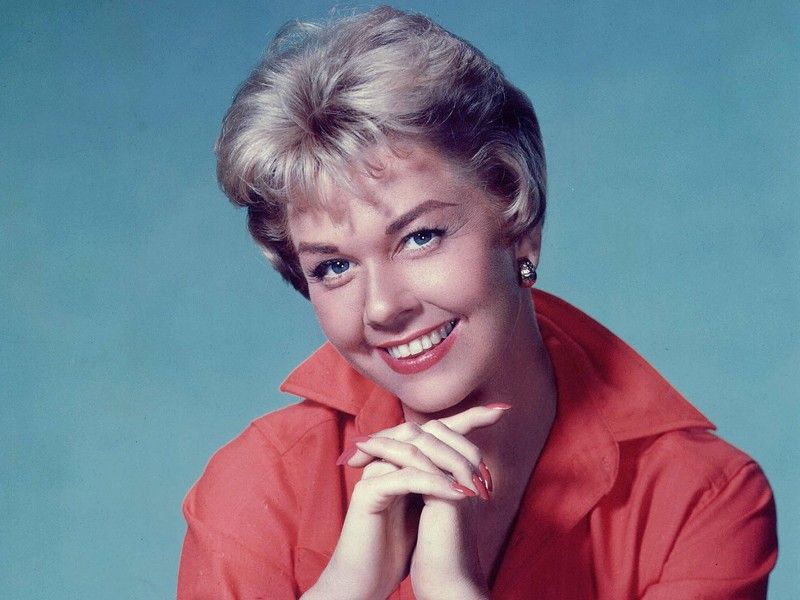 In this April 15, 1955 file photo, American actress and singer Doris Day holds a bouquet of roses at Le Bourget Airport in Paris, France after flying in from London. Doris, whose wholesome screen presence stood for a time of innocence in '60s films, died on May 13 at the age of 97.
AFP Photo
Doris Day: Singer, actress, animal rights activist
I really thought that Doris Day would live forever. I did not mean eternally but maybe about a hundred years. After all, she looked great when she emerged from seclusion in her Carmel by the Sea, California home to address the false news about her supposed death last December. She was 96 years old and still pretty with her trademark sunshine smile. It was the first time she was seen or heard from in many years. The last time Doris came out in public was at the Golden Globes to accept her Lifetime Achievement Award in 1989.
Then last Monday, May 13, the inevitable finally happened. The singer, actress, star of the movies and television and animal rights activist died after being sick of pneumonia at her home at the age of 97. The statement, which came from the Doris Day Animal Foundation, said that Doris passed away surrounded by family and close friends. No mention of memorial services was made, but I am sure that if there is one, it would be one of Hollywood's best attended. Doris was one of its biggest stars.
Born Doris Kappelhoff in Cincinnati on April 3, 1922, Doris radiated warmth with her blonde good looks and wholesome charm. Moviegoers found her so appealing that they made her the No. 1 box-office star of the years 1960, 1962, 1963 and 1964. In fact, she established a record of box-office successes that remains unsurpassed up to now. Come on, do you know of female stars today who are able to dominate the box-office on their own, the way Doris did?
Doris' most successful films were the romantic comedies that were sexy but in a wholesome way because Doris would not have it otherwise. Remember, she turned down the Mrs. Robinson role in The Graduate. Foremost among these was Pillow Talk, which established her team-up with Rock Hudson. They also starred together in Lover Come Back and Send Me No Flowers. She also had huge success with Cary Grant in That Touch of Mink, in Move Over Darling and The Thrill of It All with James Garner, Please Don't Eat The Daisies with David Niven, It Happened to Jane with Jack Lemmon, Teacher's Pet with Clark Gable, Caprice with Richard Harris and many others.
Before the romantic comedy phase of her career, the versatile Doris starred in musicals like the nostalgia trips to early 20th century America like On Moonlight Bay, Young At Heart, Tea For Two, Lullaby of Broadway and By The Light of the Silvery Moon. She did Broadway hits like Calamity Jane with the Oscar-winning song My Secret Love, Billy Rose's Jumbo and The Pajama Game.
Doris was Alfred Hitchcock's choice for the suspense drama The Man Who Knew Too Much which featured the hit song Que Sera Sera. She even excelled in a memorable biopic, Love Me Or Leave Me about the torch singer Ruth Etting. The soundtrack was also a big seller and included the beautiful I'll Never Stop Loving You. It is one of my all-time favorites.
Making hit songs was pretty much the usual for Doris from the moment she sang It's Magic in her first film appearance in Romance On the High Seas. Among her biggest sellers were Sentimental Journey, Embraceable You, Again, Till The End Of Time, Love Somebody, A Guy Is A Guy, Everybody Loves A Lover, A Very Precious Love, If I Give My Heart To You, My Dreams Are Getting Better All The Time, April In Paris, My Love And Devotion, Possess Me, A Bushel And A Peck, Teacher's Pet, etc., etc. Bit of trivia. The Rodgers and Hart song, My Coloring Book, recorded by Barbra Streisand, was first sung by Doris in the movie Jumbo.
Aside from music and motion pictures, Doris also starred in the high-rating The Doris Day Show on television that was on the air from 1968 to 1973. None of these successes, however, compared to the joy she derived from taking care of animals. Doris was one of the earliest celebrities to advocate compassion for animals and it was in her Doris Day Animal Foundation that she concentrated her efforts after she retired from showbusiness.
Doris' only son Terry Melcher, a music producer and songwriter, died of melanoma in 2004.