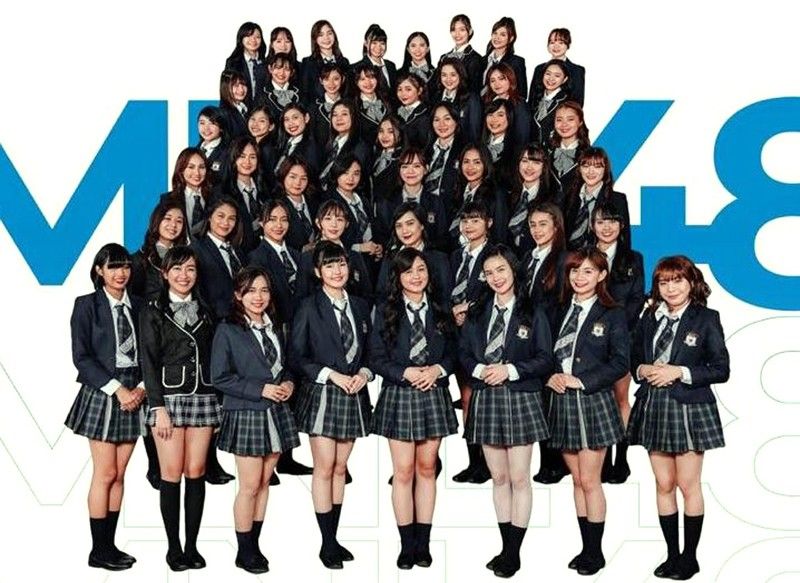 The all-girl group is set to shine anew with Center Girl Aly and second year members Sela, Abby, Sheki, Sayaka, Jamie, Alice, Ash, Rans, Faith, Jan, Gabb, Jem, Kyla, Grace, Rowee, Thea, Coleen, Cess, Brei, Ruth, Lara, Kay, Belle, Amy, Joyce, Tin, Alyssa, Yssa, Mari, Miho, Dian, Emz, Yzabel, Ecka, Dani, Dana, Ice, Laney, Jaydee, Klaire, Quincy, Cole, Daryll, Lei, Shaina, Shaira and Andi
MNL48 has new members & Center Girl
MANILA, Philippines — Present members of MNL48 can be booted out from the all-girl singing group… if the voting doesn't turn out in their favor. That's why each member never ceases to work hard to gain full support of fans, especially when the "general election day" comes.
However, the second annual general election held recently turned out gloomy for fans of MNL48 first generation members who didn't make it to the Top 48. Equally saddened were avid followers of Sheki because their idol placed fourth after a year of holding the No. 1 position and being the First Generation Center Girl. She was replaced by MNL Aly, whose supporters went ecstatic after she was being named as the new Center Girl of the group's second generation.
According to MNL Sela, the fate of MNL48 girls is determined by voting results. The revelation piqued the interest of many who attended the presscon at Movie Stars Café regarding the process of selection and elimination of the girls, not to mention the toughest part of being a member of the girl group.
"I think the toughest part of being a member of MNL48 is the voting system. General election is (being held) every year and it's very tough for us because it's usapang money na po. It's not a joke since P250 is equivalent to one vote and as we all know, it's hard to earn money here in the Philippines and we're very glad to have fans who are devoted to pour their efforts and to vote for us. That's the best thing for us because they are always ready to (give their) support," shared Sela, who ranked second in the recent polls.
She continued, "During general elections, our ranking is in the hands of our fans. Medyo tough po kasi hindi siya text votes or Internet (online) votes. Our voting is you have to buy our merchandise worth P250 and up. And we were totally amazed that our fans are very much willing to spend like, for example, they would buy 200 CDs for 200 votes to one member."
Equally challenging is the ability to hold the position as the group's Center Girl. But Sheki didn't mind about losing the title. She said, "We were told beforehand by the management that no one can permanently be the Center Girl. We must give a chance to other members to shine, to have an exposure so that all of us can show to everyone our talent.
Aly said that Sheki gave her advice to which the latter obligingly revealed. Sheki said that she always reminds members — especially to the second generation — to continue to work hard no matter what challenges they would have to face as a group. "Now that we are on our second year, another chapter will begin and we will help one another for us to become successful.
"And even if I am no longer the Center Girl, I am very much willing to give my full support to Aly, who is now tasked to lead the group to another level. Nandito po kaming lahat para sa kanya."
With the exit of first generation members Ella, Gia, Jewel, Essel, Erica, Cassey, Madie, Necca, Nice, Princess, Vira, Mela Yna, Karla, Hazel and Sha, MNL48 is set to shine anew with Aly, Sela, Abby, Sheki, Sayaka, Jamie, Alice, Ash, Rans, Faith, Jan, Gabb, Jem, Kyla, Grace, Rowee, Thea, Coleen, Cess, Brei, Ruth, Lara, Kay, Belle, Amy, Joyce, Tin, Alyssa, Yssa, Mari, Miho, Dian, Emz, Yzabel, Ecka, Dani, Dana, Ice, Laney, Jaydee, Klaire, Quincy, Cole, Daryll, Lei, Shaina, Shaira and Andi. Their fans will have to look forward to their new single to be released soon.