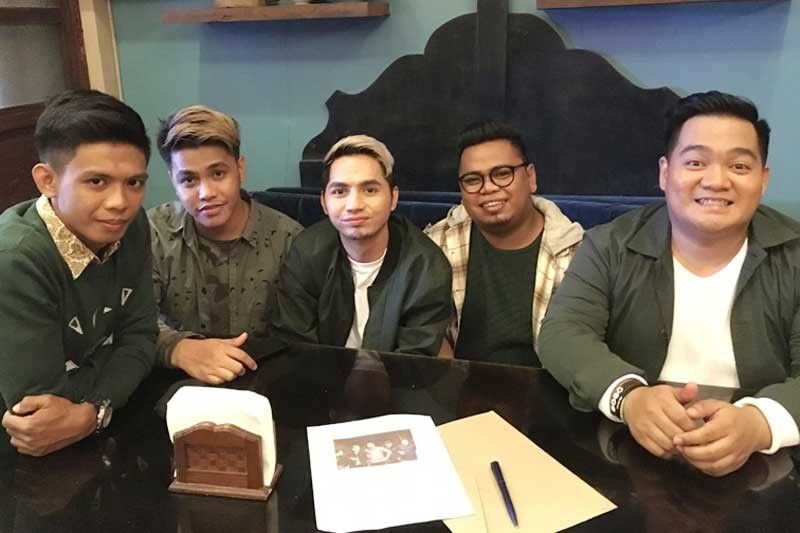 The band, composed of Yeoj Rivera, Samuel Mopal, Jeremiah Torda, Harold Tabuno and Alex Rale, has recently released its debut single Gunita
Bot Glorioso
(The Philippine Star) - April 26, 2019 - 12:00am
MANILA, Philippines — Sandiwa isn't exactly new in the music scene. The five-man band has been for quite sometime performing in gigs around the metro and in benefit shows. It was only in February when Sandiwa became one of the recording artists of Ivory Music. That's why, it is only now that the music spotlight has been mainly focused on the band that is now being handled by Thea Pollisco, who also manages Gloc-9 and Shanti Dope.
Composed of Yeoj Rivera, Samuel Mopal, Jeremiah Torda, Harold Tabuno and Alex Rale, Sandiwa takes pride in being Pinoy. If you notice, there is a sense of patriotism in its name. Those who are already familiar with the alternative rock band said that its sound may remind you of other local bands leaning heavily on hugot songs but there is something in its music that is pleasant to the ear. The lyrics are profound. And sure enough, Sandiwa is worth listening to again and again.
"Our sound is 'cinematic,'" said Yeoj, the vocalist and songwriter of the group. "I always make it a point that our song has a story and my goal is for our sound to become a movie theme. Mahilig kasi akong manood ng mga pelikula and I was inspired to compose songs because of the movie soundtracks. Gusto ko ganun din kalabasan ng kanta namin."
Yeoj's songwriting celebrates Filipino roots. He incorporates in his compositions Tagalog words millennials would be too curious for their definitions. He feels it is also their duty to share knowledge through music without veering away from today's music trends.
In fact, its recently-released debut single titled Gunita is filled with emotions and its lyrics carry deep Tagalog words. Perhaps, only a few would know the meaning of the word asilo in one of the lines in the song.
"There are lots of Tagalog words that we seldom hear," Yeoj said. "At kami gusto namin magamit 'yun para na din sa mga kabataan."
Alex added that it makes Sandiwa different from other local bands. "When we started forming the group in 2016, we were thinking about our style and approach. Kumbaga, paano kami maiiba so naisip namin na gumawa ng kanta na may malalalim na Tagalog pero may hugot pa rin."
Harold, on the other hand, shared that in most of their bar gigs, people would always tell them "sige saktan n'yo pa kami" for Sandiwa's take on songs that speak of love and heartbreak. "It was in 2017 when we started looking for gigs around the metro."
However, Sandiwa members are no neophytes to performing on stage because they were once part of other music bands. Yeoj said, "We became friends due to our mutual friends like ako magkaibigan kami ni Jeremiah then may mga kasama kami na kaibigan sila Alex."
It was Alex who introduced the band to Gloc-9's brother. "I used to play as the keyboardist of Gloc-9 in his shows so I thought of introducing our band to his brother muna then he introduced us to Gloc's manager at nagustuhan naman kami. Sila 'yung naging daan para makarating kami sa Ivory. That's why we are thankful that we are now here (with Ivory)."
Yeoj admitted their sound is similar to their music influences Kodaline and Joey Ayala. "We get inspirations from them but not to the point of completely sounding like them. Meron kaming sariling style na bagong tunog."