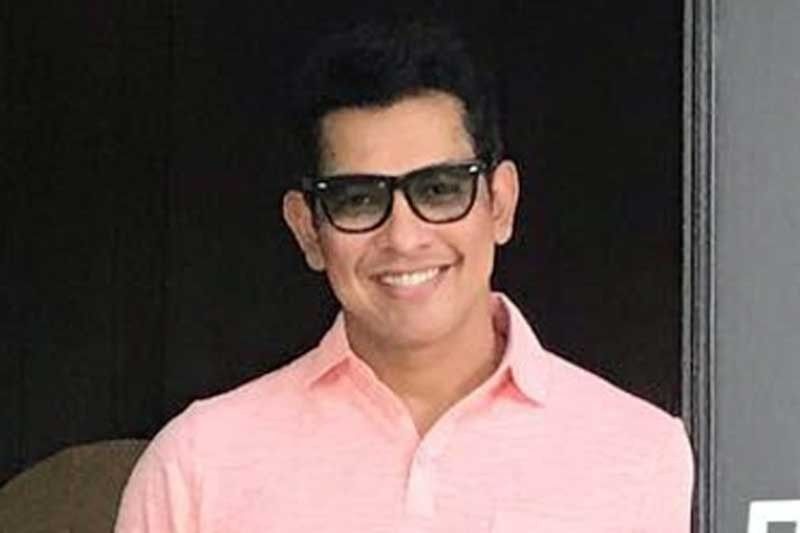 Gary Valenciano: Still the Mr. Pure Energy
CONVERSATIONS
-
Ricky Lo
(The Philippine Star) - April 14, 2019 - 12:00am
Stories about how they were healed by God More things are wrought by prayer than this world dreams of. — Alfred Lord Tennyson
They say that faith can move mountains. Very true!
Here are stories of those who believe that a Divine Power helped them recover from their illnesses.
Thy will be done! That was what Coney Reyes whispered when she was diagnosed with cancer 23 years ago.
But first, listen to how Gary Valenciano sprang back from two major surgeries and lived up to his title as Pure Energy.
Middle of last year, Gary underwent a triple bypass. Only a few weeks later, he was diagnosed to have kidney cancer, so part of it had to be cut. Barely three months later, the so-called Mr. Pure Energy showed up at Regal Matriarch Lily Monteverde's 80th birthday party and wowed the guests by performing as if nothing happened to him.
After that, Gary resumed co-hosting the Kapamilya variety show ASAP and serving as judge in the Tawag ng Tanghalan segment of It's Showtime.
Gary is now on a concert tour in the US.
Before he left, he admitted in a presscon that when he learned about his illness, he was depressed for two months.
"But through it all," said Gary, "I never lost faith in God. I went to a beach in Batangas and, all by myself, I did some soul-searching for one week, I talked to God. That was when I realized that I still have a purpose in this world that's why He healed me."
And here are the other story-tellers in their own words:
TIRSO CRUZ III, Actor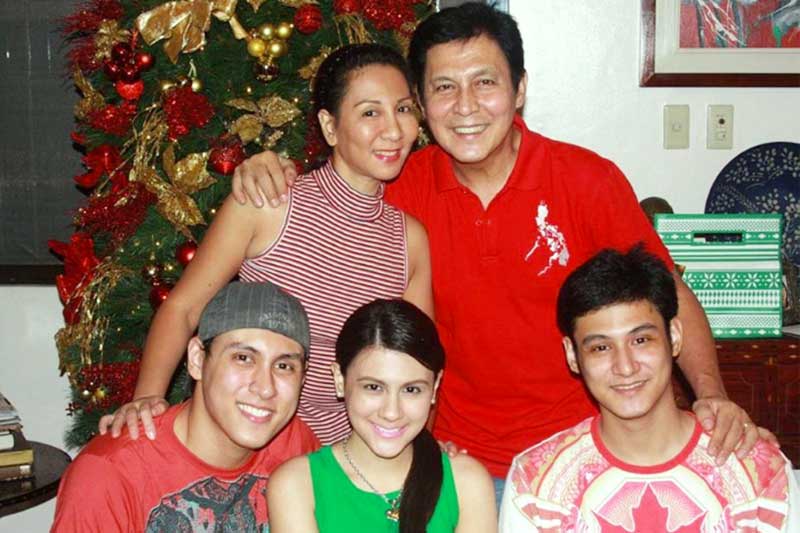 Tirso Cruz III and wife Lyn Ynchausti and their children (from left) Bodie, Djanin and the late TJ.
In 2014, I was diagnosed with lung cancer. It was the most horrifying thing that happened to me. As most of us know cancer is a life-threatening disease. I started thinking and worrying about my family. I was not ready to leave them. It is when we go through things like these that we really turn to God and pray.
My friend-doctor Rommel Cariño, a thoracic cardiovascular surgeon, suggested that I have a lobectomy, a surgical procedure which would involve taking out a third of my lung. And so my family and I talked about it and agreed to the doctor's advice.
It was a successful operation. After that, Dr. Gerry Cornelio (one of the best oncologists in the country), took care of my adjuvant treatment. All in all, I am very thankful to all the doctors who took care of me. Thank you also to my cardiologist, Dra. Erlene Demerre, who has always been there not only for me but for my wife, too.
But deep in my heart, I knew it was the Lord who orchestrated my complete healing. And all throughout this whole ordeal that my family and I went through, all that we hung on to were prayers and faith in the Lord, believing He would not forsake us and that He would answer our fervent prayers. The doctors did their jobs very well and for that I am truly thankful to them. But I do believe that their talent and ability come from the Lord. I believe that they were guided all the way by my Lord and Savior Jesus Christ.
As of now, I continue to thank God for saving me and answering our prayers. We will always put our faith in His hands and His sovereign will.
CONEY REYES, Actress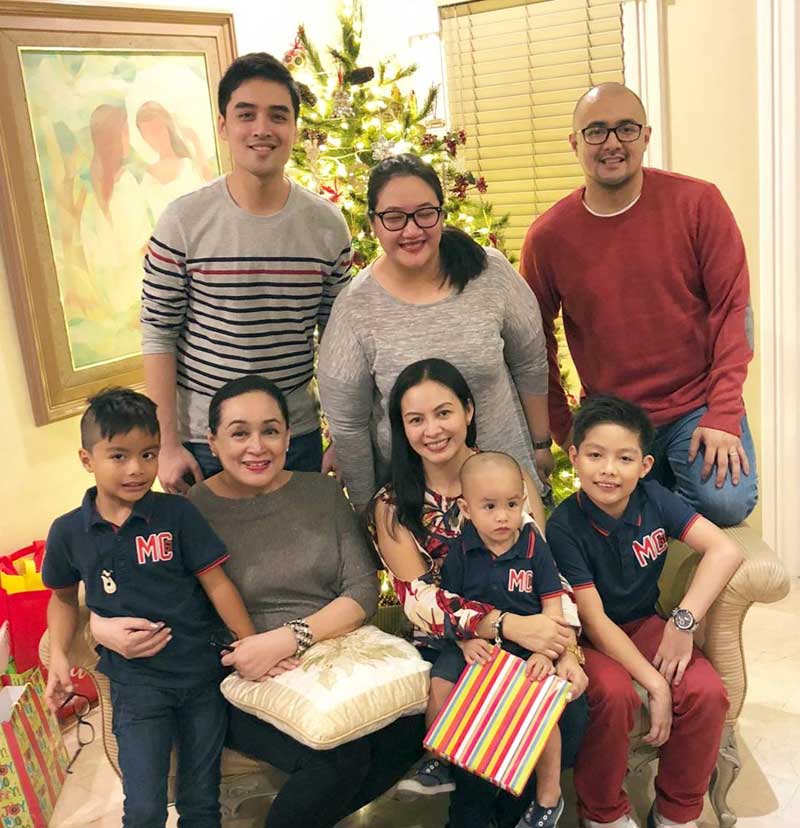 Coney Reyes and family including son Vico Sotto (left, back row) who is running for mayor of Pasig City in next month's mid-term elections.
I was diagnosed to have malignant thyroid cancer/papillary carcinoma in December of 1996. I had surgery within a week after I was informed. They took out my thyroid glands and parathyroid glands. Had routine check-ups monthly, then quarterly after the operation. No radiation. No chemotherapy. It's now 2019. I go for routine check-ups. I think there's wisdom in doing that. And whenever my endocrinologist, Dra. Crisostomo, sees me and the results of my blood tests, she happily announces, "Wala na talaga, Coney." And I ecstatically say, "Sabi ko sa iyo, Dra.! The Lord Jesus has healed me!"
God answered my prayer, the prayers of my children and countless others for me to be healed. I declared healing verses from the Bible every day. There is power in the Word of God and I take Him on to His promises. His Word is alive! His Word is true! By His stripes/wounds on the cross, we were healed.
Here's one of the many Bible verses that I hang on to for years.
Psalm 103:2-3 "Praise the Lord, O my soul, and forget not all His benefits ­— who forgives all your sins and heals all your diseases."
CHAD BORJA, Singer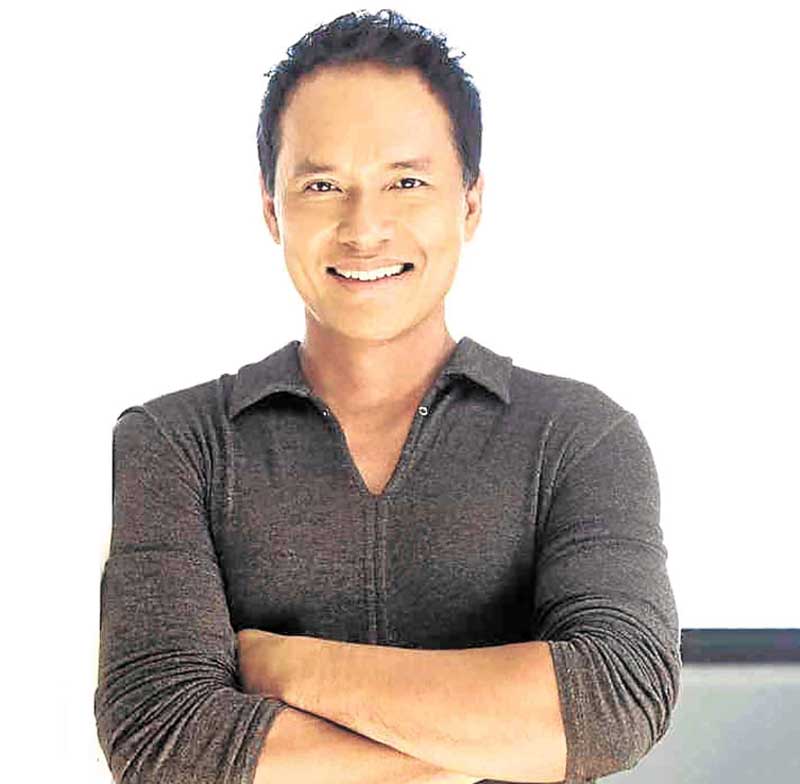 Chad Borja
I believe that what happened to me was a miracle. I had thyroid cancer, which is said to be the friendliest of cancers because of its good prognosis. However, the thyroid is very close to the laryngeal nerve that is responsible for our voice. One mistake during operation could have ended my singing career.
I believe that God has cured my illness. He led me through the process of discovering my cancer at an early stage, through the series of tests I had, to the people who have supported me, through the hands of the doctors who handled me during operation. Up to now, I visit my endocrinologist every six months to monitor my condition and make sure that my lab results are OK.
The Lord has used my illness to heal me spiritually. It was an opportunity for me to realize the power of prayer and to trust in Him. There are struggles in life and if not for having gone through cancer, I might not be able to survive any crisis with weak faith.
Crying at that time felt good because they were tears of gratitude. I consider my regular check-ups as a way of strengthening my relationship with God by reminding me of what I have experienced. I will always be thankful for all the blessings I have — my talent, my life and my family.
JOEY ALBERT, Singer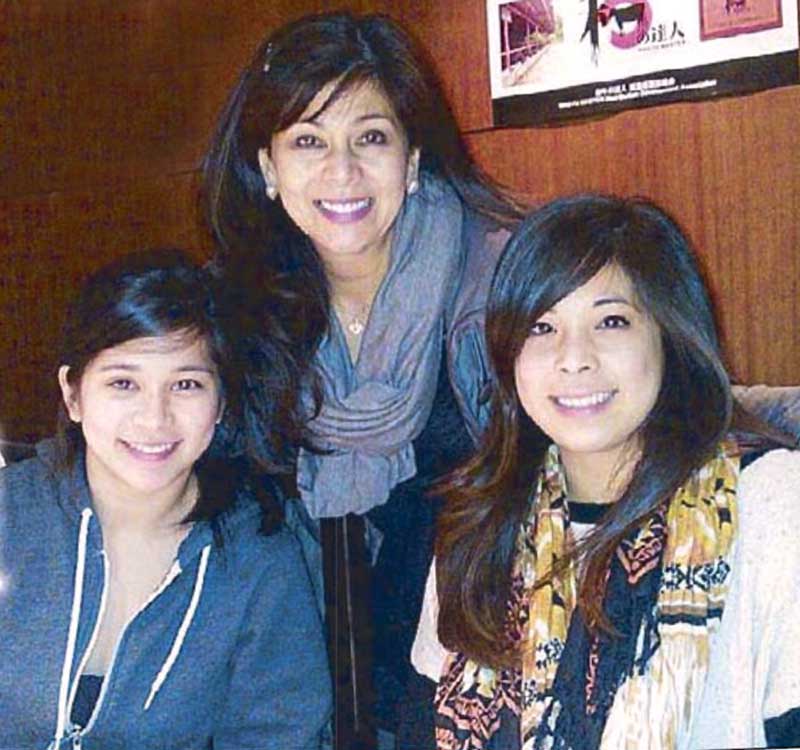 Joey Albert and daughters Trixie and Margarita.
In March of 2015, I was diagnosed with my third bout of cancer. It came as a shock to me after a 12-year remission. This time, I was really scared because I had been bleeding for 10 months and had been misdiagnosed all that time. The diagnosis could have come too late... but in a twist of a silver lining, the late diagnosis led to the discovery of what could have been a worse cancer...and I was spared of that.
Clearly, God's hand was there all along. You see, God not only heals but prepares the way for healing. He truly is before all things.
Sometimes, it's hard to see God's hand in the bad things that happen to us. We hope for signs and dancing sun and thunder but the proof of God's healing is simple.
It is because we asked.
ED DE LEON, Movie Writer
I never knew I was sick until that night when I had my first heart attack while on my way to the office. I was alone in a cab, and I asked the driver to take me to a nearby hospital. The guard helped me get inside the ER (Emergency Room) and I immediately called the office to say that I was at the hospital and I was alone. That was all that I remember.
The next thing I knew, I could no longer talk. There were tubes attached to my mouth. Some of my friends were already there; my sister was there, too.
No one was telling me what happened. After a few minutes, I again passed out and when I woke up, I was inside a dimly-lit room, it was glass all over. I saw the clock. It was 3 a.m. A nurse came immediately as I woke up. She gave me instructions on what to do, and asked me what I wanted. Using a board to write on, I asked her to call a priest.
I was told that the priest did not stay at the hospital and would only come by 8 a.m. He asked me if I was willing to wait. I just gave her a nod.
That very moment, I didn't know what was going to happen. I remember that I prayed, but did not ask for healing. All I asked God was to allow me to go in peace. I was able to sleep and when I woke up, a priest was by my side. He gave me an absolution even if I could not confess, and gave me the final sacraments. After that, I was at peace and ready to go.
I didn't know if I was having hallucinations or what, but at that time I was sure that I saw St. Padre Pio of Pietrelcina. He was doing nothing, saying nothing. He was just standing in one corner of the room. In the other corner, I saw an old nun. She was not a saint, but I couldn't be wrong because I had seen a lot of her pictures. She was Madre Geronima dela Asuncion, the founder of the first beaterio of the Order of St. Clare in the Philippines. All the more I believed I was dying. But that was not what I was expecting. I was expecting the Virgin Mary whose intercession I always ask for "especially at the hour of my death."
The hallucination stopped when the nurse came in and, smiling, told me that the priest who came to see me had told her, "He asked for the final sacraments when in fact he's not yet dying."
I survived that cardiac arrest, and the second, the third and the fourth. I kept on asking God what He wanted me to do.
I'm no longer afraid of sickness, and I'm happy living my life because I know that God allowed me to get sick just to experience His healing power, and the powerful intercession of his saints.
Now I always tell my friends, "Be thankful if you get sick because God wants you to experience His healing power."
And if you need help, call on Santo Padre Pio. He is a very powerful intercessor. Or go to the Monastery of St. Clare in Quezon City, and ask for the healing cloth touched to the remains of Madre Geronima. Just carry it with you, and she will surely intercede at the time of need. All of my friends who did so became stronger in spite of their sickness.
LEAH SALTERIO, Movie Writer
More than seven years ago, I laid down unconscious in hospital bed, several thousand miles away from home. In the middle of a busy week while in an out-of-the country work assignment, I suffered a massive stroke that left me nearly half-dead.
I was in the Los Angeles hospital for two months. That incident left half of my body paralyzed. I was unconscious for several days and I couldn't recognize people for weeks. I was immobile in bed for a long time.
Though no surgeries were done to me, my face was initially deformed for a month as I had a locked jaw. But the brilliant doctors at Glendale Adventist Hospital in California knew what needed to be done.
When I returned to Manila, I was sidelined from every activity I used to do. For someone with a consistently active lifestyle, what happened to me was unthinkable.
My initially debilitating condition was also strongly an eye opener for me that nothing was permanent. I had to resign from my job and eventually worked from home, doing mostly writing jobs.
But, as they say, life goes on. And life, indeed, must go on. I was also resigned to the fact that I couldn't live an active life again.
The same question that was often asked of me, "Were you depressed?"
A girl friend noted depression is not just in my vocabulary. I was far from getting depressed. Maybe it was because I always have a positive outlook in life. And from the time I was small, I was taught to call on to God no matter what happens.
Thankfully, my siblings and I had strong faith in God. Ever since we were small kids, we learned that prayer always changes things. Undoubtedly.
I could no longer drive, but that didn't detail me to the house 24/7. Thanks to Grab, I have a car and a driver at my beck and call that will take me anywhere I want to go to around town. Safely.
No need to hail merciless taxi cabs, often with unscrupulous drivers whom you often need to haggle for the fare. Grab is 99 percent safe and the car will bring you from door to door.
I still do physical therapy weekly. I started with extensive therapy ­— physical and occupational — thrice a week, for my right leg and my right arm. The most important thing is that I'm mobile. I can even go out of town with friends and family.
Complete healing has yet to happen, but I believe that God listens to our pleas and supplications, non-stop.
"Call unto me and I will answer thee and show thee great and mighty things which thou knowest not" — Jeremiah 33:3
We only have to trust and firmly believe.
JULIE TORRES, Housewife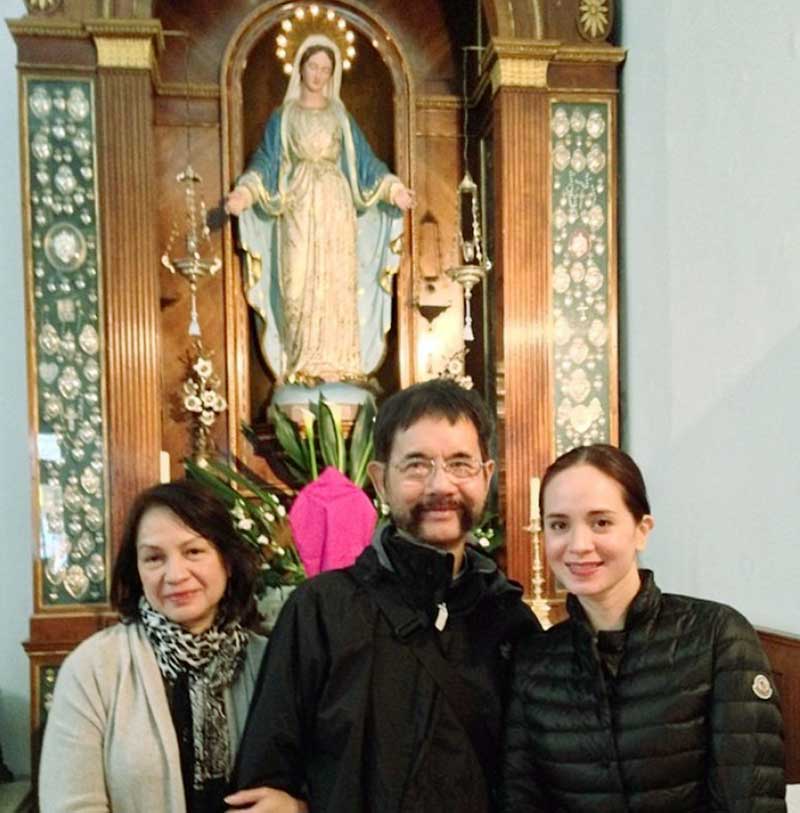 Julie Torres and husband Manuel with daughter, Ormoc Rep. Lucy Torres
It was in 1997 that I started invoking Padre Pio in my daily prayers after I read an inspiring book on Him. Of all the saints whose intercession appealed to me, St. Pio stood out as the one who consistently manifested his intercession, next to Mama Mary, my greatest intercessor.
My husband and I are both cancer survivors. As a matter of fact, it was my husband who first received a small relic of St. Pio a few days after his surgery on a malignant growth in his right kidney. That was in September 2000. In January the following year, I held on to that relic as I went through a battery of tests for a suspicious growth in my breast. True enough, I was told that the growth in my right breast was malignant but fortunately it was at its earliest stage. It was so tiny that it could not even be palpated and was just discovered through that very first mammography exam I even underwent in my life.
I had the option of having my breast reconstructed immediately after surgery. While I was recuperating in the hospital, a friend of mine (who had no idea that I was a St. Pio devotee) gave me a medal and rosary that she secured during St. Pio's beatification in Rome. I credit St. Pio for leading us to competent surgeons, and for making it possible for our illness to be discovered at a very early, highly treatable stage such that neither chemotherapy nor radiation was required.
To this day, I call on him for help. I have several relics of St. Pio that I always have on hand. I put them over aching parts of my body and always I find relief and comfort. I have unintentionally lost some of them but I am happy to say that each one I lost has been replaced with another one — for some reason someone would just give me a St. Pio relic.
What I find amazing is that most of them come from people who have no idea that I am a devotee. My husband and I have gotten used to occasional scents of roses and violets even when none are present, two signs from yet another friend, a big statue of St. Pio. I took that as an indication that I should be more active in sharing with others the life and works of this holy priest.
It would be selfish to keep his kind mediation all to myself. It is with that thought that, in a humble effort to give back, we are propagating the devotion to St. Pio by sharing with others what he has done for us and also by donating images of his to different parishes that welcome him. It is our fondest hope that so many more lives will be touched by his intercession.
Postscript: I like to call it a "December phenomenon."
At dawn of Dec. 14, 2004, my booklet on Padre Pio "shed" so much oil that I was able to extract one-half-ful of oil in an ampule container, from the tissue I used to wipe the spill.
The next day, my husband noticed that the remote control of the aircon in our room, both front and back side, was "soaked" in oil. I wiped it with a tissue but surprisingly, I couldn't extract oil from it even though the tissue was already damp…up to now.
This phenomenon, or whatever you may call it, went on for three days, so much so that another Sto. Pio booklet got soaked, but not as wet as the very first time it manifested.
The tissues I used to wipe these miraculous "oil spill" are still damp up to now.
I thank God so very dearly, for sending Sto. Pio in our midst. Praise God.
(For more updates, photos and videos, visit www.philstar.com/funfare or follow me on Instagram @therealrickylo.)