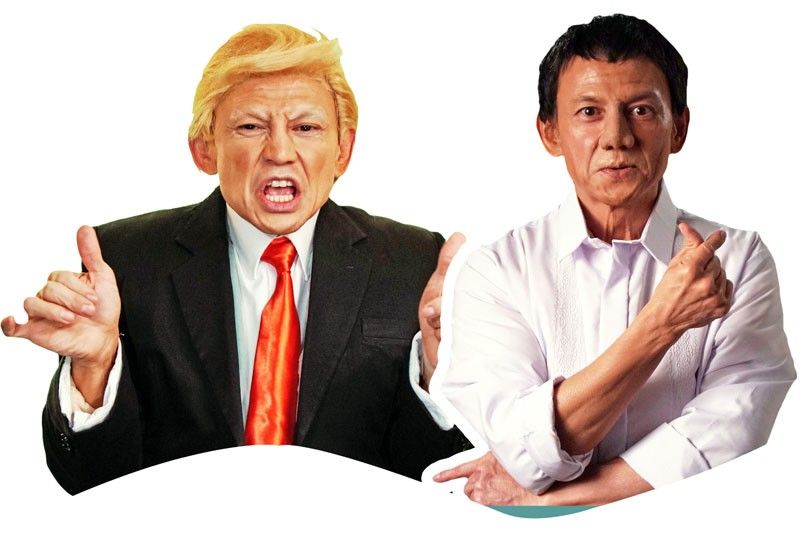 Jon Santos will be taking on two famous presidents who he will introduce as McDonald Trump and Duthirty Harry in Trumperte.
It has been 30 years since Jon Santos ditched his college degree from the University of the Philippines and since he risked the ire of his father who was in the military service and other members of his family of the same vent. I have seen him fondly recall growing up gay in a macho household.
In the long run, his relatives have also become successes in their undertakings and have learned to accept and be proud of what he does. But I do not think any of them had or are now having as much fun as Jon does when he is making people laugh and because he is also a brilliant satirist, also think in a big way.
Jon is now a very successful actor in theater, TV and films, writer, he co-writes his own scripts, an occasional singer, I love his recording of Apat Na Buwang Pasko, and dancer, he danced in Priscilla Queen of the Desert, and most of all, a comedian who is at his best when doing the stand-up kind, where he makes fun with a bite of current issues.
Jon is like a whirlwind on stage. He makes you wonder how he is able to catch his breath during a performance. He is in every way quick thinking and quick moving and most of all, quick changing from one famous personality to another.
Name a famous celebrity or name an important issue or controversial bit of news and chances are it has received the Jon Santos treatment during these past years. If you can name somebody or something that did not make it to one of his shows, then that someone or something never really mattered and have already been forgotten.
Should I get the chance one of these days, I will try to ask Jon to list down every personality he has impersonated these past 30 years. He probably already has a hundred of these creations in his catalogue, just like the number of wigs, fake noses, fake ears, fake whole faces, fake boobs, butts, etc., etc. that he has in storage ready to be used when the time and place warrant it.
Now, since this is Jon's 30th year in show business, he is doing a series of shows around town titled Trumperte. This Saturday, March 30, Jon is taking Trumperte to the Music Museum in Greenhills, the site of many of his other triumphs. And as usual with every Jon Santos presentation, he has a freshly created list of characters who will all contribute into making Trumperte a truly brave, explosive and delightfully entertaining show.
As one can easily deduce from the show's title Trumperte, Jon will be taking on two famous presidents who he will introduce as McDonald Trump and Duthirty Harry and all their memorable doings. Then, he will have as special guests a beauty queen named Cartolina Gray; a sexy singer and dancer, blogger-turned-government spokesperson of sorts Mocha Frap; and a first lady with the unlikely name of Manilania Trump.
This early, even before watching the show, I can already imagine what a riot Jon will be impersonating those famous figures and as once again a sharp barometer of society but with a humorous touch.
Catch Trumperte. Tickets are available at the Music Museum, tel. nos. 721-0635 and 721-6726; at Ticketworld, 891-9999 and at MM 0966-8915560. Tickets' prices are P2,800 (Gold); P2,250 (Silver); P1,250 (Bronze); and P1,000 (Balcony).
Now that the summer season is upon us, here is a message from the ACTS Dance and Arts Academy. If you are looking for a training ground to unleash and develop your dance skills or if you are already a professional, to further increase your dance strengths, then here is an invitation to enroll at ACTS and be your own dance hero.
ACTS offers classes in hip-hop, ballet, jazz funk, lyrical and Kpop in classes for children, teens and adults and even baby ballet for kids in assorted locations. Catch ACTS lessons at the Mandaluyong Studio, Eastwood, Makati or Marcos Hi-way.
For details, check out the ACTS Dance Academy at the GA Tower 1 in Mandaluyong or call or text 0917-9237453.