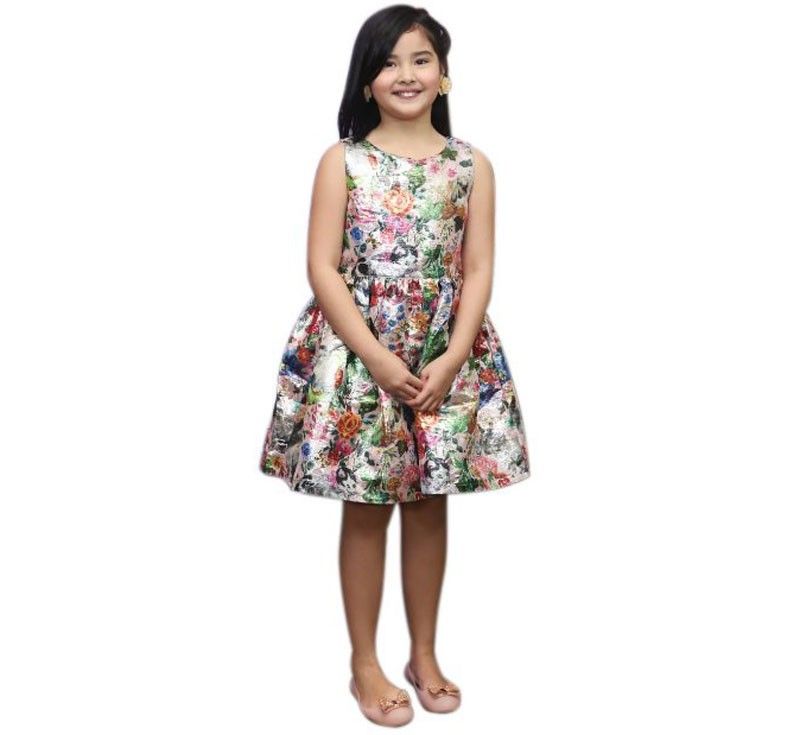 Lady Luck smiles on Sophia Reola
Goin' Bulilit mainstay gets her first lead role in ABS-CBN's Nang Ngumiti Ang Langit
MANILA, Philippines — Meet ABS-CBN's newest child star Sophia Reola who topbills the daytime drama Nang Ngumiti Ang Langit.
The series, which premieres today replacing PlayHouse, sees the 10 year old playing Mikmik, a happy little girl who grows up being showered with love from her mother Ella (Kaye Abad). But their happy lives are disrupted when her mother becomes seriously ill. In her pursuit to help her mother live, she discovers the truth that her mother is an illegitimate child of the Salvadors, one of the richest families in the country.
Mikmik tries to ask for help from the Salvador matriarch Divina (Pilar Pilapil), but she will be ignored until her mother dies. She decides to live with the Salvadors, hoping to be accepted and find the love she received from her mother.
But as soon as she steps in the house of the Salvadors, Divina and Katrina (Cristine Reyes) make sure that Mikmik pays for the "sin" of her father Michael (RK Bagatsing), son of their mortal enemy, who was accused of killing Divina's son and Katrina's husband, Eric (Rafa Siguion-Reyna).
The STAR talked to Sophia after last Tuesday's presscon for the newest Kapamilya soap. Super cute and candid, she requested this writer not to ask her difficult questions like algebra.
She started in showbiz when she was six years old. Before Nang Ngumiti Ang Langit, Sophia acted in Pusong Ligaw, Team Yey and FPJ's Ang Probinsyano. But she first appeared and continues to be in Goin' Bulilit.
Acting scared her at first because of the crying part. "Nung una po, natatakot ako mag-artista kasi po, parang hala may iyakan, paano ako iiyak? Mapapahiya ako dito. Tapos po, parang sabi ko, hindi ko pa naman na-ta-try, so try ko nalang. Pumayag din si Mommy kasi gusto din niya po maging artista. Hindi po (siya nag-artista) kasi nahihiya po siya."
Now, Sophia enjoys acting because she learns from other actors and gets inspired by them. Who's her idol? "Si Tita Pilar (Pilapil) because professional po siya."
In between filming breaks, she does her schoolwork or her favorite pastime, which is drawing.
For kids who want to act, she advised, "Kung hindi niyo pa naman na-ta try, try it, baka ma-like niyo."
Sophia was born in the States, her father Jordan is a Fil-Am military man while mommy Stephanie is also half-American (whose father was also a US serviceman).
Stephanie told The STAR that Sophia, her oldest of two kids, used to be "very, very shy" when she was younger. "I started her on commercials just so she would learn to socialize. Then I saw that there was an audition for Goin' Bulilit. I just told her, anak, let's try, so that we can set foot on ABS (laughs).
"She didn't want to at first. She grew up in the States, she was born there. She was used to na parang kami-kami lang (just us). So, I said, I want you to try because I didn't want her to be like me na sobrang scared and shy (before). So, it helped."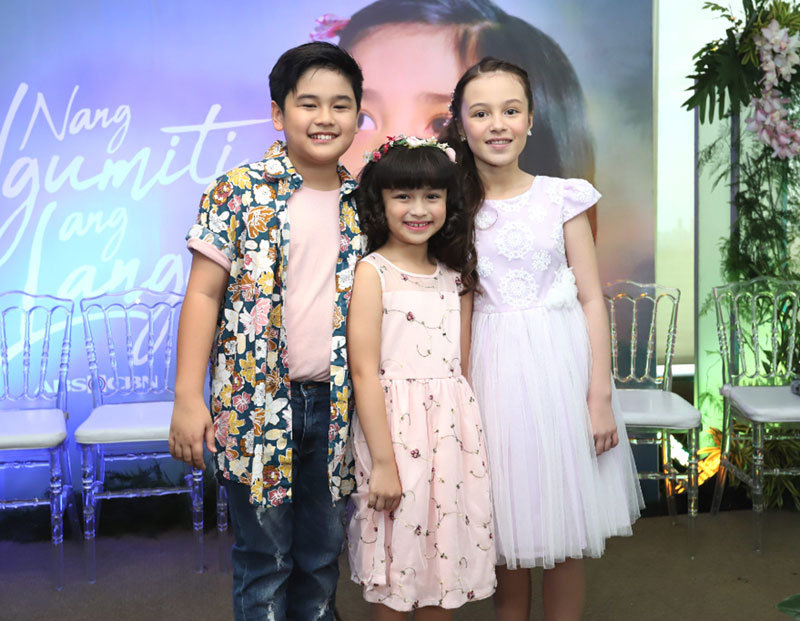 Sophia's kiddie costars are Miguel Vergara, Heart Ramos and Krystal Mejes
They moved to the Philippines when Sophia was turning five. "At that time, she was still English speaking and she had a hard time in Goin' Bulilit because she had to memorize the script and she couldn't. So, it was a struggle for her at the beginning. And then after, she enjoyed it because she was always around children. She had a lot of playmates. Slowly, she enjoyed it."
Mommy Stephanie feels lucky that her daughter is always part of shows that have many kids. In Nang Ngumiti Ang Langit, her kiddie co-stars are Heart Ramos, Miguel Vergara and Krystal Mejes. Like Sophia, Miguel is home-schooled, while Heart and Krystal go to a regular school.
"(Sophia) is also part of Team Yey. It fosters learning and she likes to cook and do arts. At home, she does art, and she wants to bake also. At Team Yey, she gets to explore that, make mess and everything. Her segment is (about) snacks, so she gets to do pretend play like lutu-lutuan. It's really playtime."
Asked how she creates a balanced life for her daughter, whose future in showbiz holds a lot of promise, she said, "If there are negatives, I don't tell her muna. I have to keep some of that, so that she won't be bothered. Second, there's school. She is home-schooled. At least twice a week, we run to her school. Playtime is always there. But I always tell her, if you want to have playtime, you have to have study time."
Meanwhile, Sophia as Mikmik will experience some tough treatment from the show's resident "kontrabidas." Off screen, Sophia describes Pilar, her "mean lola" in the series as, "akala niyo lang po masungit siya dahil yung face niya is strong, pero sweet po siya."
Of Cristine, Sophia said: "Akala ko po susungitan niya ako, tapos pag nag-ha hi po ako di po siya nagsasalita, pero mabait po talaga siya. Sweet po siya like Ate Kaye."
Pilar, for her part, said of the child star: "The hardest thing to do as an actress is to be always angry. I'm always getting angry in this particular soap opera (laughs). That's why it takes a lot of my energy and there are some scenes where my character takes it out on her because of frustration… It's difficult, but she handles it well. I think we've been able to work out things quite well."
Cristine also recalled her first scene with Sophia. "Amarah (my daughter) saw it, it was so funny, but she understood it and I explained it to her and Mikmik was there and she smiled at Amarah. Amarah said, 'Mommy, why are you like that?' because in the scene, I was stepping on the plants of Mikmik. So, I said, 'Baby, mommy is just acting. Look at Sophia, she's smiling. We're just pretending.'"
Another co-star Matet de Leon, who also started in showbiz as a child star, has some advice for young artistas and their parents: "Maybe, just don't deprive them of their childhood. Because from what I've observed, those who start very young, they mature fast, you know, because they're always taping, it's all work and no play. That's important for the kids. Their being children, let's preserve that — ?that they don't mature right away, right? (Otherwise) kawawa naman (I feel sorry for them)."
Directed by FM Reyes and Marinette Natividad-de Guzman, Nang Ngumiti Ang Langit also stars Dante Rivero, Enzo Pineda, Ces Quesada, Keempee de Leon, among others.