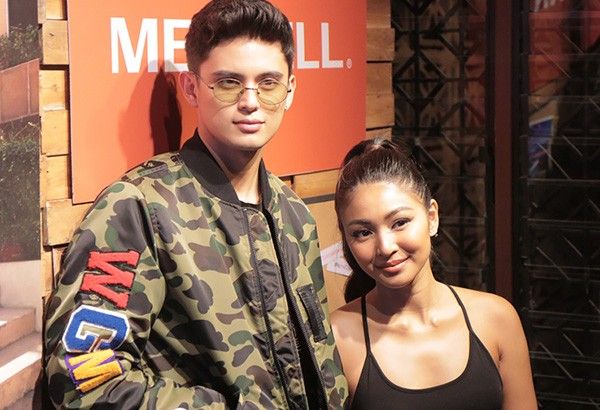 Nadine Lustre supporting boyfriend James Reid at his launch as Merrell's new endorser on Thursday.
Philstar.com/Kat Leandicho
James Reid's ex calls out JaDine fans
MANILA, Philippines — James Reid's former girlfriend Ericka Villongco called out the fans of the JaDine love team for bashing her.
In an Instagram story on Wednesday, the Los Angeles-based model and singer wrote that it is unfair for her to get hate messages for merely being the ex-girlfriend of the actor.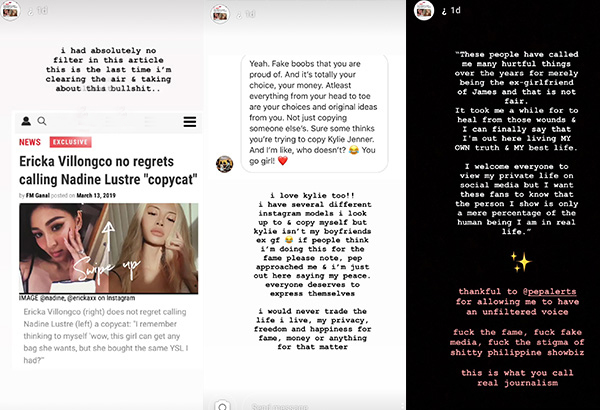 Screenshots of Ericka Villongco's IG story on Wednesday. Philstar.com/Jan Milo Severo
"These people have called me hurtful things over the years for merely being the ex-girlfriend of James and that is not fair," Ericka said.
"It took me a while to heal from those wounds & I can finally say that I'm out there living MY OWN truth & MY best life. I welcome everyone to view my private life on social media but I want these fans to know that the person I show is only a mere percentage of the human being I am in real life," she added.
In an interview with PEP.ph, Ericka said she did not regret calling James' present girlfriend and love team partner, Nadine Lustre, a copycat.
"I'm sorry to say, I don't regret calling Nadine a copycat. My fans were tagging me in multiple photos comparing the same top I wore months back, the same caption, her lip fillers and several other aesthetic resemblances," Ericka said.
"I remember thinking to myself 'wow, this girl can get any bag she wants, but she bought the same YSL I had? It just started to look like a trend of the many different things I was so proud to love. It's not my character to ruin someone's reputation over a mere guess or feeling but, I'm sorry to say, I don't regret calling Nadine a copycat," she added.
In an interview with Inside Showbiz, Nadine reacted to Ericka's allegations by simply saying that none of the issues bothered her and that she wishes Ericka "all the best."