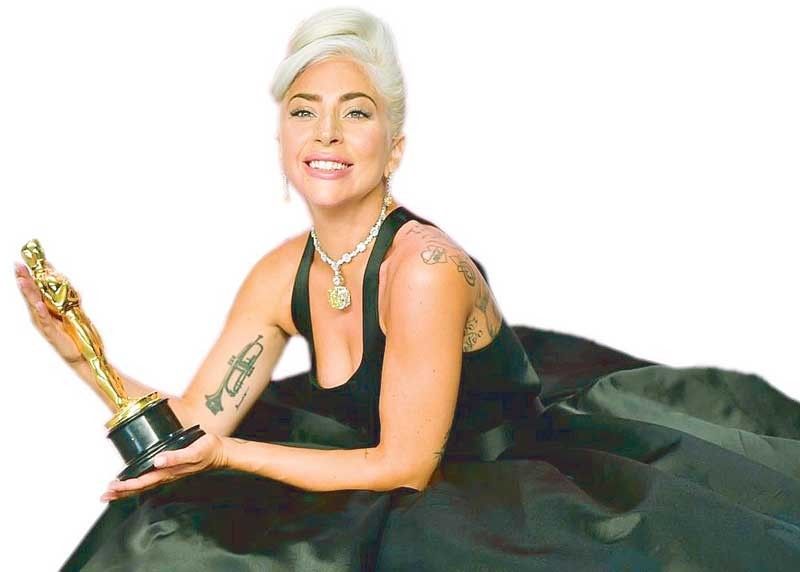 Lady Gaga is now on the way to reaching her peak as an artist.
What's next for Lady Gaga?
The US hit charts has just undergone an unexpected change. The soundtrack album of the movie A Star is Born that stars Lady Gaga and Bradley Cooper is back at No. 1 in the charts. So is the single Shallow, a song performed in the movie by Gaga and Cooper.
I say that the reason for this is Gaga fans are now in revenge mode. This frenetic streaming and downloading is doubtless a reaction to their idol losing the Best Actress Award to Olivia Colson at the Academy Awards and at the BAFTA and to Glen Close at the Golden Globes and the Screen Actors Guild Awards. Gaga tied with Close at the Critics Choice Awards and won at the National Board of Review.
Revenge mode or not, I say that Lady Gaga is now on the way to reaching her peak as an artist. Just think just over 10 years ago, she was this gimmicky newcomer with electropop sounds, Poker Face, Bad Romance, in a meat dress. Sure she easily proved she could make great music and began amassing Grammy trophies. But the trajectory she charted for herself in the ensuing years is really one for the books.
The academe also believes so and there are now colleges offering courses about Lady Gaga and her success. Maybe those students will find the secret to getting over a billion views on YouTube, to selling 27 million albums, 146 million singles, gross over $200M in a single tour of Monster Ball, while at the same time winning raves for her vocals, her songwriting and becoming an acclaimed actress.
I believe that her decision to sing jazz and the American Songbook in Cheek To Cheek with Tony Bennett provided the impetus for Lady Gaga to be taken seriously by a whole new audience. It helped when she was heard singing a beautiful Sound of Music medley at the Oscars with Julie Andrews. It helped, too, that she won a Golden Globe as Best Actress in a Series for her work in American Horror Story: Hotel. And then, there came A Star Is Born and Shallow. Lady Gaga is now also a great actress and a bigger star.
I cannot help but think of what ideas are going on inside her head just now. What future plan is she hatching? What will be her next movie role, her next album? Will she try Broadway and maybe be one of the exalted EGOT winners one day. I am very excited to find out.
Just a note. There is nothing going on between her and Bradley despite that steamy duet at the Oscars show. She said they were just actors playing roles. I must say they were very good.
And now, here are the hits of the week as per the Billboard tabulations:
The albums: A Star Is Born soundtrack by Lady Gaga and Bradley Cooper; Thank U, Next by Ariana Grande; Drip Or Drown 2 by Gunna; Father Of 4 by Offset; Bohemian Rhapsody soundtrack by Queen; This Land by Gary Clark Jr.; Harverd Dropout by Lil Pump; Hoodie SZN by A Boogie With da Hootie; While We Wait by Kehlani; beerbongs & bentleys by Post Malone.
Greatest Hits I, II, III, The Platinum Collection by Queen; ASTROWORLD by Travis Scott; Championship by Meek Mill; Scorpion by Drake; I Am I Was by 21 Savage; Spider-Man: Into The Spiderverse soundtrack by Various Artists; Invasion Of Privacy by Cardi B; This One's For You by Luke Combs; Goodbye & Good Riddance by Juice WRLD; and I Am Yu by YNW Melly.
The top singles are: Shallow by Lady Gaga and Bradley Cooper; 7 Rings by Ariana Grande; Without Me by Halsey; Sunflower by Post Malone & Swae Lee; Middle Child by J. Cole; Happier by Marshmello & Bastille; Thank U, Next by Ariana Grande; Wow by Post Malone; Thotiana by Blueface; Sicko Mode by Travis Scott.
High Hopes by Panic! At the Disco; Eastside by benny blanco, Halsey & Khalid; Break Up With Your Girlfriend, I'm Bored also by Ariana Grande; Please Me by Cardi B & Bruno Mars; Murder On Mind by YNW Melly; Going Bad by Meek Mill ft. Drake; Girls Like You by Maroon 5 & Cardi B; A Lot by 21 Savage; Drip Too Hard by LiI Baby & Gunna; and Money by Cardi B.