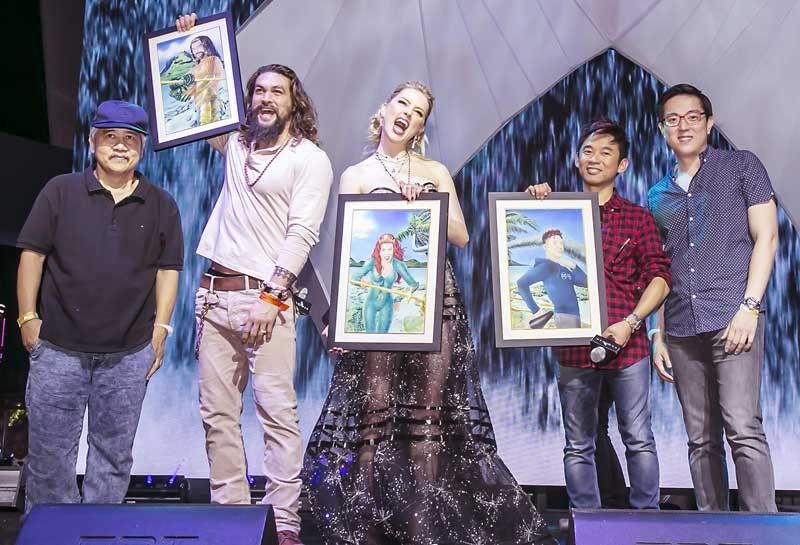 Aquaman lead stars Jason Momoa and Amber Heard, with director James Wan, meet the press and interact with the fans during the Fans Event at the SM Mall of Asia
Why Jason Momoa loves being Aquaman
Jason relates his diverse ethnic background to DC's ocean superhero Aquaman — a half-breed mortal destined to rule the kingdom of Atlantis.
MANILA, Philippines — Hawaiian-born actor Jason Momoa connects deeply with his character, the half-surface dweller, half-Atlantean Arthur Curry (Aquaman), being an islander himself and having grown up in a mixed-race family.
Jason relates his diverse ethnic background to DC's ocean superhero Aquaman — a half-breed mortal destined to rule the kingdom of Atlantis.
"Like Arthur, I was a half-breed, split between Iowa and Hawaii, so I could definitely identify with that. And from the Philippines to Hawaii to Tahiti and Fiji… Many islands have their celebrated water gods. That resonated with me instantly," the Aquaman lead star told the media in a press conference in Manila last Tuesday.
"My upbringing was 100 percent in two different worlds," the 39-year-old actor added.
Jason, who also starred in the HBO hit series Game of Thrones as Dothraki warlord Khal Drogo, shared how he got to experience Filipino culture in the place where he was born and met Pinoys who "felt like family."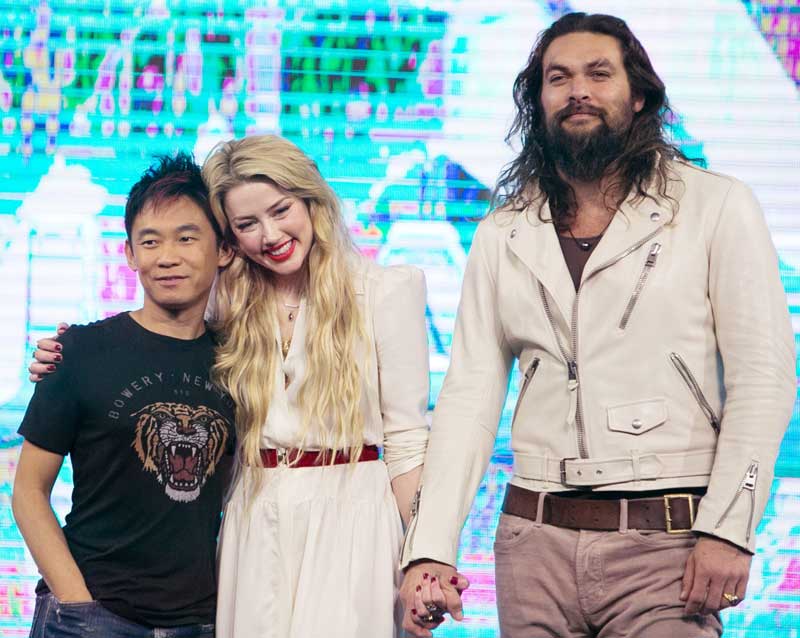 "As far as I'm concerned, the Philippines is like the 10th island of Hawaii. There are more Filipinos than Hawaiians, so we're kind of basically family, it's an honor to be here and also to represent someone, you know, we have the same mythology, the same history," he said. "In Hawaii, it's definitely a melting pot of a lot of different cultures, and Filipinos, definitely, in my side of the island are very special… My experience is that it's a bit of (different) cultures, a bit of Chinese, Filipino, Japanese, descendants of many generations there."
James Wan, the film's 41-year-old director, thinks Jason "really connected with the character being of two worlds himself."
"Jason is a Hawaiian who grew up in middle America. He never quite felt like he fit into either world. And that's something I understand as well, as an Asian guy born in Malaysia who grew up in Australia. Having such a strong Australian upbringing, I've retained my Chinese/Malaysian heritage as well," he added.
"Growing up, you kinda push for one side and embrace the other one more, but then as I got older, I am embracing my other side just as much as now. I think that is something that we worked into the script — a hero who is from two sides of worlds, and discovers that he is both of worlds and he ends up embracing both… Jason has the same feeling as well."
The fierce, red-haired Princess Mera, played by Amber Heard, said she was happy to play the part because it embodies women empowerment of a female superhero.
She described Mera as a "warrior, a princess active — driven, strong, fierce, badass, kickass, tough, intelligent, a superhero in her own right."
"Like Wonder Woman, Mera is empowered, strong in her own narrative. She empowers Arthur Curry (Aquaman) to realize his destiny. Mera is proactive, a driving force of the story and I love that about her."
Amber is more than just an actress. She is also an activist and an advocate for human rights issues in real life.
James, on his part, admitted that it was not easy to pull off those underwater stunts for the film but thanks to his incredible team, they were able to deliver stunning visuals and epic battle scenes.
"It took an amazing stunt department to help us create these breaks… We cultivated all the different visuals, the characters, the outfits, the creatures…everything. That's my dream come true. Luckily, I had the most creative team behind the scenes and the most talented cast to go on this journey with me."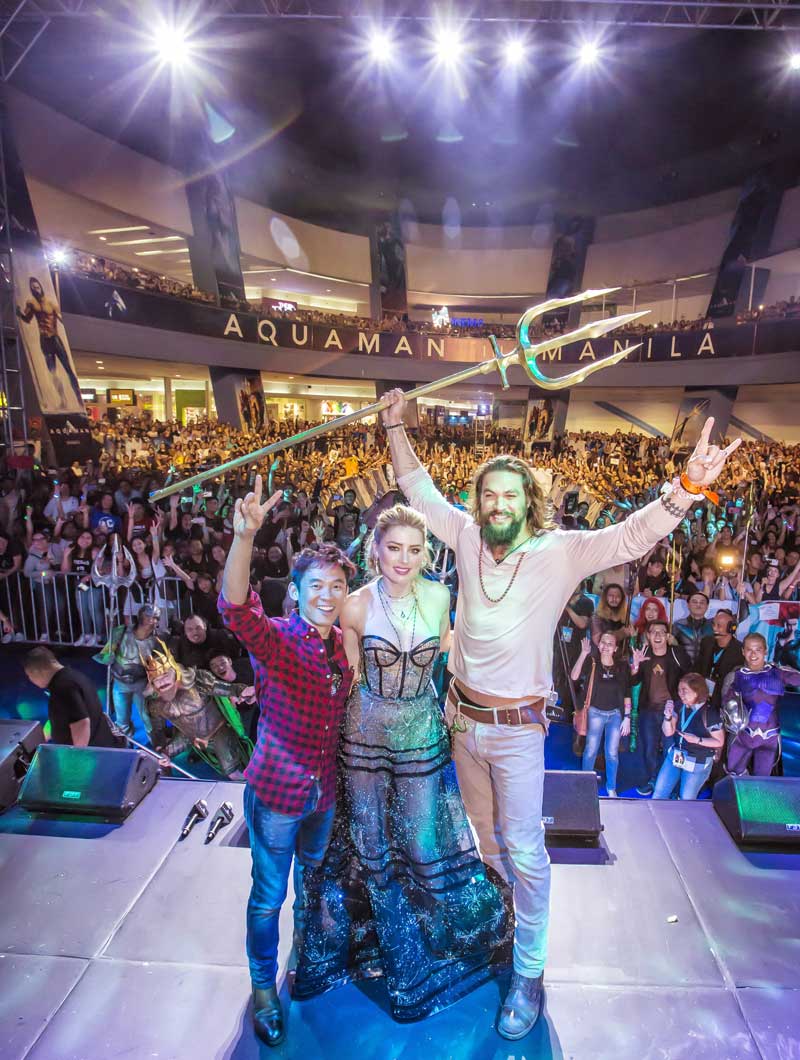 It was not surprising that James bombarded Aquaman with mind-blowing visual effects, especially the fighting scenes, under his direction. His brilliant and creative expertise was already evident in his roots in directing horror films, The Conjuring and Insidious.
In Aquaman, James highlighted several themes as well, including family, identity and environment.
"The dramatic message of the film is something that is really important — the message about family, embracing one's identity and environmental issues. I think this is one of few superhero films where the environmental aspect of it is at the full front. I don't think you can make an Aquaman movie without touching on the environmental message," he told the media.
After the press conference, the cast members headed to the Fans Event at the SM Mall of Asia, where they greeted and interacted with the fans, took pictures and gladly signed autographs, memorabilia and fan arts. They also received artworks from comic artist Lan Medina.
Jason was energetic as ever and accommodated fans' requests to take a selfie with him.
The three thanked their supporters for their "overwhelming welcome" and "much love" they received from Filipino fans.
The film also stars Oscar nominee Willem Dafoe as Vulko; Patrick Wilson as Orm; Dolph Lundgren as Nereus; Yahya Abdul-Mateen II as Black Manta; and Oscar winner Nicole Kidman as Arthur's mom, Atlanna.
Aquaman is now showing in cinemas nationwide.