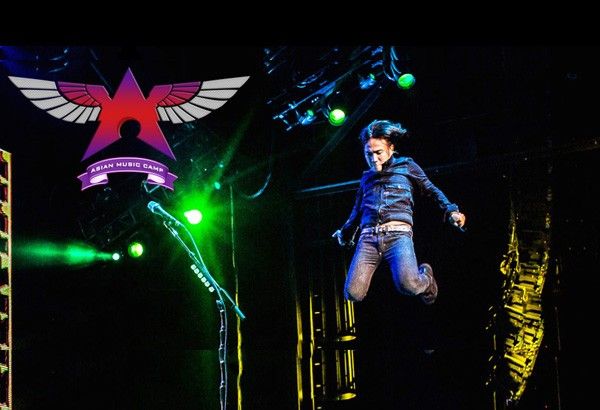 Journey frontman Arnel Pineda
Philstar.com/File
Don't stop believin': 'Crazy Rich Asians' director to turn Arnel Pineda's story into Hollywood film
MANILA, Philippines — "A true fairy tale and triumph of the human spirit."
That is how "Crazy Rich Asians" director Jon M. Chu described the life of Filipino singer Arnel Pineda, whom he illustrated as "an unlikely hero" and "an undeniable talent" in an interview with Hollywood-based news site, Deadline.
"Warner Bros is re-teaming with its Crazy Rich Asians director Jon M. Chu to chronicle the journey of Arnel Pineda, a Filipino singer rescued from obscurity by a YouTube video that led him to become the lead singer of the iconic '80s arena rock band Journey," Deadline's Mike Fleming Jr. wrote in an article published on December 5.
Arnel, who began singing at a pizza parlor in Manila when he was 15 and once suffered from asthma and drug addiction, was plucked out of obscurity by Journey co-founder Neal Schon, who discovered the Filipino singer through a YouTube video.
Schon reportedly picked Arnel for his rare voice that could replicate the powerful vocals of original band lead singer Steve Perry, best known for Journey's hits such as "Foolish Heart" and "Don't Stop Believin'."
Perry was named by Rolling Stone magazine as among the "100 Greatest Singers of All Time."
With Perry taking a music industry sabbatical to pursue a solo career and due to health and other concerns, Journey had to find a replacement and found one in Arnel, who, according to Schon, has helped the band revive its career and bask in the world spotlight once more.
In 2017, Perry shared the stage with Pineda and Journey when the band was inducted into the Rock and Roll Hall of Fame.
As preparation for the film about Pineda, Warner Bros. is reportedly negotiating to get the license for original Journey songs. The studio has already acquired the rights to the 2012 documentary "Don't Stop Believin': Everyman's Journey," which chronicles Pineda's success story.
According to Chu, his version would focus on how a former homeless Filipino singer rose into a rock star almost overnight.
Ever since "Crazy Rich Asians" became one of this year's highest-grossing films, earning more than $35 million at the US box office in its first five days, Chu has been inspired not only to film a sequel for the all-Asian flick, but also to create a unique inspirational story based on a life such as Pineda's.
"The success of 'Crazy Rich Asians' has blown my mind and set me on a path to champion more unique inspirational stories that represent new perspectives from all around the world," Chu said in a statement to Deadline.
"This story in particular has been on my mind since I first read about it years ago," added Chu, who also directed big Hollywood films such as "Justine Bieber: Never Say Never," "Step Up 2: The Streets," "G.I. Joe: Rataliation" and "Now You See Me 2."
"The power of music and a worldwide stage (literally) has all the ingredients I love about movies. Plus I have been a fan of Journey's music since I can remember. I am excited to be bringing the audience along on this incredible story with my partners at Warner Bros who have been a leading champion of diverse voices in front and behind the camera."
Pineda's biopic film is said to be envisioned to become as big as "Slumdog Millionaire" and is expected to become as iconic as the recent Freddie Mercury and Queen biopic "Bohemian Rhapsody."
According to Deadline, films based on rock stars' lives seem to be becoming a Hollywood trend following Warner Bros.' 2001 Mark Wahlberg-starrer "Rock Star," based on Judas Priest replacement lead singer Tim "Ripper" Owens.
Paramount, said Deadline, has just wrapped up "Rocketman," about the early years of British music legend Elton John.