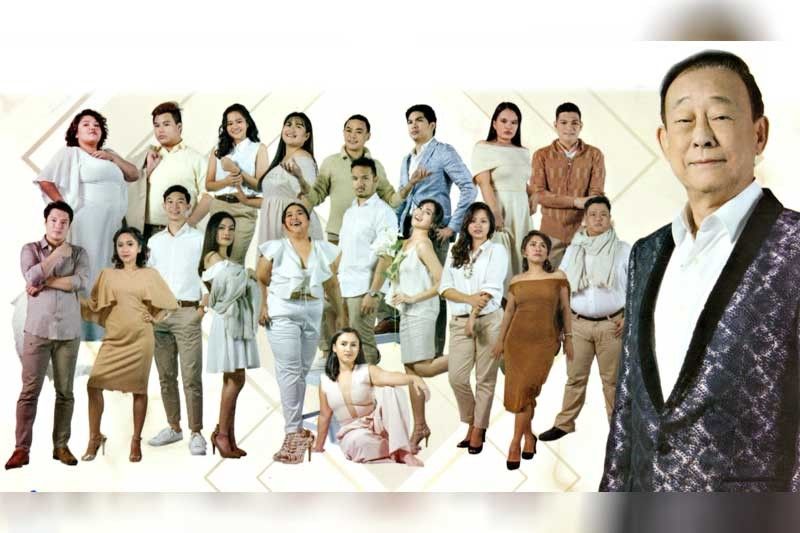 KMF (Klassikal Music Foundation) chairman-founder Dr. George Yang and his KMF scholars Ma. Adriana Delle Avecilla, Aubrey Marie Buenvenida, Renz Nathaniel Cruz, Maria Anne Dominese, Miko Galang, Shanna Loise Garcia, Isaac Iglesias, Kevin Jeremy, Camille Maica Juanitez, Leo Lanuza, Lorenz Lloyd Lapresca, Belford Mabunga, Bernadette Mamauag, Christian Nagano, Vincent Olandesca, Nicole Pugeda, Jade Riccio, Jasmin Salvo, Cloi Daphnie Sugano and Katrine Jamar Sunga.
FUNFARE
-
Ricky Lo
(The Philippine Star) - November 17, 2018 - 12:00am
"Something got stuck in my throat," Dr. George Yang was saying onstage, clearing his throat. "I don't know why it has to happen tonight."
A few ehem and George, the tenor president of McDonald's Philippines, proceeded to enthrall the SRO audience at the 2,000-plus-seater Star Theater last Sunday (Nov. 11) night during the KMF Empowered concert, first with Nicholas Brodszky's Be My Love, followed by Joaquin Rodrigo's Concerto di Aranuez and then Nessun Dorma (from Turandot by Giacomo Puccini).
By George, he nailed it sans any hitch, his voice so powerful that I thought the venue vibrated a bit. A heart-warming applause reverberated from the four corners of Star Theater as George took a bow, his wife Kristine Yang smiling widely from the front row. George said he was dedicating his songs to "my lovely wife."
Featured in the concert were the 20 scholars of KMF (Klassikal Music Foundation) who accompanied George and, in an earlier segment all his own, Martin Nievera who held the audience on his palm with his breathtaking rendition of a medley of Broadway songs before joining the scholars on Corner of the Sky (from Pippin by Roger O. Hirson). In an unscripted move, Martin re-emerged onstage to offer George a bottle of water, telling the audience that he readily said yes, "we should," when George guested on Martin's show and suggested that they do a concert together.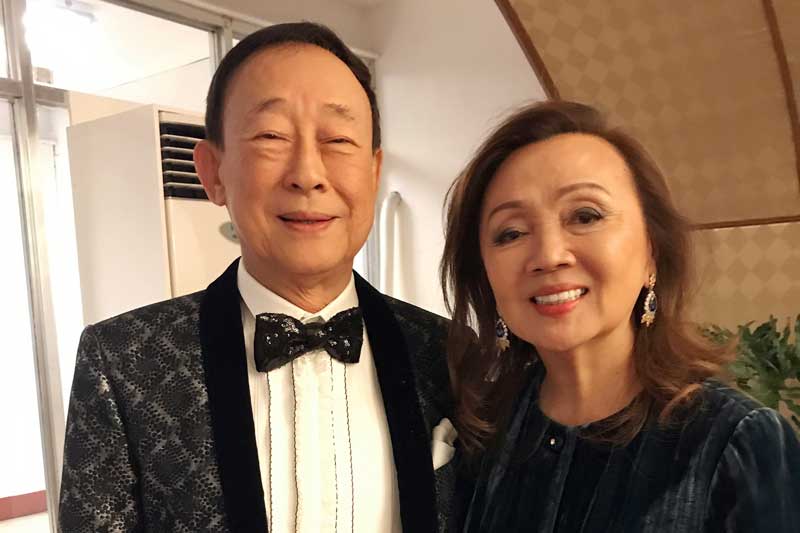 George and wife Kristine Yang.
Segment 1 of Act 1 was devoted to La Traviata by Giuseppe Verdi and Segment 2 to The Classics of Music Theater (Ol Man River from Showboat by Jerome Kern, This is My Beloved from Kismet by Charles Lederer and Make Our Garden Grow from Candide by Leonard Bernstein).
The scholars' production numbers were made more impressive by the lyrical choreography by Lisa Macuja-Elizalde. No, it wasn't the kind of choreography that allows dancers to run and tumble and execute acrobatic acts all over the stage, stealing the thunder from the singers. Instead, Lisa did it in her classical ballet style with scholars gently moving (nay, gliding!) around the stage like a cool wind on a summer day.
"Did you know that this theater was Fred's birthday gift to me?" asked Lisa who was seated beside her husband Fred Elizalde. "This used to be a virtual-reality theater with 30 seats that moved according to what was shown on the screen. It was Fred himself who designed this. I still remember that day (Oct. 3, 2001) when I celebrated my birthday. I danced Romeo & Juliet and afterwards, Fred gave me a card that read, 'This is your theater. Happy birthday!' All I could say was wow!"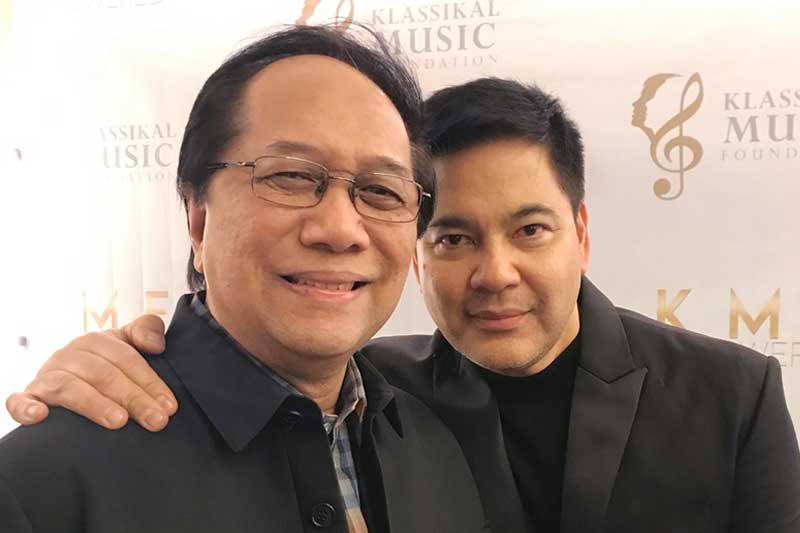 Martin Nievera and Danny Dolor.
Besides Lisa's choreography, what contributed to the show's awe-inspiring effect were the set deign (by Leeroy New) and the light design (by John Batalla) that changes colors to the beat of the performers' songs while "classic" visuals lit up the backdrop monitor. The show's musical director, Andrew Fernando, did a splendid job. As Lisa yelled after every segment, "Bravo!!!"
Let me end this piece with a portion of George's message in the souvenir program:
It has been said that music is the food for the soul. Through music, people are delighted and feel uplifted; they are able to feel empowered. When I discovered that I could sing later in my life, and was encouraged by people in the industry, I felt empowered, and I knew that I wanted to share that same love with others.
With the support of several talents in the industry, I have been able to record several albums. At the same time, I've had the privilege to perform on the main concert stage with some of the country's top music talents such as Kuh Ledesma, Rachelle Gerodias-Park, Ogie Alcasid, Pinky Marquez and Meastro Ryan Cayabyab. I have also performed in musicals like Something to Crow About and Marco Polo.

From left: Fred Elizalde and wife Lisa Macuja, Dr. Raul Sunico and Regal Matriarch Lily Monteverde.
Together with industry luminaries like Dr. Raul Sunico, Dr. Raul Navarro, Ms. Lily Monteverde, Ms. Rachelle Gerodias-Park and Mr. Gerard Salonga, we decided that we wanted to spread the love of classical music to more young people, and the Klassikal Music Foundation (KMF) was born.
Here's another "Bravo!!!" to George, Martin and the KMF scholars!
(E-mail reactions at rickylophilstar@gmail.com. For more updates, photos and videos, visit www.philstar.com/funfare or follow me on Instagram @therealrickylo.)