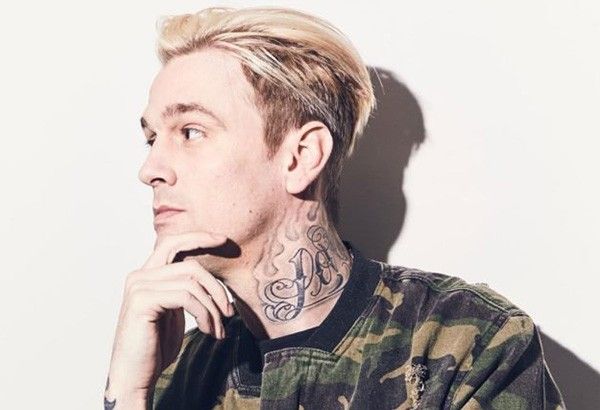 '90s teen sensation Aaron Carter
KBeam Events/Released
Aaron Carter cancels Manila presscon due to California wildfire
MANILA, Philippines — International pop star Aaron Carter was the latest celebrity affected by the recent Southern California wildfire as the singer could not make his flight to the Philippines in time for his Saturday press conference due to traffic caused by "Woolsey Fire."
Aaron was set to have a press conference in Manila on Saturday for his concert on Sunday at New Frontier Theater, but concert producer KBeam Events cancelled the media event because Aaron was stuck in traffic for five hours, so he could not make it in time for his flight to Manila.
Nonetheless, the singer is set to catch the next flight to Manila and is expected to arrive on Saturday night, so the concert is still on.
Brother of Backstreet Boys member Nick Carter, Aaron gained popularity with his hits "I'm All About You," "I'm Gonna Miss You Forever," and "I Want Candy," to name a few.
The wildfire in Southern California has also destroyed homes of celebrities as well as Hollywood sites, including the sets of HBO series "West World" and The Bachelor's mansion of ABC's "The Bachelor."
Reports said that homes of Hollywood actors Gerald Butler, Allysa Milano, Lady Gaga, Kim Kardashian, and Miley Cyrus and Liam Hemsworth, among others, were also destroyed by the wildfire.
The fire started Thursday night in USA and by Friday, it pushed toward Malibu and the Pacific Ocean.
'Aaron Carter LØVË Tour Live in Manila'
KBeam Events is excited to announce that Aaron Carter Live in Manila will also feature performances by teen popstars Jayda Avanzado and Claudia Barretto.
Aaron, a '90s teen sensation, is the singer, songwriter, and producer who has taken the '90s and early 2000s by storm. During the concert, he will be featuring his latest album release, "LØVË." One of his hit singles in the album "Sooner or Later" went Gold in several countries in Europe and is now enjoying multi-million streams on Spotify.
Now 30 years old, Carter, has been spending the year touring the US and UK headlining in his own shows, as well as joining his fellow '90s greats like boyband O-town, Lance Bass from NSYNC, Ryan Cabrera, and Youtube sensation, Tyler Hilton.
Upon learning that he is now back on tour, fans from the Philippines via Twitter started requesting the singer to come to Manila for a concert. The last time he was here was in 2002 and he was only 14 at the time when he performed at the Araneta Coliseum. Today, Aaron heard his fans loud and clear and he is now schedule to perform at the New Frontier Theater (Formerly Kia Theater) at 8 p.m. on Sunday, November 18. Carter will feature songs from the latest album "LØVË," which is distributed by Sony Music.
Tickets to "Aaron Carter LØVË Tour Live in Manila" are now on sale at all Ticketnet outlets (call 911-5555) and at Ticketnet.com.ph. Prices are at P5,830, P4,558, P2,756, P2,120. A new section is also added to accommodate more fans – General admission with the ticket price of P1,300.