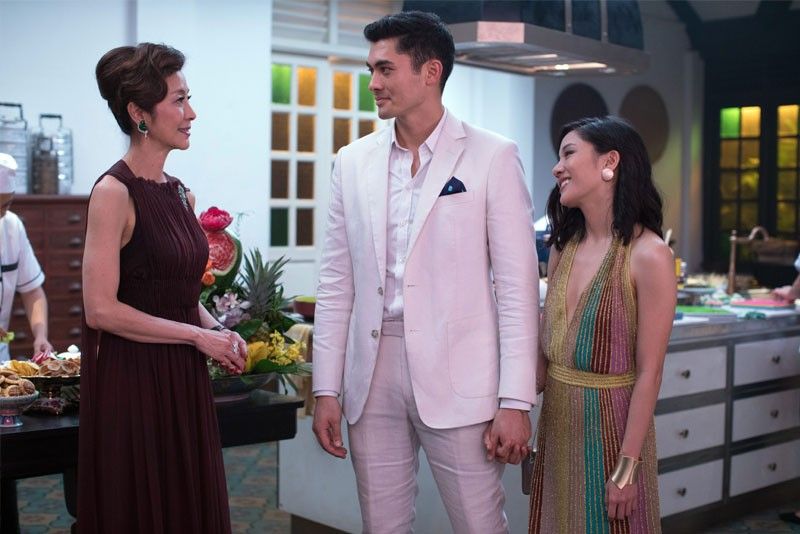 From left: Michelle Yeoh as Eleanor, Henry Golding as Nick and Constance Wu as Rachel
Raving about Crazy Rich Asians
True, it may not be the definitive movie about the Asian-American experience but in this day, when minority artists in America are clamoring for inclusion and representation in mainstream movies, this is the greatest thing that could ever happen.
MANILA, Philippines — Crazy Rich Asians is a story about love. It is also a story about class. It could have been a Jane Austen novel, but it's not. The story is so universal it could be about anyone. But this film is not just about anyone. It's a story about Asians, based on a bestselling novel written by Kevin Kwan, an Asian, told by Asian director Jon M. Chu and the characters brought to life by a beautiful and talented cast of Asian actors.
True, it may not be the definitive movie about the Asian-American experience but in this day, when minority artists in America are clamoring for inclusion and representation in mainstream movies, this is the greatest thing that could ever happen.
And, all biases aside, this movie is extremely well-made! This writer first saw it in April, a week after my birthday, and I consider it one of the best gifts I had. There was a news embargo that I had to honor and my joy and excitement was just so difficult to contain. I love it! I so love the movie that I was secretly raving about it to anyone who would care to listen. Earlier this month, I was invited again to another screening and the experience proved to be much better. On second viewing, this writer felt a certain kinship to the characters and, like a family member, I felt proud to know their story before everyone else in the cinema. Yes, the opening sequence still had that effect on me — I still cheered while happy tears darted down my face.
Excuse this writer if he appears overly enthusiastic about the film. As of this writing, the movie has 100 percent aggregate fresh rating on the Rotten Tomatoes website. That means all the US-based critics like the movie! Yes, all of them!
"It's a passion I've never felt before in any movie," Ken Jeong said validating my excitement during our interview. The comedian stars in the film as Awkafina's rich but not-rich-enough father in the movie's standard of wealth. "I am fortunate enough to be a part of some really nice movies but this kind of passion is so deep, it's so much bigger than us and I've never felt such a deeper emotion for any project."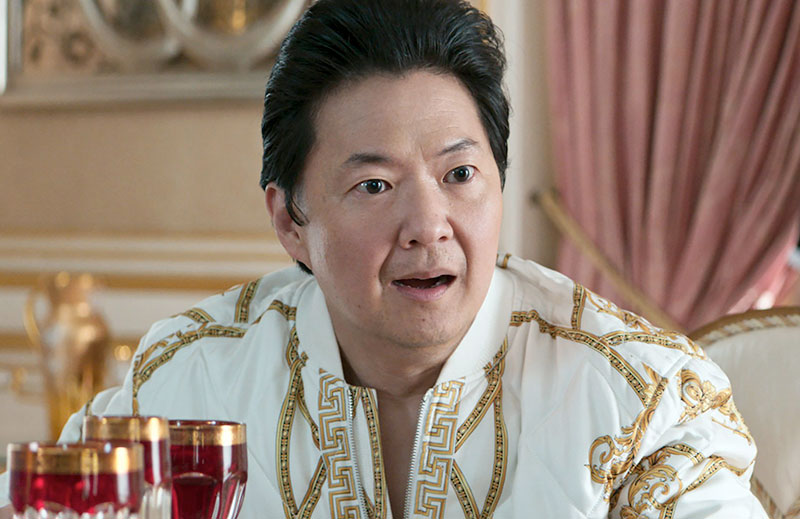 Ken Jeong as Wye Mun
"It's been a whirlwind! It is extremely unexpected and I've had the luck of working with magnificent people," Henry Golding said. The handsome Malaysian-born actor is making his film debut in the movie and he is blissfully unaware how his life is going to literally change overnight. Already, fans are starting to recognize him on the streets of Hollywood!
Henry thinks he is ready. He shared that Michelle Yeoh gave him pieces of advice while they were filming. "She gave me a lot of pointers and kept me very grounded. It's amazing! But we'll see how it all unravels." Henry is also starring opposite Blake Lively in the thriller A Simple Favor opening later this year.
And for Michelle, who previously appeared in two landmark Hollywood films: Ang Lee's 2000 Oscar-winning Crouching Tiger, Hidden Dragon and the 2005 adaptation of Memoirs of a Geisha, she considers her participation in the film a blessing. "I am very blessed I can choose the roles that I want to play. It's always a privilege to work with young amazing talents. These guys sitting here are our future."
The beautiful actress added that she wants all the young kids to bring their mothers to the cinemas so they can tell their mom, "Mom, you don't have to be like that," she joked, referring to her dragon lady character. "What we hope to reflect in this movie is that, around the world, family always comes first. No matter where you are, what race, what color — family should always come first."
Michelle plays the ultra-wealthy Eleanor Young who is against her son Nick's (played by Henry) relationship with the "poor" Chinese-American professor Rachel Chu (played by Constance Wu.) The Young family lives in a fantasy-like world where one can literally argue that money can really buy happiness. The world depicted in Crazy Rich Asians is so wealthy the characters can hop from the city to a remote island and to a floating barge converted into a giant rave party all in one day!
"We're used to it!" Michelle joked.
"The book describes the level of wealth that I cannot even imagine!" Constance said.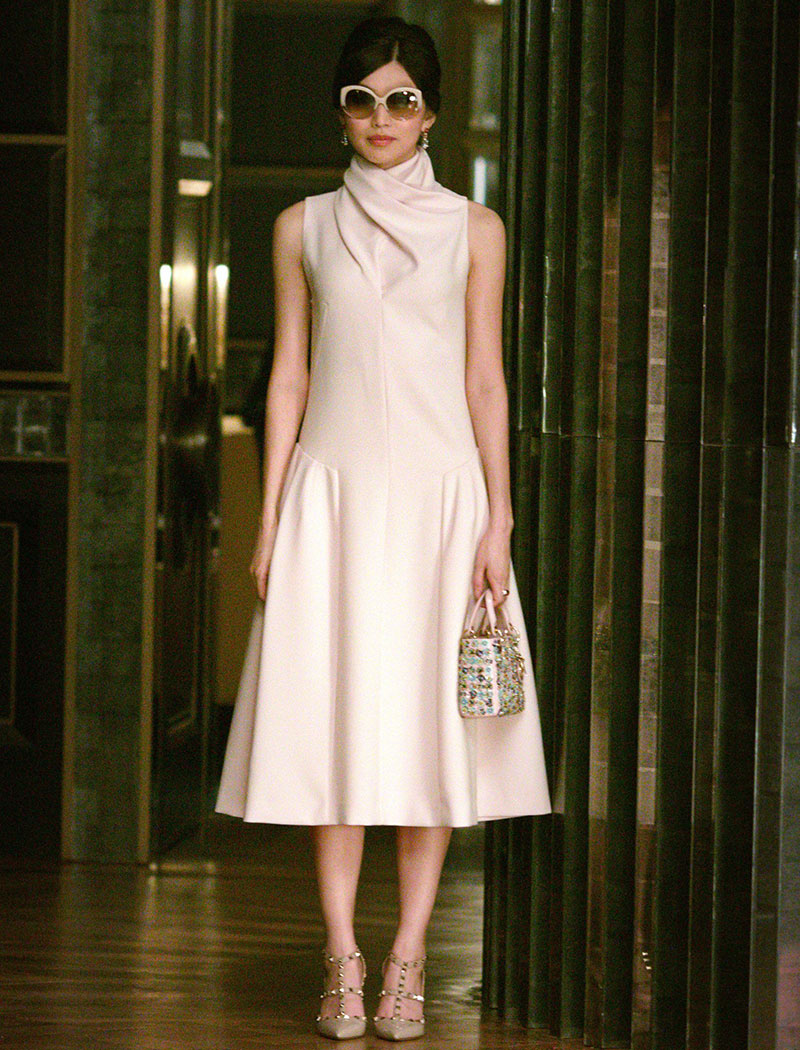 Gemma Chan as Astrid
But how does it compare to her perceived glamorous life as a Hollywood star?
"The glamour is, I guess, this part (indicating the posh surroundings of the Beverly Wilshire where we had our interview). This is the glamorous part of our lives but a lot of it is work," she replied as the rest of us laughed.
"The book is a step-down," the always-funny Ken quipped. "Really? They are like farmers!"
There's a beautiful wedding scene in the movie that will take everyone's breath away. Gemma Chan, who plays Astrid, the wealthy cousin of Nick, loved it! "The wedding scene was extraordinary," she said. "I think, future brides will get some ideas from watching the film."
Gemma also shared that after growing up in a middle-class household, playing Astrid made her feel like Cinderella because she got to wear those expensive jewelry that she had to eventually return at the end of the day.
The wealth may appear unreal in the movie but it is completely 100 percent real according to its author. "It is 100 percent real. The fact that it was never talked about or written about in the west is why I wanted to write these books. Asia is going through the biggest boom in the last 50 years and no one is telling these human stories of what it means to be existing in this world — rooted in ancient tradition but also so modern and so vastly prosperous."
And now, with this movie, the world will know.
Crazy Rich Asians opens nationwide tomorrow, Aug. 22.