With (from right) head of ABS-CBN Special Projects and Film Restoration Leo Katigbak, Cinema One head Ronald Arguelles, indie film director Ice Idanan, screening committee members Ketchup Eusebio, Renee Dominique, Khalil Ramos and Nash Aguas.
ABS-CBN launches 'Lights, Camera, Magic (LCM)' tilt
Bot Glorioso
(The Philippine Star) - August 2, 2018 - 12:00am
MANILA, Philippines — Star Magic, the ABS-CBN talent development arm, is no longer just honing its actors' flair for acting but is now also into discovering and nurturing the filmmaking potential of Kapamilya worldwide with the launch of its very first video-making digital contest dubbed as Lights, Camera, Magic (LCM).
A brainchild of Star Magic main man Johnny "Mr. M" Manahan, LCM aims to provide a venue for learning and collaboration for aspiring storytellers, together with industry experts and actors under Star Magic stable of artists.
LCM is open to amateur storytellers and digital content creators, 18 years old and above, of any nationality, who have a two to three-minute narrative video that reveals not only their unique, appealing stories but also their creative and technical know-how. Twenty shortlisted entries will be selected by a screening team led by Piolo Pascual. Then, it will be winnowed down to three finalists to be determined via online voting and by the jury composed of ABS-CBN execs Leo Katigbak and Ronald Arguelles, and indie film director Ice Idanan.
Directors Mikhail Red, JP Habac and Victor Villanueva, on the other hand, will be the mentors of the Top 3 finalists whose entries will be developed into a 15-minute short video for digital entertainment aside from the cash prize of P50,000. For those not familiar, JP was behind I'm Drunk, I Love You, Maria and Oktopus; Mikhail did Birdshot, Neomanila, Rekorder; and Vic, Patay Na Si Hesus, Ang Nanay Ni Justin Barber, Abot-Kamay and Kusina Kings.
Given their varied experiences in coming up with excellent, praise-worthy films and differing directorial styles, it is best to know straight from the three directors the basics of filmmaking like what does it really take to come up with a good film and which element of filmmaking needs to be considered first and foremost.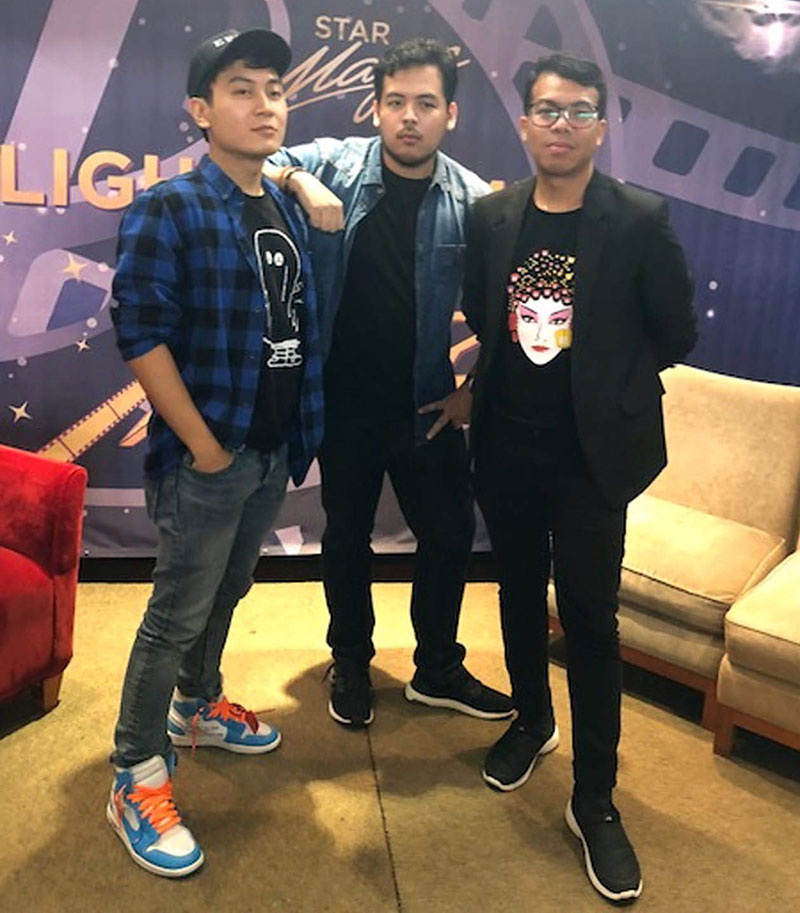 From left: Directors Mikhail Red, Victor Villanueva and JP Habac are willing to share, guide and give tips to filmmaker wannabes as mentors in Star Magic's video-making digital contest Lights, Camera, Magic which will receive entries until Aug. 25.
For direk JP, he primarily looks at the content. He told The STAR, "Since they are amateur storytellers, my advice is for them to tell a story that they really know."
"For me," direk Mikhail said, "I don't want to coach them as if I am holding their hands but I just want to guide and help them to find their own voice and identity as a storyteller because I don't think it's good to have a template that they should follow.
Direk Vic, on the other hand, stressed that he wants to tell the aspirants to enjoy the process "because this creative field has so many self-doubts na parang di mo sure if your work is OK or not. So I'm here to help and guide them find the voice they want to do and enjoy."
JP, by the way, teaches advance directing at the Asia Pacific Film Institute. He took up Film at the University of the Philippines. As a mentor, JP will help the finalists find their voice although he confessed that it would be a long process to complete. "I will help them jumpstart how they will be able to find their voice."
Does the content itself automatically reflect one's talent in filmmaking?
"Yes, because for me, filmmaking is, basically, a visual storytelling," said Mikhail whose indie film Rekorder won several awards in different filmfests abroad, including the New Best Director trophy for him at the Vancouver Film Festival. "It's like telling a story using moving images that's why the content is what we are about to look at first. As a mentor, mas titingnan ko kung paano n'ya ise-sequence 'yung shot n'ya and it would depend on how he or she will reveal or conceal info in the story using the camera."
Meanwhile, interested participants to LCM may send their entries until Aug. 25. The Top 20 finalists would be named after the voting period that runs from Sept. 7 to 19.