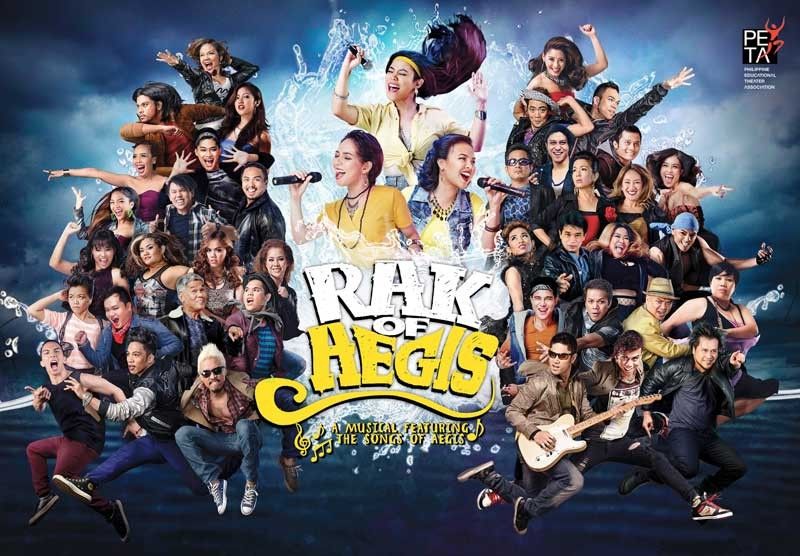 Rak of Aegis, the phenomenal musical presentation from the Philippine Educational Theater Association, is indeed back. It just started another run at the PETA Theater Center last June 20.
They will, they will Rak you!
The Rak is back. No, not Dwayne Johnson. That Rock is spelled with an "O." This one is with an "A" but without the "C" so it does not become a clothes rack or a hat rack or a stretching rack. This one is simply Rak and for most Pinoys, that means only one thing: Rak of Aegis, the phenomenal musical presentation from the Philippine Educational Theater Association (PETA). The Rak is indeed back. It just started another run at the PETA Theater Center last June 20.
The musical Rak of Aegis is based on the play written by Liza Magtoto, directed by Maribel Legarda and scored with Aegis songs by Myke Salomon. It tells the story of Aileen, a young girl with that big Aegis voice, who dreams of becoming one of those "Internet sensations." She thinks that maybe she can get discovered for recordings if she is able to get her videos out on the web where it can be seen and heard by some music producer.
Becoming a singing star discovered on YouTube is a common dream nowadays. But there is really more to this girl. Aileen also wants to call attention to the plight of the small barangay she lives in with her family. Named Barangay Venezia, that is Venezia as in Venice, Italy, it has been submerged in floodwaters for almost three months and their homes, livelihood, actually their very lives are flowing away with the water.
Rak of Aegis premiered at the PETA center in 2014. It has since then been performed 290 times in that same venue. That is almost a year, quite a decent period in Broadway count. No, it is certainly not in the same league, but if we are to go by the fact that stage musicals in this country typically run only for three weekends, then Rak of Aegis which has had five runs in four years is a tremendous success.
Rak of Aegis will definitely go down in our theater history as one of the most successful musicals ever created in the Philippines. That and the fact that it is an original work that uses an all-Filipino cast, creative team and music, makes it all the more important. Oh, and take note, the Rak is now on its sixth run and this will consist of 78 shows. That brings the total count of performances to 368 shows. The only sad note about this is PETA's announcement that this will be the last Rak of Aegis. I do hope they change their minds.
Rak of Aegis has also spawned a talent search. The cast of the sixth season will include new discoveries from Hu Got Talent: The Search For The Next Rakstar. After over two months of workshop auditions, here are the new faces and voices who will join the original Rak cast. Shaira Opsimar and Princess Vire, both World Championship of Performing Arts (WCOPA) multi medalists as Eileen; Kent Pontivedra as Tolits; Remus Villanueva as Kenny; Adrian Lindayag as Jewel; with Marielle Mamaclay, Gil "Chamyto" Aguedan, Matel Patayon and Crystal Paras as part of the ensemble. Also a new addition is seasoned theater artist and Palanca award-winning writer and director Rody Vera as Fernan.
Rak of Aegis runs from June 20 to Sept. 2 at the PETA Theater Center with shows on Wednesdays to Fridays at 8 p.m. and Saturdays to Sundays at 3 p.m. and 8 p.m.
Incidentally, 2018 also marks the 20th anniversary of the founding of the band Aegis. That is right. Juliet Sunot, vocalist; Mercy Sunot, vocalist; Stella Marie Galindois on keyboards; Vilma Goloviogo on drums; Rowena Pinpin on bass; and Rey Abenoja on lead guitar have now been performing together for two decades. And what memorable years those turned out to be. They, plus the creative mind of composer Celso Abenoja, are the ones responsible for the extremely popular music in Rak of Aegis.
To celebrate the milestone, Aegis will topbill a concert titled AEGIS: Doble Dekada, Ang Soundtrack Ng Buhay Mo, that will be held at the Araneta Coliseum in Araneta Center, Quezon City on July 13. Among the featured guests will be actress and TV host and aspiring singer with her own Aegis repertoire, Anne Curtis. You can bet your life that the girl will make sure she fulfills her dream to be a real Aegis in this show.
Of course, there will surely be lots of Aegis songs at the Big Dome. Aside from Halik, Luha and Basang-basa Sa Ulan done live, the audience might also get Mahal Na Mahal Kita, Maniwala Ka, Sundo't Palad Sinta, Bakit (Tanong Ko Sa 'yo), Munting Pangarap, Sayang Na Sayang, Minahal Kita, Pagbabalik, Sa 'yo Lamang and many others.