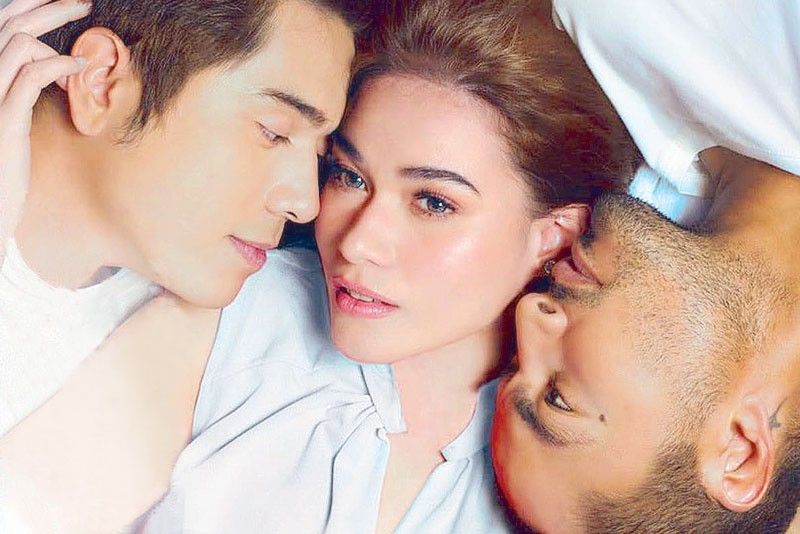 Left: Paulo Avelino, Bea Alonzo and Derek Ramsay on the ad layout of Star Cinema's Kasal, superbly directed by Ruel Bayani
10 reasons why I love Kasal
FUNFARE
-
Ricky Lo
(The Philippine Star) - May 30, 2018 - 12:00am
STAR columnist Danny Dolor (Remember When? on its 24th year, out Sundays) has been raving about Kasal, the Star Cinema movie directed by Ruel Bayani starring Paulo Avelino, Bea Alonzo and Derek Ramsay in an engrossing, head-turning and attention-arresting reworking of the love triangle theme which has been redone a hundred times by other directors to the point of being, ho-hum, predictable.
But direk Ruel gives it a surprisingly fresh touch and treatment that, according to Danny, "He springs a surprise in scene after scene. You keep guessing what the next scene will be, only to discover that you are wrong. Ang ganda ng takbo ng story! Maganda ang pagkakadugtong-dugtong ng mga eksena na punung-puno ng suspense."
My friend Raoul Tidalgo and I asked Danny to stop it already before he could enumerate spoiler alerts, and off we rushed to an SM cinema to catch a last full show to see for ourselves.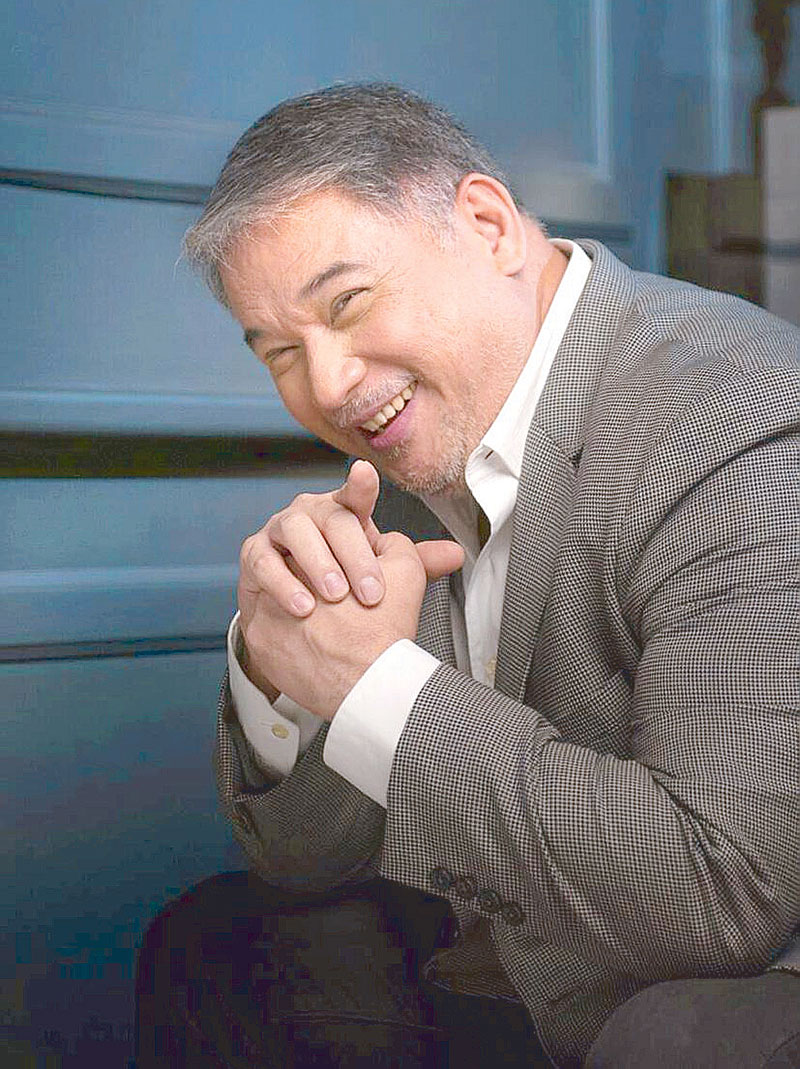 Ricky Davao: Lovably riotous as the ehem father of Bea
Here are 10 reasons why we love Kasal:
1. The movie was filmed entirely in Cebu, the first ever to showcase the splendor of the Queen City in panoramic shots. The scene showing Paulo and Bea strolling among the 10,000 roses (in Cordova, north of the city) is breath-taking.
2. The screenplay by Patrick Valencia is clever and playful, with tantalizing twists and turns from start to finish. Towards the end (wedding scene in the church), you expect the characters of Paulo and Bea to finally get married after all the stumbling blocks only to find out that…
3. The confrontation scenes between Paulo and Bea, Derek and Paulo, and Bea and Paulo crackle with witty lines and you have to listen to every word of every sentence of every paragraph to savor the exchanges.
4. That Bea is a versatile actress is a given. As usual and as expected, she doesn't disappoint in her performance as a woman who feels that life owes her the world, so shot through with bitterness that her eyes, even in tears, burn with it.
5. Kasal is probably one of Paulo's finest performances, if not the finest, so subtle and so refined in his characterization that when he's finally "revealed," you heave a sigh and say, "No wonder!"

6. Derek is inarguably an all-around actor. As Bea's "ex" who surfaces as a wedge between Bea and Paulo, Derek is oh-so-good even when he's oh-so-bad, giving his (scheming) character sinister touch with fleeting side glances and a slightly menacing movement of his lips.
7. You won't miss the symbolism of the bridge under construction (filmed in the Mactan area). As a reluctant politician forced by his parents (superbly played by Christopher de Leon and Cherie Gil) to explore a territory so alien to him, Paulo follows the word of his political adviser (Cris Villonco) to finish the construction of the bridge for him to get ahead in the polls. Returning to Cebu, Derek as the engineer takes charge of the construction of the bridge that symbolizes his effort to bridge the gap between him and ex-girlfriend Bea whom he has irreparably hurt.
8. 2016 Miss International Kylie Verzosa pulls off a grand acting debut as the spurned girlfriend relentlessly chasing after Paulo. Kylie is so "giving" and so "darting" in her love scene with Derek, she's so palaban that she sears the screen with a fire that, I bet, any or all of her colleagues in the beauty front cannot equal much more surpass.
9. The shower scene between Derek and Paulo (in all his naked glory, shot tastefully through a smoky glass) is so memorable but don't be misled into believing that they are into an intense "bromance." Keep your eyes open (wide) and your ears open (wider).
10. Ricky Davao as Bea's cross-dressing father (oops! there goes a spoiler alert…that is, if you are among the "unlucky" ones who have yet to see the movie, still showing at a theater near you) is a riot if not downright heart-breaking. Ricky is so moving in his open-heart confrontation scene with Bea that he can make you shed more tears than he and Bea do. Here are three red, red roses for you, Ricky, and a make-up kit for you to retouch your tear-drenched face.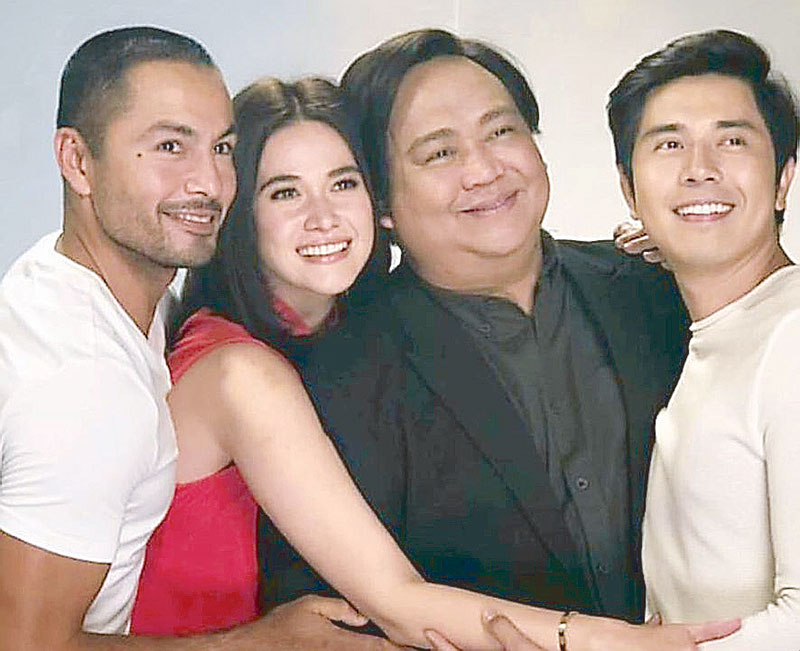 Direk Ruel Bayani (with Derek, Bea and Paulo): Cheers for giving the love-triangle theme a refreshing touch and treatment
Postscript: Stay a bit longer for the credits at the end of the movie and give those behind it a gentle applause, while basking in the glorious voice of Moira dela Torre as she sings the theme song titled Tagpuan which she herself wrote last year, inspired, according to Moira, by the Mika and Caloy characters of Julia Barretto and Joshua Garcia in Love You to the Stars and Back. (Moira is the special guest performer of the Boyce Avenue concert on Friday, June 1, at the Araneta Coliseum.)
And, yes, thank you Raul Mitra, for your wonderful musical scoring that greatly enhances the gentle flow of the story. The music doesn't compete with the actors' dialogue, so unlike what usually (commonly) happens in most movies.
How I found an honest lady
You never know what misery means until, well, until you lose something as valuable as your wallet.
Late last Saturday night, I took a Grab (a Hyundai Accent, MR 4274) from Timog-Morato Rotunda to East Kamias in Quezon City. Early the next morning, I found my wallet missing…my 40-plus-year-old wallet which contains one-fourth of my life story (old photos of my parents and friends, credit card, ATM card, IDs, etc.).
I called the driver (luckily, I kept his number in my Grab booking), a gentleman named Noel Sorreda, who said that he didn't find any wallet in his car and advised me to call the attention of Grab Philippines. Unfortunately, it took forever for the Lost & Found section to answer (it's a recording that kept answering), so I sought the help of dzBB guys Mike Enriquez who told staffer Mikko Sikat to help me. When Lolit Solis came on the air with Ali Sotto, they also discussed my predicament. My friend Gorgy Rula also assisted me, thank you!
I promptly called the banks to block my ATM card and credit card…you can never tell what will happen, you know!
I was ready to give up even while praying to St. Anthony (patron saint of lost items) when, after five agonizing hours, I got a call from an MTRCB staffer who said that somebody called to say that she found my wallet. The finder apparently saw my MTRCB ID inside my wallet.
I am forever thankful to the finder, Rosalie Valencia (who lives in San Juan City), who found the wallet when she took the same Hyundai Accent after me that Saturday night.
(E-mail reactions at entphilstar@yahoo.com. For more updates, photos and videos, visit www.philstar.com/funfare or follow me on Instagram @therealrickylo.)