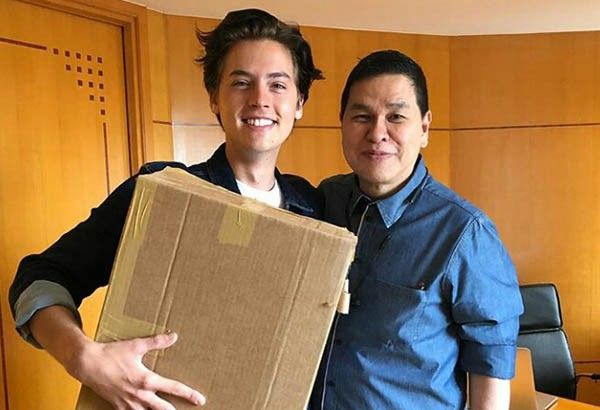 Cole Sprouse receiving a gift of antique mask from Bench founder Ben Chan
Screenshot from Instagram/bcbench
Cole Sprouse shares fond memories of Philippine visit
MANILA, Philippines — Cole Sprouse, star of the TV series "Riverdale," was a recent Manila visitor.
Since Cole earned a degree in the humanities and archaeology at New York University, talking to him on such a seemingly "superficial" topic as fashion, one would be illuminated with his stylish—and scientific—take on his personal sartorial aesthetic and expression, and his intellectual pursuits.
He is bubbly in person, as opposed to the brooding Jughead he plays on the show.
What is most impressive is that having enjoyed a successful career, shared with twin brother Dylan ("Big Daddy," "The Suite Life of Zack and Cody"), at a young age, Cole did not spiral into the madness that befell some of the biggest child stars of his generation (Miley Cyrus, Lindsay Lohan, Amanda Bynes, Aaron Carter, to name a few).
At his press con as a Bench endorser at the Makati Shangri-La, the 25-year-old matinee idol was grilled on his latest gigs and gamely answered questions thrown his way. He was candid, gesticulating like an Italian (he was born in Tuscany) and always with a mischievous smile.
On working with Filipinos
"Well, they'd just been paying me with food, so it's great. Yeah, that was part of the agreement that I come over for free as long as they give me the best food around. (He had been food-tripping at Divisoria, Poblacion, seafood market, Bench Cafe.)"
"It's fantastic (working with Bench). Until 'Riverdale' has seen some success, I didn't realize how large the audience was here. In social media, it has given as an awareness, how big the show has really been out here. So the second that Bench reached out and gave me an opportunity to come out here, we jumped on it," Cole said.
"This has really been a wonderful experience. Last night as I was out with Ben Chan, I happened to mention that I had a great collection of masks. I collect antique masks. And he showed up today with a beautiful antique mask and I was so flattered. What he didn't know was if he put that as a payment for the entire thing, I would have come over and stayed for the rest of my life. Just bribe me with masks and I'll be right here again, guys!"
On personal style
"The pieces that I might reach for are actually things that might be in my father's closet. As a culture right now, we have a fascination with nostalgia. The style trends from the '90s are coming back, trends from the '70s are coming back. I can fit anywhere from the '20s to the '60s. For me, that kind of reinforces the stuff I pick out. But as I've said earlier, my brother and I's working-class lineage definitely informs my choice in clothing. (Dad Matthew and Mom Melanie are English teachers.)"
"I think everyone puts effort into what they wear. I think people that create the illusion that they don't put effort in what they wear is simply lying. I think from the moment we get up, we choose to give an interaction to the world around us based on how we dress ourselves," he enthused.
"Wardrobe, from an archaeological approach, or external representation is a tremendously important way of interacting with your environment and the world, so I do put effort into what I wear. As an entertainer, (you should be mindful of) how people perceive you and fashion is one of those extensions."
According to him, he had "a long period of explorations when it comes to my personal style especially when I was in college where I was wearing the most insane things that most people were absolutely disgusted by. Over time as I found myself and my style became more firmly entrenched and I needed to stick to something… In New York, it's a great place to do that. Personal style is so much more accepted out there and differences is sort of celebrated unlike anywhere in the United State, so it allowed me to wear whatever the heck I wanted."
He even gave some notes on branding.
"Seeing how it made me feel to wear those articles of clothing and craft it into the kind of way I choose to wear clothes now. In terms of how it imbibes an edge, I think we get wrapped up in the narrative of branding and brands and how they stick to a specific look. The truth is you can find ways to turn anything into your kind of personal expression."
Why he endorses a Filipino brand
At the height of their popularity, the twins ventured into a licensing agreement with Dualstar Entertainment, owned by that other "wonder twins" Mary-Kate and Ashley Olsen. They hawked a clothing line, comics series, magazine, personal hygiene line and sportswear. The venture was from 2005 to 2012.
Cole and Dylan are represented by IMG Models under "Talent," together with Cara Delevingne, Ciara, Gal Gadot, Luke Evans, Chrissy Teigen and Zachary Quinto, as well as Penshoppe endorsers Cameron Dallas and Lucky Blue Smith.
Also under IMG are celebrity spawns Patrick Schwarzenegger, Paris Jackson, Gabriel-Kane Day-Lewis, Margaret Qualley and Liv Tyler. In fairness to the Sprouse brothers, they built their names on their name.
With his latest venture in endorsing a product, Cole is confident he made a good choice.
"For me, it's easy for me to go to a Bench store [and pick something I like]. It's not a complicated process. It's all about picking whatever you want and wearing whatever you want. The way you view yourself and how comfortable you are in what you're wearing is really a personal journey. It really doesn't have much to do with how other people are perceiving you."
According to him, "The way I work is based on loyalty and interaction with good people. So when Ben Chan reached out, it was the first time that a brand from this company had expressed an interest in working with me. It's flattering and it means there's a willingness for cooperation for the first time."
The American also shared what he loves most about Filipinos and the Philippines.
"For me, I enjoyed it because it was family-oriented. It also gave me a chance to interact with an audience I didn't perceive was this big. Quite frankly, it gave me a chance to travel. It gave me a chance to experience the Philippines. That alone would have been enough and it just so happens to have also been surrounded by good, family-oriented and loyal people."