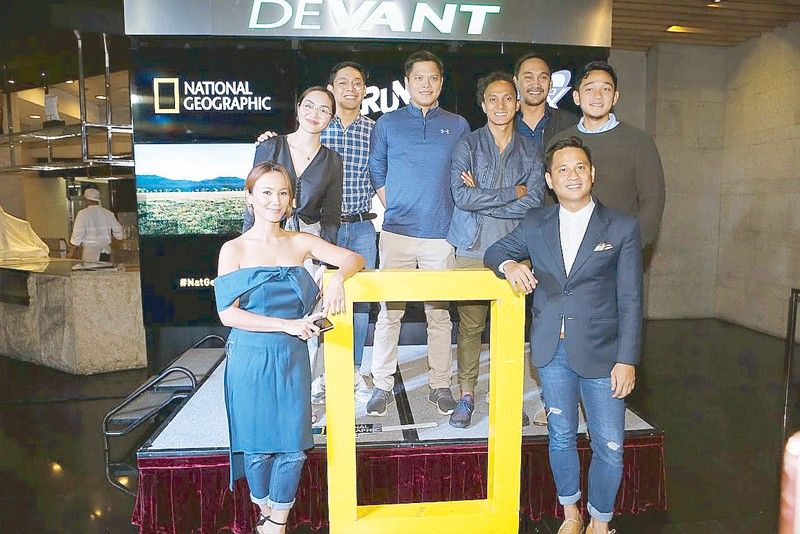 From bottom left: Charo Espedio, director-head of Marketing, FOX Networks Group; Bea Fabregas; Nikko Ramos; Jude Turcuato, SVP-GM, FOX Networks Group; coach Rio de la Cruz, president, RunRio Events, Inc.; Andrew Neri, managing partner, RunRio Events, Inc.; Miggo; and Raymund Villanueva, VP, PayMaya
Fox Philippines to produce movie for MMFF
Gil Villa
(The Philippine Star) - April 22, 2018 - 12:00am
MANILA, Philippines — The usual big players in Metro Manila Film Festival (MMFF) tiffs should better be ready with tougher competition as Fox International Channels-Philippines revealed that it is producing a full-length Tagalog movie and eyeing to make the cut to the end-of-year box-office challenge.
In a chat with Fox Philippines territory head Jude Turcuato during a Nat Geo Earth Day Run presscon, he made mention of the project. "We're producing a real feature film with a Filipino director, Filipino actors and in Tagalog, produced by Fox and to be released later in the year. I'm hoping it's for the MMFF."
While one might expect it to be a docudrama on environment or something like it, the TV executive quickly affirmed it was not. He implied, "It's a full-on storytelling movie. And if it becomes a hit, we will do more."
He did not elaborate as to the names involved in the project, neither anything about the plot.
By the way, Earth Day Run, scheduled today at the SM Mall of Asia Grounds, is expected to be graced by 15,000 runners, including showbiz celebrities. They will join the 3k, 5k, 10k and 21k categories. (Interested participants can log onto http://www.natgeoearthdayrun.com/.)
National Geographic, Fox Phl' first brand that carries the event, is partnering with the World Wide Fund for Nature Philippines for the sixth time, this year pushing for #NotPlastic campaign that addresses the issue on single-use plastics.
The new 3k race category is put in to encourage more Eco Warriors to participate. Those running for 21k category joined a series of running clinics to prepare for the race.
Turcuato related, "We are in the business of content making and distribution. People's behavior in watching content has changed. So we try to evolve to keep up with the times."
He also stated that two Fox shows are due for release in the coming months: The Apprentice Asia and Chef to Chef.
One thing is likely to be expected, the Fox movie, which can be shown as early as October if it ends up not participating in the MMFF, will hope to encourage people "to care and be aware." He closed out. "That could be the worst, when people don't care anymore. We do the Nat Geo Run each year to remind people of Earth Day."