Alden Richards, Maine Mendoza to star in separate Lenten shows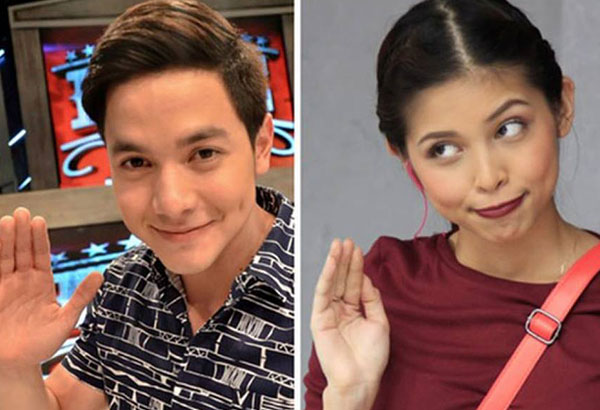 MANILA, Philippines — Alden Richards' acting chops will be put to the test as he shares the small screen with seasoned actor Tirso Cruz III in "Eat, Bulaga's!" Lenten offering titled "Haligi ng Pangarap."
Directed by Adolf Alix Jr. and airing on Holy Monday, March 26, the television special is about a father's love, dedication and patience to his son amid the trial they both face when the latter met a debilitating accident.
Richards said this project is very special to him as he gets to work with Cruz for the first time and he was able to apply what he learned from the recent intensive acting workshop given by New York-based acting coach Anthony Vincent Bova.
"Before, I thought I don't need to attend any workshop anymore because people say I can act. But I was wrong. I only knew so little about my skills. So, when I took the class with Mr. Bova, I discovered that when you say acting, it's actually you who's there. You don't pretend to be someone else. It's all you. You just get certain energy, whether negative or positive, that is fit for the role," he explained.
The young actor added that after watching how Cruz meticulously handled each scene, it gave him a renewed respect and passion for acting.
"Acting has been part of my life since I entered show business. I found a new passion for it since attending the workshop. There's actually a new fire within me that pushes me to do more," he said.
In fact, after doing a series of shows in New Jersey and Toronto in April, he will head straight to New York to reunite with Bova for another two-day Eric Morris-inspired acting workshop.
Richards said it is a continuous learning process for him and it's his way of showing his dedication and love for his craft.
"It's another opportunity for me to grow. I want to do more, I want to know what I can do, what I cannot do, what my strengths and weaknesses are. It's a continuous learning process for me."
But for now, the actor said viewers should catch the six heartfelt stories of love, lost, family and friendship in "Eat, Bulaga's!" Lenten Special. He said the stories, especially his episode with Cruz and with Senator Vicente "Tito" Sotto and Joey de Leon, will teach everyone about acceptance and forgiveness.
"Ours is really a story about family. There's no perfect one and we all go through difficult times in life. But if forgiveness is strong, we will learn to understand and tolerate each other," Richards said.
Also airing on Holy Monday is "My Carinderia Girl" starring Ruby Rodriguez and Kenneth Medrano with Pauleen Luna, Luane Dy, Sinon Loresca, Tommy Penaflor and Kim Last.
On Holy Tuesday, March 27, child star Ryzza Mae Dizon will share the boob tube with Pia Guanio, Julia Gonowon, Lui Manansala, Ana Roces and "Superstar" Nora Aunor in "A Daughter's Love" followed by family drama "Pamilya" top billed by Ryan Agoncillo, Paolo Ballesteros, Baste, Jake Ejercito and veteran actor Ronaldo Valdez.
The 2018 Lenten Special will cap off on Holy Wednesday, March 28, with "Hating Kapatid" and "Taray ni Tatay," respectively.
"Hating Kapatid" is headlined by Wally Bayola and Jose Manalo with Miggy Tolentino while "Taray Ni Tatay" stars Maine Mendoza, Allan K, Jimmy Santos, Anjo Yllana, Rita Avila, Kendoll and Vic "Bossing" Sotto.
Do not miss "Eat, Bulaga's!" Lenten Special airing on March 26 to 28 only on GMA Network.
RELATED: WATCH: Vic Sotto, Ruby Rodriguez on AlDub's alleged 'separation'